SEA LIFE Aquarium Bray
The National SEA LIFE Aquarium on the Seafront in Bray is a perfect family fun day out. An aquatic Zoo with over 30 displays which are home to over 1,000 creatures including: Black Tip Reef Sharks, Octopus, Jellyfish, Stingrays and Red-Bellied Piranha, they will take you on a journey of the deep…without getting wet!
The Aquarium is completely indoors making it a perfect rainy day activity.
Explore Their Creatures
What's your favourite sea creature?
Are you a Shark lover, a Starfish fan or a Clownfish groupie? Perhaps it's the mysterious Moon Jellyfish or the clever Common Octopus that you love the most. Maybe you simply can't decide! At SEA LIFE in Bray you can make up your mind and see them all – from the curious and the rescued to the rare and the enigmatic. And you'll be able to get closer to them than ever before.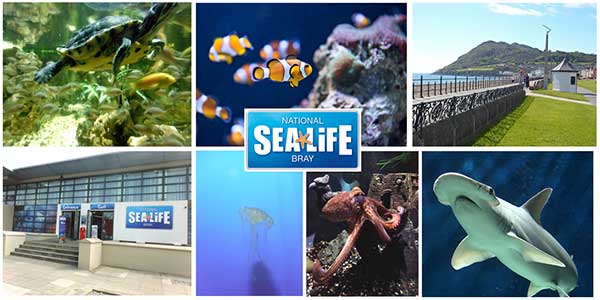 Features At Sea Life Bray
The fascinating collection at the National Sea Life Aquarium are displayed in a range of exciting exhibits, including "Rivers of the World", "Toxic Terrors", "Finding Nemo", "Shark Nursery", "Lair of the Octopus", and "Tropical Shark Lagoon".
Regular talks and feeds give an informative and entertaining introduction to freshwater and marine life for you and your family or friends. The National Sea Life Bray also highlights the many conservation projects that they are committed to.
SEA LIFE BRAY cater for schools, summer camps, special interest groups, large families or you and your friends who just fancy a great day out by the sea.
The National Sea Life Centre is also fantastic as a party venue, you and your friends can enjoy a great day out as you observe and learn about exotic underwater creatures from the aquatic world for your birthday party.
A day out at SEA LIFE Bray will leave you with fantastic memories and feeling empowered to make a difference to the underwater world.
Feeding Times At Sea Life
You will get the most out of a visit to SEA LIFE if you attend their talks and feeding demonstrations which are held throughout the day!
11:00 am and 15:00 pm – Cow Nose Rays (every day)
12:00 pm and 16:00 pm – Octopus feed / play time(every day)
13:00 pm – Tropical Sharks (Monday/Wednesday/Friday)
13:00 pm – Tropical Ocean Fish (Tuesday/Thursday/Saturday/Sunday)
14:00 pm – Native Rays (Every Day)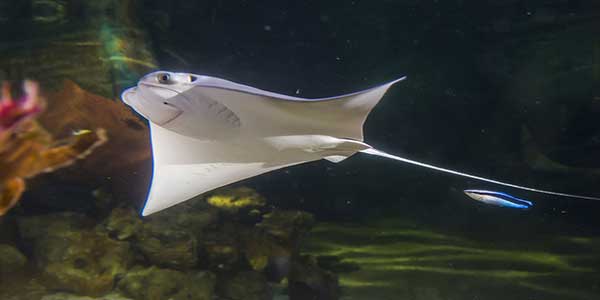 Premium Experience Tour
The Behind the Scenes tour is an opportunity for you all to see the work that goes on in the aquarium on a day to day basis!
The staff work hard to ensure that the fish are happy and healthy in environments that carefully replicate their natural habitat.
During your tour you will have the opportunity to see some of our behind the scenes areas:
    Life support systems area
    Animal Health care facility (quarantine)
    Food preparation & Nutrition area
    Laboratory
    Ocean tank (Shark access)
This Premium experience must be pre-booked. For details on costs and bookings, please call 01 2866939
School Trips at Sea Life
The Sea Life team will make sure your pupils get right up close to the amazing creatures in their themed displays. After all, the more they see the more they'll learn.
Embark on a journey of Amazing Discovery where an all-new educational experience awaits you with programs available for classes from pre-school to third level education.
These programs will provide your pupils with an interactive experience led by the educational team:
Participative (quizzes),
Tactile (touch our starfish and crabs),
Thought-provoking (Talks about amazing discovery in the underwater world),
And most importantly…FUN!
At Sea life they cater for everyone
Pre-School and Montessori Groups
Primary Schools
Second and Third Level Education
Birthday Parties in Sea Life Aquarium
SEA LIFE Bray, in association with Butlers and Barry can offer you a "fantastic" birthday party to remember.  Kids will be treated to a guided tour around the aquarium followed by a scrumptious meal in Butlers and Barry.
When you choose Sea Life Aquarium Bray as your party venue you and your friends can enjoy a tour of all the amazing creatures in SEA LIFE, in the company of your very own host, followed by a delicious meal at Pizzas'n Cream. The party last approximately two hours and fifteen minutes.
The cost per child for a birthday party at The National Sea Life Centre in Wicklow is €13.90.
Booking by calling on 01 2866939
A minimum of 8 children is required to secure your booking. Children must be accompanied by at least 1 adult.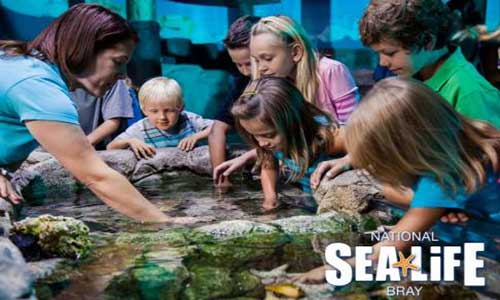 National Sea Life Centre Admission
Booking Online:- You can book on line here through our booking link directly to the National SEA LIFE Centre ticket sales
National Sea Life Centre Opening Times
Summer Season
Monday to Sunday 10:00 to 18:00 (last admissions 17:00)
Winter Season
Monday to Friday  11:00 to 17:00  (last admissions 16:00)
Saturday/Sunday  10:00 to 18:00 (last admissions 17:00)
Please be aware that due to our limited capacity, we strongly advise all guests to book online tickets in advance of their visit, particularly when planning to visit during weekends or school holidays.
Guests with pre-booked tickets are guaranteed entry and will be given priority over guests who arrive with no tickets, who may have to wait to be admitted due to our limited capacity
How To Get To National SEA LIFE Centre
Enter Bray, follow signs for the seafront where SEA LIFE is located.  3 hours free parking on Promenade.
Take train to Bray station.  5 minute walk to seafront.
Take No 45, 84 or 145 from Dublin city centre to Bray Main Street and walk to the seafront.
Facebook Page:- National Sea Life