Kids Entertainment & Event Agency
Have you got a Birthday, Christening, Communion Party or maybe a Family Fun Day coming up?
PartyKidz Productions has over two decades experience keeping kids from as young as 3 all the way up to 13 years happy and entertained at their PartyKidz Parties and PartyKidz Events.
Their experienced Garda vetted entertainers come to your home or venue, bringing tons of excitement to your child's party with a wide selection of Party Packages that suit both boys and girls…AND mixed ages within the same party!
As seen on RTÉjr and RTÉjr Radio with their kids podcast The Kids Are All Right! Why not take a listen here?
Over the years they have just kept adding more and more exciting games to our growing party-bag of tricks, so we pack in as much into your child's party or your Family Fun event as possible!!
PartyKidz Productions range of exciting activities include:
Kids Mini Disco with Cool Disco Lights! They are the DISCO EXPERTS!
Family Discos at Funday Events!
Limbo Competition & Party Games
Wacky Races & Obstacle Course
Arts and Crafts
Target Competition & Parachute Games
Singing
Kids Nail Art / Glitter Tattoos
Football Challenges, Tug of War & Team Relay Races
Facepainting…Balloon Modelling…and many more fun activities!
Party Packages
PartyKidz Productions Design Your Own Party
PartyKidz Productions – The Multi Activity Party, their speciality!
Choose from one of their most popular Party Packages, from their Multi Activity Party (their speciality!)…to their Makeover, Arts n Crafts or Sports Parties…
Or they are more than happy to help you to Design-Your-Own Party Package by selecting those activities that best suit your child's interests and package them up into a cool-personal party especially for your child!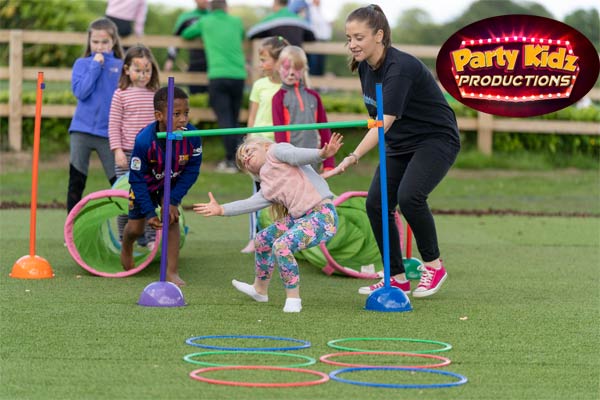 They can also provide character actors for your party or event, from Spiderman to Star Wars, Paparazzi to The Avengers..even Santa comes to visit once a year!
PartyKidz Productions covers the Greater Dublin region, as well as Kildare, Wicklow and parts of Meath.
They are currently running a fundraising show in partnership with Lip Sync Battles Ireland called Just Sing! An exciting fundraiser that makes every child a star. Check it out here!
Party Packages start from €165.00, check out their prices here.
Family Fun Tip:- And ask about the Multi Activity Party package.
To Book Your Party:- you will get them on www.PartyKidzProductions.ie, email, [email protected], and by phone at 087 656 1144
"We have used PartyKidz for our DHL Family Fun Days the last two years to keep all the youngsters entertained and have been delighted with the results!
The entertainers are fantastic and manage to keep the group of children with mixed ages hooked on their every word for the whole time….they all had a ball!"
Ciara Hynes – DHL Express Ireland Ltd