Dates:
From Saturday, 20th of October 2018 to Sunday, 4th of November 2018
Venue:
Rathwood Garden World
Address:
Rath, Tullow, Co. Carlow
Tel.:
+353 59 9156285


Please mention Family Fun when booking!
'Spooktacular' Pumpkin Train Adventure
Join the Rathwood Halloween Pumpkin Train this Halloween for a spooktacular adventure in Carlow. On this adventure you will be greeted by friendly creatures, Winnie the Witch and many other spooky characters. Hop on the train if you dare to enter the enchanted woods where mysterious creatures live…
The magical land of Zo is being terrorised by the Wicked Witch of the West. Dorothy and her friends need your help to find the Wizard of Zo and get rid of the Wicked Witch once and for all!
On this ghoulishly, scary and very exciting adventure you will meet friends of Dorothy for fun, frolics and surprises along the way that you would never expect…
If you are brave enough to enter the pumpkin patch in the enchanted woods you can pick your favourite pumpkin and with the help of the friendly witches carve your favourite picture onto it. When your pumpkin is complete, you can take it home!
After your adventure each child will receive free hot chocolate in the family restaurant to warm you up and relax after the spooky adventure.
Rathwood's Halloween adventure is suitable for children ages 9 and under. They encourage both children and adults alike to dress up for this spooktacular adventure.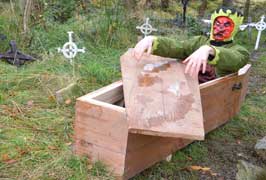 However, the Rathwood experience does not just stop at their Halloween event. Rathwood offers a range of handcrafted furniture, stylish gifts, a top quality restaurant, charming garden centre,  forest walks and an outdoor children's play area; the first of its kind in the region.
Not only do they offer a shopping experience, they also have a woodlands falconry where birds from all around the world are on display. Enjoy a walk in the woods accompanied by hawks and other birds.
While you are at Rathwood visit the Deer Park where you will see plenty of deer, sheep, American turkeys and polish hens. Then take a walk to our pond, the home to many ducks and geese.
All bookings can be made online for this event, but hurry tickets are selling out fast!
Booking:- You can book on line here through our booking link directly to the Rathwood's Halloween Train ticket sales
FamilyFun Tip:-  Suitable for the younger kids (babies to 8 years) but make note, it will get scarier after 4pm for the bigger kids!
Rathwood Pumpkin Train Event Information
Classification:-  Family Day Out / All Ages
Dates: 20th October – 4th November 2018
Duration: Lasts 1hr
Admission:-
€10 per Child
€7 per Adult
Booking:- You can book on line here through our booking link directly to the Rathwood's Halloween Train ticket sales.