Address:
Marine Road, Dun Laoghaire Dublin A96 K063
Tel.:
+353 1 230 0030


Please mention Family Fun when booking!
Royal Marine Hotel
The Luxury 4 Star Royal Marine Hotel, situated in Dún Laoghaire overlooking Dublin Bay, this much loved, family run and historic landmark Hotel is one of the most prestigious hotels in South Dublin.
The hotel is situated in a unique location, within easy reach of Dublin City Centre and the Wicklow Mountains. Travelling to and from the hotel is made easier by the Hotels proximity to the DART train line and Dun Laoghaire Ferry Port. The Aircoach service also provides a luxury door to door direct service to and from Dublin Airport to the hotel.
Let the team help you to make your family dreams come true at the Royal Marine with a luxury experience that will leave you with memories to treasure
Family Friendly Deals
Find out all about the Royal Marine Hotel Family Packages and Special Offers
Family Activities South Dublin.
Families are always welcome at the Royal Marine Hotel. The Hotel is very well located for family breaks, in close proximity to Dublin City Centre taking only 20 minutes by car or DART into the heart of the City.
This family friendly Hotel is located close to many local family attractions including Airfield Estate, EPIC, Sealife, IMC Cinema, Pavilion Theatre and Funky Monkeys Play Centre at Dundrum. Check at Hotel reception for discounts on selected local attractions.
Just 20 minutes away by DART, families can enjoy a day out at Dublin Zoo, The National Wax Museum at College Green, as well as the Dublin City Bus Tours. Escape the fast pace of city life and escape to the country, Powerscourt Waterfall is ideal for family days out and only 20 minutes drive from Dun Laoghaire.
Take to the seas and enjoy a cruise on Dublin Bay Cruises. There are also plenty of beautiful beaches a short drive away from the hotel. With so much to do in the area you'll be spoiled for choice all year round!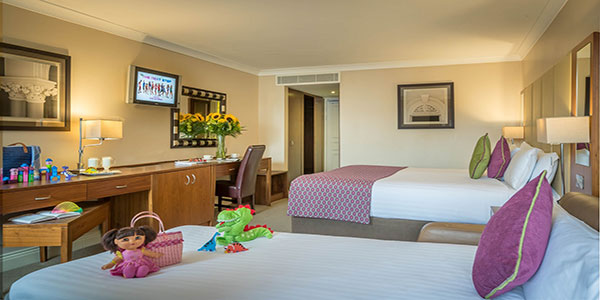 Family Friendly Accommodation
The Royal Marine Hotel provides several choices for families who wish to stay, relax and enjoy the hotel. These include their Executive Family Rooms and a limited number of larger Family Suites.
The Executive Family rooms consist of a king sized pillow top beds with pull out sofa beds suitable for 2 children under the age of 8 years, cots can be placed in the room on request. All of the rooms are equipped with a fridge.
The Family Suites can only be booked by reserving them directly with the hotel and these large suites include a king size bed, two single beds and a sofa bed, for larger families who require additional space to relax in.
Dining in Hardy's Bar & Bistro
The contemporary styled Hardy's Bar & Bistro is named and themed after the world's most famous comedy duo and two of the hotel's most famous former guests from 1953, Laurel & Hardy.
Hardy's Bar is the main bar in the hotel and serves an excellent bar food menu which their head chef has compiled to reflect new artisan food influences alongside both traditional old favourites and contemporary styled dishes. Hardy's Bar also offers live Music every Saturday night for all the guests to enjoy. Children's menu also available in Hardy's.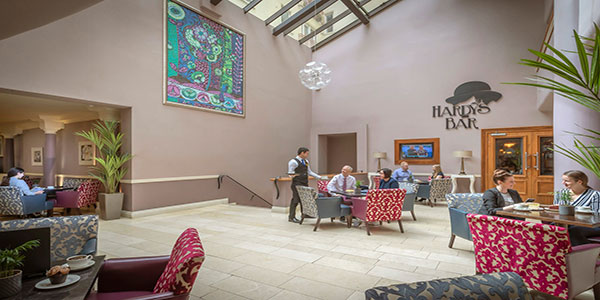 Pier Health Club @ The Royal Marine Hotel
Whether you wish to relax and enjoy the relaxation areas or enjoy a workout in the state-of-the-art gym, The Pier Health Club at the Royal Marine caters for all of your needs.
The Health Club features state-of-the-art Cardio & Resistance Equipment, luxury 18 Metre Pool, Steam Room, Sauna and Hydro Pool. Individual fitness programs and classes are also available or simply work at your own pace and the fitness experts will assist you with any advice that you need.
They offer all residents full complimentary use of the Pool & Health Club. They do ask for health and safety reasons that all guests wear flip flops and a swimming hat. These can also be purchased at the Health Club reception.
sansanaSPA @ the Royal Marine Hotel
A hidden gem at the heart of the Royal Marine Hotel, the philosophy of sansanaSPA is to Relax, Revive and Retreat. Step into an oasis of calmness, relaxation and quiet and experience the latest in health and wellness treatments. Get away from everyday life for a while and seep into the world of luxury, relaxation, wellness and calmness in sansanaSPA.
Book your treatment directly with sansanaSPA at [email protected]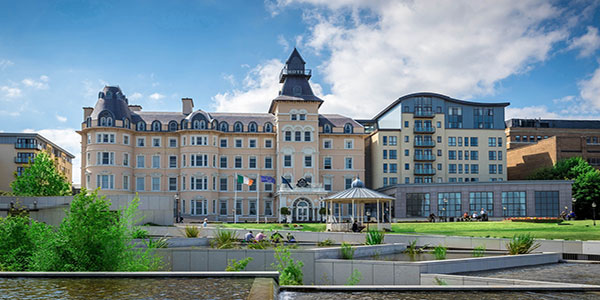 Directions To Royal Marine Hotel
By Train
The DART runs every 5 minutes during rush hour periods and every 20 mins during the day from Dublin to Dún Laoghaire. The journey offers stunning views of the South Eact Coast.
Irish Rail is the national rail service and operates a regular service throughout the country. The DART links up with Irish Rail at Connolly Station, as it does with The LUAS tram service.
By Bus
Dún Laoghaire is serviced by Dublin Bus. The terminus is located at the DART station. Nightlink services run every hour on the hour from Trinity College between midnight and 3am.
Buses – 7, 7a, 8, 45a, 46a, 59, 75, 111
Nightlink – Route L via Blackrock
Nightlink – Route K via Stillorgan
By Car From M50
Start out on the M50
Leave the M50 at junction 16, then merge onto the R118 (signposted Cherrywood, Loughlinstown)
At roundabout take the 2nd exit onto the R118
At roundabout take the 2nd exit onto Glenageary Lodge – R118 (signposted Dun Laoghaire Ferry)
At Glenageary Roundabout take the 3rd exit onto Lower Glenageary Road – R118 (signposted Town Centre)
Continue forward onto Lower Glenageary Road – R118 Entering Dun Laoghaire
At traffic signals continue forward onto Lower Glenageary Road – R118
At traffic signals turn left onto Upper George's Street – R119 (signposted Dublin) (road to) National Maritime Museum
Turn right onto Marine Road – R118
Turn left onto Crofton Road – R118
Arrive on Crofton Road
Continue along Crofton Road until your reach the junction (Dun Laoghaire Train Station is on your left)
At traffic signals turn right onto Marine Road
Royal Marine Hotel is on your left (approximately 300 metres from the junction)
By Car From Dublin City Centre
Start out on Lord Edward Street – Dublin City Centre
Dublin City Hall and Castle
Turn right onto Palace Street
Turn right onto South Great Georges Street – R114
Junction 15, at traffic signals continue forward onto Wexford Street – R114 (signposted Rathmines)
Bear left onto Charlotte Way
Bear right onto Hatch Street
Continue forward onto Lower Hatch Street
N11 Turn right onto Lower Leeson Street – N11
At Junction 45 continue forward onto Lower Leeson Street – N11
Junction 54, at traffic signals continue forward onto Upper Leeson Street – N11 (signposted M50)
Bear right onto Sussex Road – N11
Continue forward onto Sussex Road – N11
At traffic signals continue forward onto Donnybrook Road – N11
At traffic signals continue forward onto Stillorgan Road – N11 (signposted Wexford)
At traffic signals continue forward onto Stillorgan Road – N11
Keep in right hand lane to continue forward onto Stillorgan Road – N11
University College Dublin (on right)
At traffic signals continue forward onto Stillorgan Road – N11 (signposted Wexford)
N31 At traffic signals turn left onto Mount Merrion Avenue – N31 (signposted Dun Laoghaire Ferry, Blackrock)
Continue forward onto Mount Merrion Avenue – N31 Entering Dun Laoghaire
At traffic signals continue forward onto Frascati Road – N31
At traffic signals continue forward onto Temple Hill – R113 (signposted Wexford N11)
At traffic signals bear left onto Monkstown Road – R119 (signposted Dun Laoghaire Ferry)
At traffic signals turn left onto Clarence Street – R119 (signposted Holyhead Ferry)
N31 At traffic signals turn right onto Dunleary Road – N31
R118 At traffic signals continue forward onto Crofton Road – R118 (signposted Town Centre)
Arrive on Crofton Road
Continue along Crofton Road until your reach the junction (Dun Laoghaire Train Station is on your left)
At traffic signals turn right onto Marine Road
Royal Marine Hotel is on your left (approximately 300 metres from the junction)