Christmas at Castlecomer Discovery Park
Christmas is always a special time at Castlecomer Discovery Park, and although Santa isn't stopping here this year, we will be opening the park for winter walks this holiday season.
The elf village becomes Christmas central this year, as we light up the area around our fairy houses to gear up the festive feels. A magical space all year round, with our Christmas lights the area becomes a wonderful destination for a winter walk and hot chocolate from the Canopy Café. (please note that the way up will not be lit up with lights this year).
The ever-popular bouncing nets and Junior adventure course will be open for kids aged 3 – 8 to burn off some pre – Christmas nervous energy. It's even more exciting as we have totally revamped the Junior Woodland Course, making it even more enjoyable for your little ones.
We have created a little "Elf on the Shelf" scavenger hunt for your little ones to enjoy and immerse themselves in a world of elf imagination. Our elves are getting up to mischief all around the village, can you find them all?
The Canopy Café will be open for hot chocolate, mulled wine and homemade treats. This December, stay outdoors and get your steps in, surrounded by magic of the elf village
IRELAND'S MOST SPECTACULAR CHRISTMAS EXPERIENCE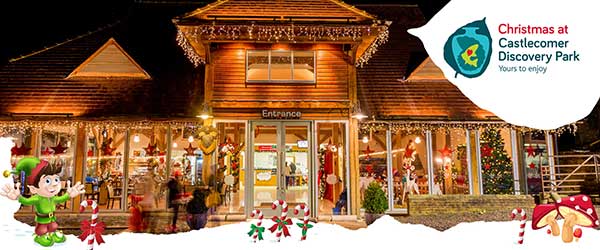 Embark on an enchanted journey this Christmas… experience a  Christmas at Castlecomer Discovery Park
Explore & play – don't be in a rush home!
The Canopy Cafe will be open to get warm food and refreshments
Christmas at Castlecomer Information
Venue:-  Begin your journey in the Visitor Centre at Castlecomer Discovery Park
Classification :-  Christmas Family Event  / All Ages
Dates:-  From 9th Dec
Times:- To be advised
Admission:- €16

FamilyFun Tip: 
Booking Online – You can book online now through Castlecomer Discovery Park ticket sales
Family Fun Tips:-
Don't forget to bring your camera!
Please arrive at least 10 minutes before your time slot and present your booking confirmation at reception
All children must be accompanied by an adult at all times
The visit to the Bell House is a 1 minute walk from the Visitor Centre so please dress appropriately for the weather, including suitable footwear