Name:
SEK-Dublin International School
Address:
Belvedere Hall. Windgates, Bray, Co. Wicklow, A98RV00 Ireland
Tel.:
(+353) 01 287 41 75


Please mention Family Fun when booking!
SEK-Dublin International School!
SEK-Dublin offers a unique experience for their students to immerse themselves in Irish culture, which, in turn, motivates them to excel in their studies
The minute you drive up the long, tree-lined, green pasture lane, which overlooks the fields to the sea, one gets the reassuring feeling of knowing that this is home away from home. SEK-Dublin is a wonderful place where living, studying and making lifelong friends will happen.
SEK-Dublin offers the students a wealth of experiences. These experiences lead them to understand and explore their passions and support them to strive for leadership positions in many areas of interest. Students are encouraged to question and evaluate information critically, to seek out and explore the links between subjects, and to develop an awareness of their place in the world. Intercultural awareness and communication skills are seen as essential elements to education in the modern world and are fundamental to the MYP philosophy.
SEK-Dublin Activities
At SEK-Dublin they offer a wide programme of cultural activities which take place on Saturday mornings.
Cultural Visits – Pupils are given the opportunity to visit museums, art galleries and places of cultural interest both in Dublin and in the areas around the school. Every year, students can get to know cities such as Galway, Cork or Belfast in order to round off their programme of cultural visits
Trips and Excursions – Trips are organised every term to get to know Ireland's main cities.
Team Building – Activities are encouraged which have a direct impact on how students interact when they return to the school..
Language and Culture – At SEK-Dublin they take advantage of every opportunity to exchange learning experiences with pupils from schools in the local community in order to encourage interaction. They play an active part in the local environment, in community and voluntary service projects.
Extra-curricular Activities
SEK Dublin International School offers a wide range of complementary and extra-curricular activities whose aim is to address the interests and personal and character development of each individual pupil.
They offer many different activities, from sports schools in football (they play in the local league), basketball, hockey, rugby, tennis, horse-riding, golf and zumba; to arts schools in painting, theatre and piano.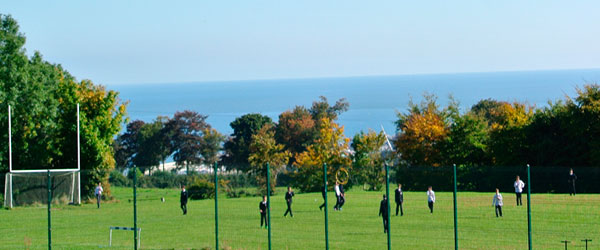 SEK-Dublin Host Families
SEK-Dublin was founded in 1981, with the aim to create a commitment to learning and responsibility. Their students live with selected host families; this is a vital part of the language immersion. The success of their learning is based on the participation and commitment of all stakeholders: students, teachers, parents, support staff and the host families.
Feel at home: your Irish family
The Irish family with which each pupil lodges becomes their main support. It is a unique opportunity to get to know about the life, customs and culture of the country from the inside.
Irish families are chosen after a rigorous process.
Every family offers a stable, welcoming and safe environment.
They guarantee to undertake continuous monitoring so that the pupil feels perfectly at home, and they always assign the family that best fits each pupil profile.
Families welcome one pupil only, which makes settling in easier in a warm family environment, establishing long-lasting links of friendship.
SEK-Dublin are totally committed to the education and well-being of the students. They strive to help them discover and develop their unique talents, to embrace them in a community of shared values and allow them to reach their own personal goals.
Family Fun Tip:- School transport picks up pupils near to the home of their Irish host family every day.
Please contact [email protected] for more information on been a Host Family. 
SEK-Dublin  Opening hours
Open: 8.30 a.m. Close: 17.00 p.m., Monday to Friday
Workshops are held twice a month on Saturdays from 10.00 to 14.00, alternating with cultural outings held on two Saturdays per month from 10.00 to 16.00. 
SEK Education Group
The SEK Education Group, is rooted in a hundred-year family tradition of freedom and autonomy, free from any religious, political or financial ties. Their only commitment is the development of quality education in line with their ethos, values and educational principles.
In order to meet this commitment, they implement their own unique educational system, developing every aspect of individual student's personalities at each stage of their evolution, with the tried-and-tested expertise of their teaching staff, first-class facilities, educational resources, innovative technology and specially designed school environments, organisation and services.