Name:
StageSchool Ireland Clare
Address:
Cois na hAbhna, Gort Rd, Ennis, Co Clare
Tel.:
091 556 274


Please mention Family Fun when booking!
StageSchool Ireland in Clare
Young children have the most incredible imaginations! They love to explore, are naturally creative, and StageSchool Ireland in Clare has a perfect programme. StageSchool have been educating children in dance, drama and singing since 2007 and they pride themselves on developing skills for life.
The Stage School ethos is to enable children to grow gradually, and at their own speed, and to accomplish their personal full potential. Some might gain the confidence to strive harder for their ambitions. Some might want to work in the performing arts. Whatever their dream, the caring and talented staff at Stage School Clare make sure they keep their feet firmly on the ground.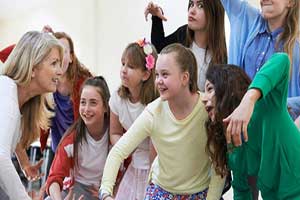 All classes are run by professional teachers who are passionate about what they do and the curriculum is broad to enable students to experience a wide range of styles and skills.
Fun is an essential element and StageSchool Ireland has learned one truth over many years, children love to achieve and flourish in a disciplined, trusting environment. At StageSchool  Clare they don't set out to create fun, the students do that for themselves.
StageSchool Ireland has set the highest standards and maintains them with the support of a network of schools in Ireland
StageSchool Clare Dance Classes
The dance class at StageSchool Clare will improve coordination and technique and give the opportunity to learn popular pop dance routines and musical theatre ensemble pieces while keeping fit!
StageSchool Clare Drama Classes
In drama, young people will explore their creativity through improvisation and role play, improving vocabulary, social awareness and communication skills.
StageSchool Clare Singing Classes
The singing class will introduce students to different rhythms and tempos in music allowing them to challenge themselves with a wide range of songs while improving technique, numeracy skills and vocal ability.
StageSchool Clare
Junior Stage
Junior StageSchool classes at Clare are a 90 minute programme for 4-6 year olds in which students explore the world of musical theatre through storytelling, music and dance. Your child's instructor will help them to develop core fundamentals of acting, singing, and dance through games and imaginative play. Students are engaged through a variety of fun activities and create a safe, positive and fun environment so each child is comfortable exploring their natural creative abilities. At the end of each Stageschool term, Junior Stage students perform a showcase highlighting skills they have developed in singing, drama and dance classes.
Junior Stage Classes for (4-6 years) on:
Friday 16.00 – 17.30
Booking Online:- You can book online here through our booking link directly to StageSchool – Enrol Now
Family Fun Tip:- New students can always go on a trial period
Senior Stage
Senior classes at StageSchool Clare are for 6-18 year olds in which students develop self-expression, enhance social skills, and grow more confident through dance, acting and singing classes. Class meets every Friday after school at Cois na hAbhna for three hours. Students are divided into three age groups and rotate between hour long acting, singing and dancing classes. Students work on building their skill sets in each discipline.
Senior Stage Classes for (6-18 years) on:
Friday 16.30 – 19.30
Booking Online:- You can book online here through our booking link directly to StageSchool – Enrol Now
Family Fun Tip:- New students can always go on a trial period
StageSchool Clare Summer Camps
Sizzling and inspirational summer camps with StageSchool Ireland in Clare
Open to 4 to 6 and 6 to 14 year olds, StageSchool highly successful summer camps are hugely popular with family and friends. All welcome and your child doesn't need to attend regular classes. All that's needed is enthusiasm.
To Book and Find More Information on the StageSchool Ireland in Clare Summer Camps