Name:
StageSchool Ireland Galway
Address:
St Marys College, St Mary's Road Galway
Tel.:
091 556 274


Please mention Family Fun when booking!
StageSchool Ireland in Galway
StageSchool Galway isn't just for performers, it's also for young people who simply enjoy learning to act, sing and dance. At StageSchool they pride themselves on developing skills for life.
The Stage School ethos is to enable children to grow gradually, and at their own speed, and to accomplish their personal full potential. Some might gain the confidence to strive harder for their ambitions. Some might want to work in the performing arts. Whatever their dream, the caring and talented staff at Stage School Galway make sure they keep their feet firmly on the ground.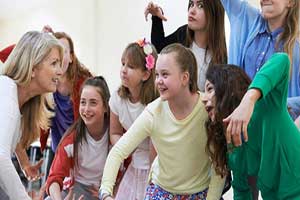 StageSchool Ireland is for young people aged between four and eighteen years. The schools operate each week during term-time, either after school or at weekends. Split into two groups by age, students gain confidence, self-esteem and learn to express themselves creatively. These benefits, acquired while learning the skills of performance (in their dedicated singing, dance and drama classes) don't disappear when the children come off stage.
All classes are run by professional teachers who are passionate about what they do and the curriculum is broad to enable students to experience a wide range of styles and skills.
Fun is an essential element and StageSchool Ireland has learned one truth over many years, children love to achieve and flourish in a disciplined, trusting environment. At StageSchool in Galway they don't set out to create fun, the students do that for themselves.
StageSchool Ireland has set the highest standards and maintains them with the support of a network of schools in Ireland.
StageSchool Galway Dance Classes
Children will learn balance and coordination, fine tune gross motor skills, learn to use their bodies as an expressive tool, plus have an incredible amount of fun while learning cool new dance moves!
StageSchool Galway Drama Classes
Children begin learning about dramatic exploration through fun activities, storytelling, improvisation, and character development. Acting class also helps children develop concentration, build language and communication skills, enhance emotional intelligence, and build lasting friendships.
StageSchool Galway Singing Classes
The Stage School singing class teaches children the fundamentals of using their voice properly, rhythm, timing, and singing with a group. Additionally, singing classes for children help ease stress, boost confidence, and help develop self-expression.
StageSchool Galway
Junior Stage
A 90 minute session for 4-6 year olds. We explore the world of theatre through drama, music and dance. Your child's instructor and teaching assistant develop a gentle introduction to musical theatre and it's tremendous fun! At the end of term, Junior Stage perform a showcase highlighting the new skills they have acquired.
Junior Stage Classes for (4-6 years) on:
Saturday 09:30 – 11:00, 11:00 – 12:30, 11:15 – 12:45 OR 13:30 – 15:00
Booking Online:- You can book online here through our booking link directly to StageSchool – Enrol Now
Senior Stage
For 6-18 year olds in which students develop self-expression, enhance social skills and new confidence through dance, drama and singing. Held each Saturday at St Mary's College, students are divided into three age groups and rotate between one hour lessons taught by our friendly, qualified and Garda Vetted teachers.
Senior Stage Classes for (6-18 years) on:
Saturday 10:00 – 13:00, OR 14:00 – 17:00
Booking Online:- You can book online here through our booking link directly to StageSchool – Enrol Now
StageSchool Galway Summer Camps
Sizzling and inspirational summer camps with StageSchool Ireland in Galway
Open to 4 to 6 and 6 to 14 year olds, StageSchool highly successful summer camps are hugely popular with family and friends. All welcome and your child doesn't need to attend regular classes. All that's needed is enthusiasm.
To Book and Find More Information on the StageSchool Ireland in Galway Summer Camps