Dates:
From Thursday, 28th of November 2019 to Sunday, 5th of January 2020
Times:
11:00 am to 6:00 pm
Venue:
Saint Martin Apostolate
Address:
Saint Martin Apostolate, 42 Parnell Square West, Co. Dublin
Tel.:
+353 (0)1 874 5465


Please mention Family Fun when booking!
The Moving Crib in Dublin 2019
The Kids will LOVE it… The Best FREE Christmas Outing!
The Moving Crib  in St. Martin Apostolate , 42 Parnell Square West, Dublin 1, is still, for many people, one of the most charming aspects of Christmas in Dublin City.
You know it's really Christmas when you hear mention of The Moving Crib and this year is no different. This wonderful gem will be opened again to celebrate its 63rd birthday, after welcoming 23,000 visitors last year. Doors open from the 28th November and best of all, it's still FREE!
The timeless charm of the Moving Crib lives on and has become a nostalgic centrepiece of the Christmas season for many and children are fascinated by it. A medley of Biblical, historical and fun stories, competitions, an illusion wall all wrapped up in a blanket of Christmas magic guarantees festive fun for all ages. Children are encouraged to draw and colour a Leaf, cut out the shape and bring it with them so that they can be placed in the Garden of Eden forever and take part in our competitions to be in with a chance to win some fantastic prizes!
It's a monument of Dublin's "rare auld times" but one that carries a message for today, helping to banish the winter blues and warm its visitors with excitement and real Christmas Spirit. And again, this year The Bray Gospel Choir will be treating visitors to an afternoon of performances of Carols and Gospel Music on Sunday 15th December from 12pm -4pm. It's all FREE admission and the kids will love it!
It is the perfect family day out in the run up to Christmas and it's still FREE!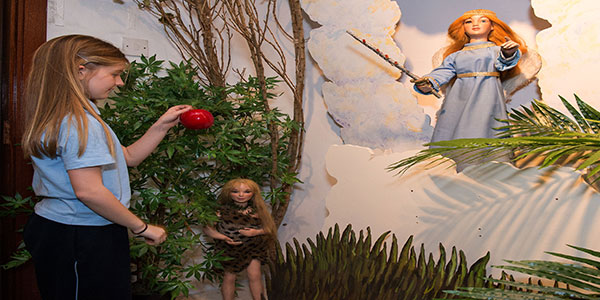 The Moving Crib
The Moving Crib is like an expanded Nativity Play going back to Adam and Eve and finishing after the crib scene with the young Jesus teaching the Doctors in the Temple
There are over 100 figures in the Crib arranged in 14 different tableaux. They cover various episodes of the Old and New Testament. The figures themselves are about a meter high, molded in papier-mache and dressed in miniature clothes. Concealed motors control the movements of the arms, head and legs.
All of these figures, motors, clothing etc. come from a world famous firm in Germany!
For more information, visit Saint Martin
Event Information
Venues:- St. Martin Apostolate, Co. Dublin
Classification :-  Family Christmas Event  / All Ages
Admission:- FREE (Donations are accepted)
Dates:-  28th November – 5th January  *Closed Christmas Eve / Day and New Year's Day*
Time:- Open daily at 11am – 6pm
Groups Bookings
Groups / Schools are welcome any time! Just make sure to guarantee your spot by booking online now through the Group Booking Form
A simple step-by-step which you'll just need to fill in the required information then send it on its way to Sant Martins to review and confirm your booking
For more information, visit Group Booking Form
Family Fun Tip:- Families are especially welcome. There is obviously a certain amount of work involved in setting it up and maintaining it and providing security personnel for the entire period. Is it worth it? Just listening to parents with their young children or teachers going around the crib with a group of children and patiently explaining the meaning of each scene makes it all worth while!