Name:
Viking Splash Tours Dublin
Address:
St Stephens Green North
Tel.:
01 707 6000


Please mention Family Fun when booking!
Viking Splash Tours
Viking Splash Tours Dublin have been entertaining and educating adults and kids alike, native and foreign for the last ten years with their unique fun tour of Dublin. For family sight- seeing with a difference, book yourself and your family a seat on the Viking Splash Tour. You will see Dublin as you have never seen it before and be guided by a tour guide unlike any you are likely to have met before either.
You will be taken around Dublin, not on a bus but on an amphibious vehicle called a Dukw. A what? Yes a Dukw – Pronounced 'duck' it is an authentic World War Two American land to sea vehicle which was built by the General Motor Corporation. These Dukws played a huge role in landing Allied Troops on the Beaches of Normandy during the D Day landings. Originally there were approximately 22,000 of these work-horse vehicles in service with the American forces, but only a few hundred have survived 'til today. And you and your family could take a trip on one. Living history before you ever see Dublin at all.
Nowadays in Dublin these Dukws have been pressed into service as unique tour vehicles and for some reason are 'piloted' by Vikings. Hence the Viking Splash Tour.
Although the Viking Splash Tour is all about having a bit of fun as you tour the city, it is important to note that the vehicles are all licensed by the Dept of Marine and Transport and all guides and drivers are fully qualified and experienced.
Viking Splash  Gift Cards
The Best Present Ever!
Viking Splash  certainly think so, unique and fun, this present promises to bring a smile to the face of anyone lucky enough to be given a Viking Splash Tours Gift Card!
A tour of Dublin by land and water with savage Vikings, sure go on, give them something different this year.
Get Your:- Viking Splash Gift Cards
Viking Splash Tours Ticket Prices For 2020
Standard Ticket Prices
Adult €25.00 – €28.00
Child (Aged 2* -14) €13.00 – €15.00
Children UNDER 2 are not permitted on tour
Student/OAP €22.50 – €25.00 (ID required for students)
Family Ticket Prices
Family Value (2 Adults + 2 Children) €72.00 – €80.00
Group Ticket Prices
Adults (10+ people) €22.50 – €25.00 pp
 Kids (10+ people) €11.50 – €14.50 pp
Group rates are only applicable Sunday – Friday (excluding bank holidays and mid-terms).
Groups can be a mix of adults and children, as long as the total party number is 10+ passengers.
July & August are peak months, so will carry higher rates.
Booking Online – You can book on line here through our booking link directly to their Viking Splash Tours ticket sales
Booking:-
Purchase tickets at departure point at St Stephens Green.  You can also book over the phone on (01) 707-6000. Bookings are advised at all times to avoid disappointment
You must take note that tickets are non-refundable and non-transferable to other tour times or dates.
Please mention Familyfun.ie when Booking
Viking Splash Tours Departure
Viking Splash Tours Departure Points:
St. Stephen's Green North (junction of Dawson St).
Viking Splash Tours Departure Times
Tours begin from 10am daily and run approximately every half hour to 90 minutes.
During weekends and high season, tours will run more frequently.
Viking Splash Tours operate seven days a week
Viking Splash Tours last 60 minutes on land, 15 minutes on the water.
Please call 707-6000 to confirm tour times as they operate more frequently during the high season and less frequently during the low season.
Family Fun Tip:- All departure times are subject to change and they always advise to book in advance.
The Vikings
The Vikings arrived in Dublin in 837 in their longships to raid the churches that had developed around the Liffey estuary. From 917 to 1014, Dublin was in fact the largest city in the Viking World. The Vikings were known as wild and more than a little threatening, and were competent slavers!
The Vikings who operate and guide the Viking Splash Tours are some fine modern examples of their tribe, and have titles such as Tim the Terrible, Aiden the Adventurous and Kick-Ass Keith.
They will whip their customers into a frenzy of roaring as the Dukw makes its way around the city.
Viking Splash Family Tour
Viking Splash Tour Dublin is unlike any other and is great for getting children involved in the history of their city, due to the interactive nature of the tour and the wit and charm of their Viking Tour Guides. Be prepared –  you will be expected to roar at unsuspecting 'Celts' as they go about their business in the city! Great fun.
Beginning at St Stephen's Green in the heart of the city, your tour takes you initially back the heart of Viking Dublin in the area around St Patrick's and Christchurch Cathedrals and Wood Quay. From there the vehicle makes its way along the quays, passing The Four Courts, O Connell Bridge, Liberty Hall and the Custom House. Crossing back over the Liffey, the tour continues on the south side of the city passing Trinity College, Leinster House and along Merrion Square.
The most exciting part of the tour is the water element as your vehicle takes to the water at Grand Canal Basin. You will float past the Naomh Eanna Ferry which in bygone days used to be the only link the Aran Islands had with the mainland and was used to transport everything from farm machinery and livestock to food stuff. Other sights viewed from the water include the old Boland's Mill, famous as one of the battlegrounds of the 1916 rising and the U2 recording studios.
Back on dry land the Dukw makes its way back to the city passing the famous Windmill Lane recording studios.
In total the tour lasts about 75 minutes and is lots of fun for all ages.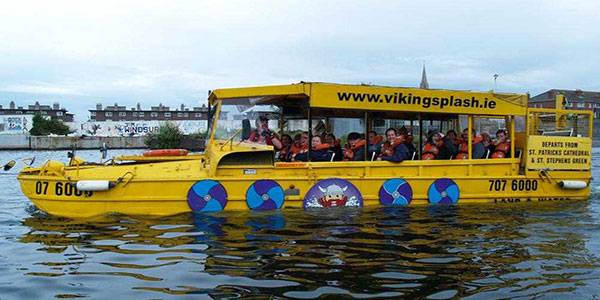 Family Fun Tip for Viking Splash Tours
Make sure that you and your family are dressed adequately. The Dukw is an open vehicle and it can be breezy when on the water.
Children in general love the Viking Splash Tour – as it is great fun and very interactive. If you have a buggy there is some space on board for it's storage as long as it can be folded up.
Be aware that some children might need some reassurance about the 'bus' going into water. The water element of the tour lasts about 15 minutes and all passengers including children must wear life vests while on the water. These are provided.
However note that children under 2 years are NOT permitted on the on the tour, for health and safety reasons.
Also note that eating and drinking are not allowed on board – so keep all treats for after the trip. And make sure that no-one needs to go to the toilet. There are no toilet facilities at the departure point.
Also be aware of steep steps into the vehicle which may be a problem for mobility impaired passengers.
The Viking Splash Tour is a wonderful way to introduce your children of all ages to the history of their city.