Waterford-on-Ice Christmas  2022
Waterford On Ice has so much to offer to bring you the most wonderful skating experience.
Bringing the magic of the North pole to the south east, Waterford on Ice  guarantees you will have an exceptional experience. Whether you are a family, large group, corporate event or a skating aficionado you can have the ultimate Skating experience at Waterford on Ice
A  Family Day Out
Waterford on Ice caters to all. Family fun days out, are made better at Let's Skate. Penguin skating aids for the little ones and our helpful staff can ensure a wonderful experience for everyone  with a welcoming atmosphere. Embrace the winter wonderland experience and you will have a spectacular festive skating day out. Try one of our warm treats and take in the festive cheer.
Helpful Staff
The helpful staff at Waterford on Ice make your skating day out one to remember. Trained Ice marshals, skating aids, helpful skate hire staff all work together to make sure your day out is exceptional
Large Groups
At Let's Skate we can cater to groups of all sizes. We can take school group bookings, Large corporate events and more.
Waterford On Ice is Now Open at  the Bolton Street Car Park In Waterford for everyone to go get their skates on and enjoy this Christmas! Why not enjoy a great evening out with friends or family by adding this festive activity to your day
Family Fun Tip:- Don't forget to wear thick socks and a pair of gloves! and please ensure that your boots are tight with the laces securely fastened.. Avoid going for a bigger size than you normally wear.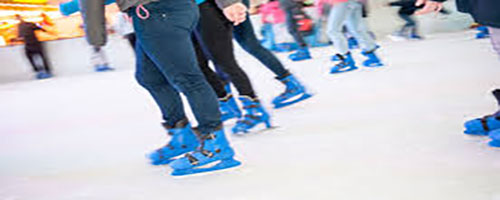 Waterford-on-Ice Event Information:
Venue:-  Bolton Street Car Park,
Classification:- Family Christmas Event / All Ages
Dates :-   25th November – 8th January 2023 (except Christmas Day)
Times:   Mon – Fri 15.00 – 20.00
Sat – Sun  11.00 – 20.00 (closed 25th Dec)
Admission:
Adult €15
Child €14
Family of 3 €37
Family of 4 €46
Booking fees apply
Booking Waterford-on-Ice
Now Booking Online :– You can book on line here through our booking link directly to the Waterford on Ice
Tickets can be purchased at the Venue, during opening hours
Alternatively, just turn up 20 minutes early and buy your tickets at our box office, (Be on time to avoid disappointment)