Dates:
From Friday, 23rd of November 2018 to Sunday, 6th of January 2019
Address:
Bolton Street Car Park, Co. Waterford
Winterval on Ice Christmas Ice Skating 2019
It's time to put on your bobble hat, wrap up warm and get your skates on!
Winterval on Ice will take place again this year at  Bolton Street Car Park, as part of the Winterval Festival.
From late November until early January, providing a fun and healthy activity for all ages throughout the winter months.
The venue has a large and small rink so seasoned skaters have plenty of space to show off their best moves, while beginners and little ones can find their ice legs in a smaller space with the help of fun penguin aids.
With a variety of different events running every week throughout the season, there really is something for everyone, whether you're looking for a family day out, a school skate, a skate-date-night, fancy dress, or skating with Santa!
There's also lots of midweek offers!
Waterford On Ice is Now Open at  the Bolton Street Car Park In Waterford for everyone to go get their skates on and enjoy this Christmas! Why not enjoy a great evening out with friends or family by adding this festive activity to your day
Family Fun Tip:- Don't forget to wear thick socks and a pair of gloves! and please ensure that your boots are tight with the laces securely fastened.. Avoid going for a bigger size than you normally wear.
Winterval on Ice School Skate
Winterval on Ice offers a fantastic package for Primary and Secondary school tours.
There's also a schools skate offer, student skate deals, group and midweek offers, special.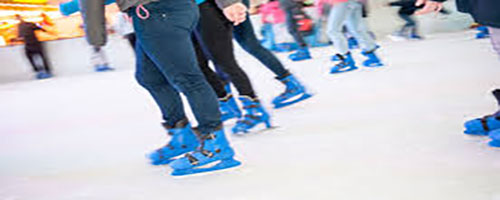 Winterval on Ice Event Information:
Venue:-  Bolton Street Car Park,
Classification:- Family Christmas Event / All Ages
Dates / Time:-   November – 5th January
Admission:
Online Prices:
Child (12 and under) €13 peak  & €12 off peak –
Adult €14 peak &  €13 off peak
Box office Prices:
Child (12 and under) €16 peak  & €14 off peak –
Adult €17 peak &  €15 off peak
Closed Mondays & Tuesdays except 23rd Dec, 24th Dec, 30th Dec & 31st Dec
Booking Winterval on Ice
Now Booking Online :– You can book on line here through our booking link directly to the Winterval on Ice
Tickets can be purchased at the Venue, during opening hours between 3pm -9pm Monday -Friday. 10:30am – 9:00pm on Saturday and Sunday.
Alternatively, just turn up 20 minutes early and buy your tickets at our box office, (Be on time to avoid disappointment)