Dates:
From Saturday, 17th of November 2018 to Sunday, 23rd of December 2018
Address:
Old Sorting Office, 107 Custom House Quay
Tel.:
051 511078


Please mention Family Fun when booking!
Winterval 2018
Enchanted Christmas at Winterval
Take an adventure through the Old Postal Sorting Centre to meet Santa's elves and discover their secret elf missions of delivering mail to Santa's Postal Centre and helping Santa's Head Elf to reach his final destination
Who knows what characters you might encounter along the way? Just be sure to watch out for the reindeer on the loose and track down Santa's missing sleigh… silly elf Alfelius Scragmire accidentally left the reindeer stable door open! Find the sleigh before Santa puts poor Alfelius Scragmire on his naughty list this Christmas!
The final destination for the elves mission is, Mrs. Claus's House where there are games and activities for everyone to enjoy!
After your visit here stroll on to Santa's Office at the Old Post Office Sorting Centre. Santa has a special treat for all the boys and girls that help his merry band of elves on their secret missions.
Be sure to book in the magical moment to take a picture in Santa's Sleigh before you leave!
Each child's ticket includes free admission for two adults, a photo with Santa and a gift.
Lots for the family to do and see at the Enchanted Christmas event at Winterval!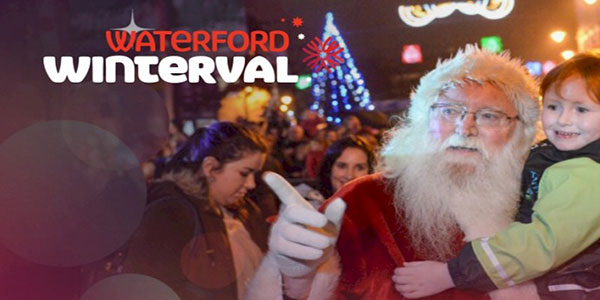 Venue:- Winterval, Co. Waterford
Classification:- Family Christmas Event / All Ages
Dates / Time:-  17th November – 24th December
Admission:-
Child €17 (includes entry, gift and photo)
Sleigh Photo Upgrade €10
Additional Santa Photo €5
Additional Adult Entry (2 included) €5
Booking: Limited spaces so Book Online Now through
*Due to huge popularity of event, spaces are filling up fast so to avoid disappointment this Christmas book online now
Winterval on Ice
It's time to put on your bobble hat, wrap up warm and get your skates on!
It's time to put on your bobble hat, wrap up warm and get your skates on!  Winterval on Ice will take place again this year at the Gasworks Car Park, Waterside, as part of the Winterval Festival.
With 600sqm of real ice, there's a large main rink and a separate smaller rink with skating aids to help our younger visitors find their ice legs. There's also a schools skate offer, student skate deals, group and midweek offers, special
Venue:- Gasworks Car Park, Waterside,
Classification:- Family Christmas Event / All Ages
Dates / Time:-  23 November – 6 January
Admission:-
Best prices are available by pre-booking online and sometimes sell out quickly so advance booking is advised.
Booking: Limited spaces so Book Online Now through  Winterval on Ice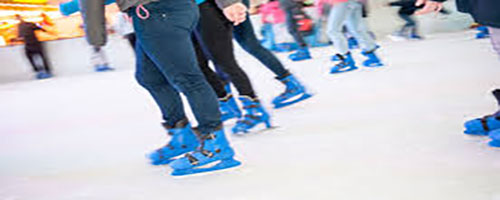 Winterval Express Train
All aboard the Winterval Express Train as it journeys through the heart of the city, and Winterval, along the Mall, past Winterval on Ice, through the Applemarket, and JR Square.
For school & group bookings contact 086 8222113.
Venue – Broad St, Waterford (Outside Sam McCauley Chemist)
Dates / Times
The winterval train departs every 30 mins and operates from 2.00PM – 7:00 PM every Friday and 11.00AM – 7:00PM every Saturday and 12:00PM – 7:00PM on Sundays throughout Winterval.
Admission:-
Children must be accompanied by an adult.
Booking Online : You can book online here through our booking link directly to through Winterval Express Train
Winterval Sleigh
Enjoy a trip across the city and through the heart of Winterval on the festival horse drawn sleigh.
On your magical journey take in the various sights and sounds of this wonderful festival.
The beautiful double decker carriages are the perfect way to see the lights and decorations and absorb the atmosphere. Choose the luxurious and cosy downstairs or wrap up warm and brave the spectacular birds eye views of shoppers, carousels and stalls.
Venue – House of Waterford Crystal, The Mall
Times
2.00PM – 6.30 PM every Friday
11.00AM – 6.30PM every Saturday and Sunday throughout Winterval.
The sleigh departs every 30 mins
 The tour duration is 20 minutes
Admission:-
Booking Online : You can book online here through our booking link directly to through Winterval Sleigh
Winterval Illuminates Christmas Light Show
Each evening in the Christmas market over Winterval, come down to Cathedral Sq for this unique and wonderful festive light show.
Free Event
First show 5pm, then every 30 mins until 8pm.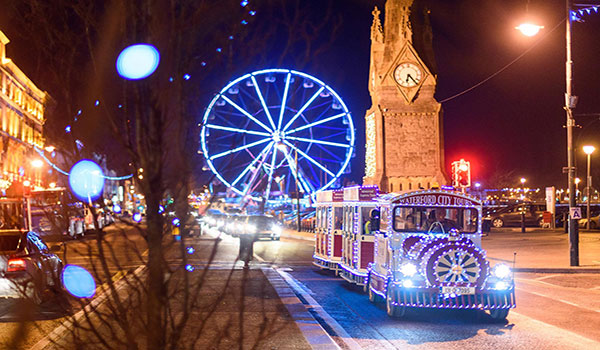 Winterval Winter Wonderland
Spraoi's Winter Wonderland at Wyse Park offers an enchanting family attraction at Winterval this Christmas
That special magic for which Spraoi are renowned will be on display, with that usual large-scale effect, along with music, lights, sound and spectacle, all transforming the city-centre park into a Christmas wonderland.   Journey through time as you wend your way through the Manor St gates in Waterford's historic city walls, and be transported to a magical land.
Based in Waterford, and best known for the annual Spraoi International Street Arts festival, Spraoi is an award-winning street theatre and spectacle company.  Spraoi's Winter Wonderland offers families a free and very special seasonal parkland experience. Don't miss it!
Free Event
Dates – Nov 30th – Dec 2nd, 7th – 9th, 14th – 16th, 21st – 23rd;
Time – 5pm-8pm
12 Days of Winterval 
As a tribute to the much loved Christmas song, 12 Days of Christmas, over 12 days of Winterval look out for a unique happening, based on each of the 12 gifts presented.
From spoken word to string quartets and brass bands, and from street theatre to ceili's and drumming, there'll be something for everyone to enjoy.
The Waterford Eye
A unique experience at Winterval, this iconic Big Wheel will operate throughout the festival.
VIP Experience: €50 for up to 4 persons.
For a special occasion choose the VIP group experience.  Enjoy warm blankets, complimentary chocolate and prosecco, or non-alcoholic fizz for childrens groups, the perfect way to enjoy the Waterford Eye!
Date – Nov 17 – Jan 16
Admission:-
€5 for adults
€4 for children
Children under 14 & Students with valid ID
€15 for family – 2 adults & 2 children under 14
All Winterval Events 2018
Check individual events for full details when planning your visit. Winterval Events 2018