Wooly Ward's Mobile Petting Farm
Wooly Ward's Mobile Petting Farm will give your child a memorable experience that they will talk about for months afterwards.
A visit from Wooly Ward's Petting Farm to your garden is a fantastic party event. It has been specially designed to work in a normal garden setting. They bring with them pigs, goats, lambs, hens, chicks, rabbits and lots more to you. The animals will perform in shows such as "No More Tricks" and "Sleepy Jack" and you will get a chance to lead, feed, groom and pet the stars afterwards. After the party food there is lots more fun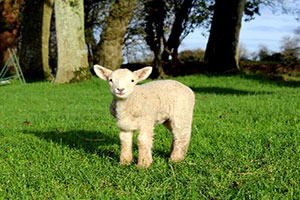 with animal quizzes, painted animal tattoo's and the animals love a sing song especially when the songs are about them!
They concentrate on bringing the children and animals together using a hands-on approach that's fun and engaging, while getting the children involved in a range of activities such as grooming and feeding. These activities are designed to educate children and encourage them to develop an understanding of the animals and their care.
A Farm to your Schools
Wooly Ward's Mobile Farm can visit your school so there's no travelling time to take into account. They can design a timetable with the school to give each class a chance to learn about the different animal habits & enjoy meeting them up close. Class interaction with the animals can range from 20-45 minutes. Each session will be designed around the age group of the children with the younger groups participating in an animal show & the older in an interactive quiz.
They can set a marquee & seating up in the school yard so weather is not an issue.
School Tour/Farm Visit
Experience a very special school tour at Wooly Ward's Farm. Up to 3 hours of action packed activities in a safe environment. Each class allocated a team leader who will guide you around the farm. Tours commence from 10am each day commencing in May. Let the children be educated & entertained at the same time! Ideal for children up to 2nd class.
Book early to avoid disappointment – limited number of places each day
For all enquiries and booking please call: 087 367 6787
Email: [email protected]
Wooly Ward's Activity Farm Themes Events
Wool Wards Farm hosts 3 Special Events over the year, including the Easter Eggstravaganza, the Teddy Bear's Picnic and the Halloween Experience.
For all enquiries and bookings please call:  087 3676787
Email: [email protected]