Address:
5a Lower Mornington Business Park Malahide Road, Artane, Dublin 5
Tel.:
086 608 9137


Please mention Family Fun when booking!
Zway Experience
A Different way of Having Fun
Zway Experience in Artane on the Malahide Road is Ireland's First Indoor Galaxy Theme Glide Center with a has a fleet of Segway-like vehicles, ZWay which offer a new and unique experience.
The staff at Zway Experience controls the SCV gliders with GPS and Bluetooth  and let the  adventurers glide through a purpose-built track featuring curves and obstacles. The vehicles can also be controlled with a smartphone, and visitors are given a complete tutorial by staff members before starting the experience. The design is inspired by the famous Segway but built for a less rugged environment.
Zway Experience track has all the challenges a SCV glider could wish for, from obstacles to free ways for the  more experienced.
Protective helmets and pads supplied and you are asked to wear shoes or runners with rubber soles only.
They will not allow  minor under 10 years to participate and all under 18s must be accompanied by an adult. Any person seen to be careless or dangerous to others or yourself will result in immediate removal from the premises.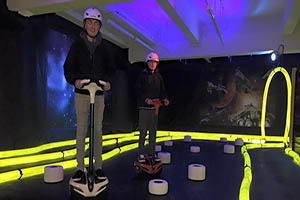 Feel the excitement of gliding in the indoor Galaxy Arena
Zway Experience Opening Times
Monday – Friday – 4pm to 9pm
Saturday – Sunday – 11am to 6pm
Please arrive 15 minutes prior to your track time. Late arrival will result in waiting to next available slot.
Zway Experience Pricing
Rates available on request, please enquire
Bookings and Inquires
It is recommend that you contact by email Zway Experience  or Phone: 086 608 9137 to book.