Dates:
From Wednesday, 9th of December 2015 to Sunday, 10th of January 2016
Venue:
The Tivoli Theatre
Address:
Francis Street Dublin 8
Tel.:
01 45 444 72


Please mention Family Fun when booking!
The Cheerios Panto 2015
Beauty and the Beast
The renowned Cheerios Panto is back at the Tivoli Theatre this Christmas "Yes It Is" with the wll loved children's classic, Beauty and the Beast and Alan Hughes as Sammy Sausages. It promises to be jam packed with magic, laughter and lots of surprises. A Giant of a Panto
Sammy Sausages and Buffy are back to take you and your family on another hilarious adventure. (Tv3 star Alan Hughes and Rob Murphy return in these iconic roles) plus an amazing all star cast to bring lots of fun, frolics and laughter to all who attend.
Written for the 19th year by Karl Broderick, Beauty & the Beast is his personal favorite, so there will be lots of cheeky surprises that you've come to expect from this top panto..we're excited already!!!
You know it's always a sell-out,  so get in fast for your favorite seats. Exciting cast members are being kept under wraps, for now, so get booking  everyone's favorite panto before it's sold out. Tanx a thousand for your continued loyalty, you make us want to get better every year."
It will make for a laugh a minute double act!!!
More Stars to be announced soon and some surprise guest appearances along the way. This hilarious and glamorous production will once again entertain both kids and adults alike, as only it can.
It's going to be Ireland's Funniest and most exciting panto! Oh Yes it is!!!!!
The Cheerios Panto Information
Venue:- The Tivoli Theatre, Dublin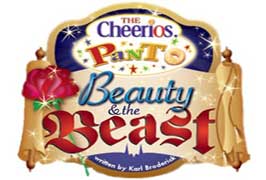 Classifion :-     Pantomime  /   All the Family
Date:- 9 December 2015  to 10 January 2016
Show Time:- 11.00,14.00, 15.00, 18.30
Admission :-     Price Range – €15.00 – €30.00
Running Time:- Around 2 hours 30 minutes, including interval
Booking:- Tel.  01 4544472
Tickets are non-refundable, non-transferable
Booking Online:- You can book online here through our booking link directly to the The Tivoli Theatre ticket sales
The Tivoli Theatre – Dublin
Situated on Francis Street in the heart of Dublin's south city centre the Tivoli Theatre is one of Dublin's premier theatres.  Converted from an old cinema the Tivoli houses two auditoriums, three bar areas, and a supervised car park – along with easy access to many public transport systems including Luas and Dublin Bus.  With all this the Tivoli Theatre makes for the perfect night out!