Name:
PartyKidz.ie - Kids Party Entertainment
Address:
Mobile Parties - Dublin, Meath, Kildare and Wicklow.
Tel.:
087 6561144


Please mention Family Fun when booking!
PartyKidz.ie Kids Party Entertainers
PartyKidz.ie are over a decade entertaining kids, so they have a wealth of experience to cater for kids from 3 – 13 years. They will go to your home or venue and look after your party with lots of cool, pop-tastic party activities for boys and girls of all ages ensuring a very special party day!
Their experienced entertainers have a huge mix of activities; from teaching Dance Routines to Cool Discos, Super Party Games to Arts and Crafts, from Singing to Limbo and Target competitions, Parachute Games to Tattoos or even Kids Nail Art….the list is endless, so there really is something for everyone!
…and they are more than happy to design a party package specifically around your child's interests or tailored for your specific group of kids, you only have to ask!
As parents themselves, they understand the preparation and stress that can be involved in arranging a kids party and that happy kids make for happy parents and that is their mission. They are mobile parties and therefore cover homes and venues in the Greater Dublin region, as well as parts of Meath, Kildare and Wicklow.
PartyKidz Design Your Own Party
They have 5 party packages to choose from and the basic party packages cover up to 22 kids with one entertainer.
Multi-Activity Party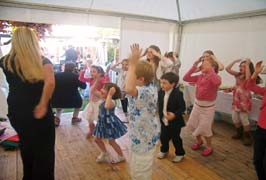 Makeover Party
Deluxe Facepainting And Balloon Modelling Party
Design Your Own Party
 Facepainting And Balloon Modelling Only
To Book Your Party you will get them on Partykidz.ie, email, [email protected], and by phone at 087 6561144