Adventure Rooms in Dublin
Adventure Rooms is a fun, unique and engaging real life escape game
We don't want to give too much away but the object of the game is to escape from a mysterious room within 60 minutes. It's not easy, only one third of participants manage to escape within the given time. Do you and your family accept the challenge?
Use your logic and lateral thinking to tackle the tasks at hand with the help of obscure and interesting objects to set yourself free. To solve the puzzles different talents are required. Everyone must do their part. Individual fighters have no chance. Puzzles will enhance logic, critical thinking, ability to work under pressure, communication and team work.
To be successful, families and groups must use each player's strengths to the team's advantage in order to accomplish a mutual goal. Escape
There are no dangerous or scary elements to Adventure Rooms game. It is suitable for 11 years upwards.
(Please note: Minors under 16 years of age must be accompanied by a guardian for the duration of the game)
Adventure Rooms is great fun and a unique outing for Families, Friends, Birthday Parties, Tourists, class team building, and more. They also welcome teachers with students for an interesting class outing.
Escape games are gaining popularity internationally as a unique and fun family team building event.
Benefits of playing Adventure Rooms escape game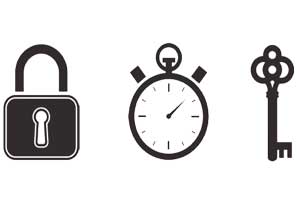 Enhances family spirit and team building.
Promotes communication & interaction between family and students.
Great sense of achievement.
A memorable experience with lots of fun & laughter
Adventure Rooms Opening Times
Open 7 days a week from 10 am – 8 pm . (Bookings by appointment only) Games run every 2 hours.
Pricing At Adventure Rooms
Starting from €18 – €25 depending on the number of players.
Booking Online – You can book on line here through our booking link directly to the Adventure Rooms ticket sales
Please see booking Online page for more info on pricing.
School Outings at Adventure Rooms
Adventure Rooms Dublin is a real live escape game. A perfect school outing for team building, to enhance team spirit among  students.
The object of the game is simple: escape a mysterious room or rooms within a set time frame.
Location of Adventure Rooms
Adventure Rooms Dublin is located on 6-7 Little Britain St, Campbell's Court, Dublin 7.
They are situated next door to Loam advertising.
Please see Google map top of this page.