Ardgillan Castle Demesne
Ardgillan Castle and Demesne is situated in North County Dublin on an elevated coastline between Balbriggan and Skerries, 20 miles north of Dublin City. The demesne is well signposted off the M1. The park consists of 194 acres of rolling open grassland, mixed woodland and gardens, overlooking the Irish Sea with views of Mourne Mountains to the north and Lambay to the south-east. Ardgillan is a sanctuary for many species of animals, mammals and birds for which the wooded areas provide a safe retreat from surrounding agricultural land.
Today the demesne is a stunning visitor attraction with a range of facilities the public can avail of, including castle tours, theatre events, afternoon tea, children's parties plus much more!
Ardgillan Castle and Demesne Attraction
Fairy Tree Trail at Ardgillan Castle.
Ardgillan Castle has launched the newest addition to its already spectacular parkland with the creation of a Fairy Tree Trail. This project was created in collaboration with Fingal County Council and is free of charge. The trail is dotted around the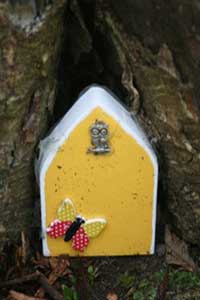 woodland area of the walled garden and offers visitors a chance to learn about the different varieties of trees growing at Ardgillan. Throughout the trail there are informative panels with interesting information on the many species of tree growing in the park. A map and quiz has been created to coincide with the trail and is available to download or you can pick one up at reception in Ardgillan Castle. The added bonus on this trail is that you might spot a fairy hiding or living in one of the beautiful trees!
The team aim to grow the Fairy Tree Trail by creating a magical woodland area which will encourage lots of new fairies to come and live at Ardgillan. Balbriggan Men's Shed is creating homes to house all our new fairy arrivals!!!
The trail is open all year round in the park.
Paws at Ardgillan
Dog Friendly Café in the Gardener's Cottage.
In a pioneering concept, Paws at Ardgillan is a unique new café that will give dog walkers the opportunity to dine with their dogs in the stunning surrounds of Ardgillan Castle. The dog-friendly facility is one of the first in Ireland and is certainly the first feature of its kind in a municipal park in the country.
This refreshing new initiative means that after a walk in the extensive and abundant wide open spaces of Ardgillan, dog walkers can sit with their dogs at a café table and partake in either hot or cold light food and refreshments.
Dog Café House Rules:
Dog owners are expected to clean up any accidents.
All dogs are to be kept on a leash.
Persistently noisy dogs will be politely asked to leave.
Castle Tours:
Access to the castle is by guided tour only. Tours are available on demand. Our team of tour guides are both experienced and friendly with a great knowledge and understanding of the castle and its family occupants, The Taylors.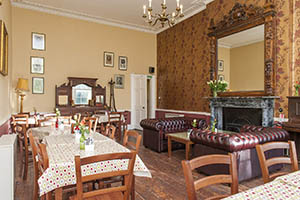 Garden Tours:
Our head gardener will provide a unique and engaging tour of our Victorian walled gardens.
Highlights include the Potentilla garden and alcove wall which is believed to have been a Famine relief project.
TeaRooms:
The Ardgillan Castle Tea Room is a traditional Irish tea room with, home cooking, a friendly welcome, a relaxing atmosphere and an amazing historic ambiance to soak up the environment and character of an Irish manorial estate.
Afternoon Tea:
Enjoy a leisurely afternoon in our lavish Drawing Room and Sun Room, an inspirational Downton Abbey-esque ambiance that once belonged to the Taylor family, savouring a selection of delectable treats. Soak up the eighteenth century setting and embrace the character of Ardgillan. Sit back, relax and enjoy.
Playground:
The FUNTASTIC state-of-the-art playground has over 30 pieces of play equipment to enjoy from cradle swings for the very young to a large climbing space net for older children (under 12).
Activity Nation:
If you are looking for group activities then you have found the right place – from School Tours to Corporate Team-building, Activity Nation can help you put an affordable and exciting package together.
Ardgillan Castle Facilities
Tea Rooms (wheelchair accessible)
Dog Friendly Café
State-of-the-art Children's Playground
Children's Parties (Historically themed)
Fairy Tree Trail
Magnificent Gardens
Spectacular Cycle and Walking Paths
Civil Wedding Ceremonies
Room Hire, Conference and Workshop Space
Picnic Areas
Public Toilets
Expansive Wide Open Spaces.
Free Car Parks
The Ardgillan Castle Bigfoot Experience For Schools
School tours and field trips to Ardgillan are proving to be extremely popular especially with the recent arrival of the Ardgillan Bigfoot!
The average Bigfoot tour to Ardgillan takes approximately 2 hours. During this time, the school/group will get the opportunity to explore Ardgillan Castle & Gardens.
On the tour the schools/groups can experience how life used to be in the castle.
Schools/groups are encouraged to bring their own packed lunch which can be enjoyed in any of the expansive picnic areas, or indoors if desired. Children's packed lunches are available but must be booked in advance.
After lunch, the children will then be taken on a walk through the gardens, where they will see many varieties of trees, plants, flowers and herbs.
Whilst in the gardens the children may encounter the scary figure of the Ardgillan Bigfoot. He's really a friendly Bigfoot, and people say that he's more afraid of us than we are of him.
To round off an action-packed visit, schools/groups can avail of our state-of-the-art playground or enjoy a leisurely walk around the park.
Prices are from €7.00 per child (Minimum of 20 children)
To book your school tour contact Ardgillan at email: [email protected]  phone: 01 8492212
 Ardgillan Castle For Kids Parties
Would you like to be King or Queen of the Castle?
There children's parties have proved to be a huge success since they were introduced.  The entertainment team put on a fantabulous interactive show making the Ardgillan children and family parties legendary in these here parts, providing you with the East Coast's most unique and spectacular parties, catering for up to 25 children and include the following.
A Professional Entertainer
Private Party Area (Fully Decorated)
Regal Costumes For Everyone
Mini Disco & Games
Interactive Story Telling Tour
Light Food Options
To book your unique party contact:
[email protected]
  or simply call Ardgillan Children's Parties on 01 8492212.
Ardgillan Castle Demesne Opening Hours
Park and Garden is open all year round during the following hours:
Nov – Jan: from 9am – 5.00pm
Feb – March: from 9am – 6.00pm
April & September: from 9am – 8.00pm
May – August: from 9am – 9.00pm
Ardgillan Castle is open from 10am-6pm April – August & 10am-5pm November- March. The last tour leaves 90 minutes before closing time.
Ardgillan Castle Tour Admission:
Adult: €6.50
Senior Citizen & Students: €5
Family: €13
Group Rate: €5
Guided Tours of the Walled Garden (Must be booked in advance): €5
Group Rate by Appointment: €5
Afternoon Tea:
Prices from €25.00 per person.  Advanced booking essential.
How To Get To Ardgillan Castle
The Park is located between Skerries and Balbriggan and the route is well signposted from the M1/N1 Dublin-Belfast road to Balbriggan.
Bus 33 from Eden Quay in  Dublin city centre.  –  The bus passes under Ladies Stairs footbridge entrance which is unusuable at present.  It is necessary to walk back to Barnageeragh bridge, and follow road to main entrance.