Name:
Atlantic Air Adventures Museum
Address:
Link Road, Shannon, Co. Clare
Tel.:
+353 (0)61 363687 or 087 2037487


Please mention Family Fun when booking!
Atlantic Air Adventures
At Atlantic Air Adventures in Shannon, Co. Clare, aviation is their passion, and their aim is to involve everyone who wants to know more about the wonderful world of aviation.
They provide interesting, informative and fun programmes for children, teens and families, delivered by dedicated Aviators, Engineers and Industry Professionals who combine to share their knowledge, experience and passion for flight, all at their unique facility in Shannon – the heart of Irish Aviation.
Sky High Family Activities at Atlantic Air Adventures
If you are looking for a new day out for the family, check out this family flying experience! Learn how aircraft fly during a pre-flight ground school lesson, then test out those theories with a virtual flight in a high performance aerobatic aircraft!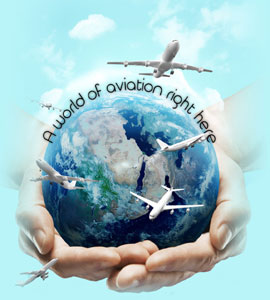 Suitable for the armchair pilot or complete novice. The instructors are always close by! This is a fun new experience for the family to enjoy together.
Take an interactive guided tour of Shannon Aviation Museum to learn more about the displays of aircraft, jet engines, landing gear, Cockpits, including the Iconic Spitfire, as well as a great collection of Model airplane artifacts and memorabilia. There might be a surprise along the way for one visitor who will be invited to assist in demonstrating a life vest!
Family Fun Tip:– All visitors will also have the chance to sit in a real aircraft so don't forget your camera!
You can even upgrade and take an additional challenge, approach and land a B737-800 NG, ideal for the big kids or a the budding aviator in the family.
Tour Details and Booking
Summer Schedule: Starts daily at 2 pm
Duration: Approximately 2 hours
Price Per Person: €20.00
Suitable for Children 7+ (children must be accompanied by an adult at all times)
Includes Flight Simulation Experience and Guided Interactive Museum Tour
Additional 15 min B737 NG Flight Experience €45.00 (can be shared by two people)
Booking is required, just call us 061 363687.
Visit The Aviation Museum!
Want to learn more about the world of aircraft engineering? Visit the aviation museum to see aircraft cockpits, jet engines, and even an aircraft carrier jet, plus a unique collection of model aeroplanes, artifacts and memorabilia
They have Complete Aircraft (Blackburn Buccaneer XX 897, Cessna Skymaster 337 G-BVVT), Cockpits (Supermarine Spitfire Replica, Sepecat Jaguar GR1 XX826), Jet Engines and a great collection engineering examples, artifacts and memorabilia
Public Opening of Museum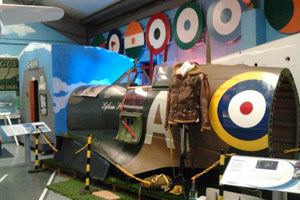 Winter Season – Saturdays
Groups – Midweek by booking
Summer Season Daily 11.00 – 4 pm Last Admission
Interactive Guided Tours Daily at 2pm and 3 pm
Aviators Birthday Parties
Are you looking for birthday party ideas for kids?
AvKids Aviation Birthday Parties are a great opportunity to help nurture and develop that passion for flight or expose curious minds to new concepts and ideas in a fun-filled way.
Includes Visitor Centre Admission for 2 adults, plus a set of Airline Ticket Birthday Invitations, Passports, and baggage tickets for you to print before arrival at Atlantic AirVenture.
Price per child: €15
Minimum group size 8 for above pricing
Suitable for ages 7+
Duration: 1 hr 30 mins
For more information and booking call – 061 363687
Atlantic Air Adventures School Tours
Discover flight with fun and educational Aviation Primary School Tours!
Designed to introduce primary school students to the basic concepts and theories of flight. Atlantic AirVenture present the tour in a 'Hands On, Minds On' mix of fun, simulated flying and real world ground school learning. Students, teachers and adults also visit Shannon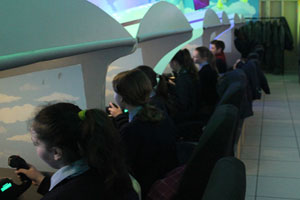 Aviation Museum to see Aircraft, Cockpits, Engines and a great collection engineering examples, artifacts and memorabilia.
The day is designed to introduce primary school students to the basic theory of flight and aerodynamics in a fun 'hands on, minds on' format. Student's will learn about the four forces acting on an airplane in flight and how airplanes are flown and controlled.
AvLabs Aviation School Tours are a great idea for your school day out.
Both large and small groups are accommodated. Call us on 061 363687 for bookings.
AvKids Aviation Camp
Aviation is a fascinating subject and children are especially curious about the wonders of flight. During this voyage of Aviation discovery 8-12 year olds' learn about the essentials of flight and aircraft using a combination of classroom lessons and practical fun Simulated Flight exercises and challenges. Aces also get to see and learn more about the Museum aircraft, get to sit in a cockpit, and even try out a full scale Boeing 737 NG flight simulator for a landing. It's a dream week for the budding pilot or flight enthusiast.
Aviation Academy for Teenagers
This four day academy is a unique way for young people aged 14-18 yrs to explore aviation. Combining daily tutorials from professionals in the field of Commercial Pilot, Aircraft Engineer, Aeronautical Engineer, Air Traffic Controller and others, as well as ground school and practical flight simulation exercises, students will learn the Fundamentals of Flight demonstrating how essential the STEM subjects, Science, Technology, Engineering and Maths, are to the world of Aeronautics at every level.
Includes a trip to Aircraft Maintenance facility and the Air Traffic Control Centre.
Teen Camp Booking Details:
Atlantic Air Adventures For Mum and Dads
Come and fly the Boeing 737 flight simulator!
Atlantic Air Adventures simulator instructors are professional pilots and will guide you through your flight to make this an incredible and thrilling experience!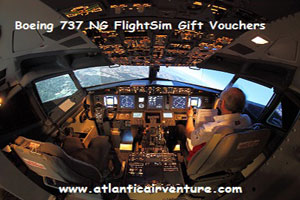 The Boeing 737-800 NG flight simulator is constructed using the cockpit section of C-GAPW, cn 20922/370, ex Canadian Airline Boeing 737 which logged 71,152 flight hours and 74,614 landings during its 30 year service. The flight deck features many of the original parts, interior lighting, seating, flight controls and original Boeing throttle which add to the incredible realism of this unforgettable experience.
For more information and booking call – 061 363687
Fear Of Flying? 
If you feel uncomfortable or fear the thought of flying, you are not alone. Many people just don't like it for many reasons!
At Atlantic Air Adventures their method is to educate you about flight, and to demystify the sounds and sensations you may not like or understand. The course tutors are experienced airline pilots and flight instructors flying for major Irish and International Airlines with thousands of hours experience under their belts. You can ask them anything you like about flying and they will have the answer!
There are various ways of delivering this course, but they have found that they can significantly ease a nervous individual's concerns by explaining and demonstrating what really happens up front in an airliner. This takes places on a relaxed one-to-one basis, using a realistic passenger jet simulator at Atlantic AirVenture in Shannon, Co. Clare. With this course, you have taken the first step towards banishing your fear of flying.
For more information and booking call – 061 363687
Directions To Atlantic Air Adventures Museum in Shannon, Co. Clare
They are located just a few miles off the main N18 Galway – Limerick road in Shannon Town, Co Clare.
Atlantic Air Adventures Aviation Centre is approx 3 km distance from Shannon Airport , 15 mins from Limerick City,15 mins from Ennis Town. 2 hrs from Dublin.
Follow signs for Shannon Town. Take Exit 8 from on NI8 Limerick side or Exit 9 from Galway approach. Follow signs for Shannon town.