Dates:
From Saturday, 20th of May 2017 to Sunday, 21st of May 2017
Times:
10:00 am to 6:00 pm
Address:
Dollymount Strand, Bill Island, Dublin
Battle for the Bay Festival
The Water Sport Festival of the Year
Battle for the Bay returns to the sandy shores of Dollymount Strand in Dublin for another two-day event, a unique celebration of Irish water sports with plenty of land action too and has grown year on year into a seriously enjoyable weekend by the coast.
This free colourful event features Ireland's biggest stand up paddle event and the Kiteboarding KBC Tour with plenty of action for the weekend on Dollymount Strand.
A great line up of live music, beach sports, market stalls, kid zones and biodiversity village, the is something for all ages.
For those who can't resist a spot of shopping, there is the beach market to scour its selection of vintage clothes, vinyl records, jewellery and arts and crafts.
Food lovers can enjoy the Farmers' Market Food Village, the children can be kept entertained at the Battle for the Bay Kids Zone with fairground rides, the Big Wheel, beach volleyball and a Biodiversity Village where you can explore the wildlife of Dublin Bay.
With free entry and events for all ages, there's no excuse not to come along and experience Battle for the Bay. Whether you're a beginner, novice, expert or even just have an interested in water sports, you can try out some of the newest toys on the scene, ask the experts or simply chill out on the beach soaking in the vibrant atmosphere.
Get the family, your towels and a picnic and head to the Battle for the Bay festival this summer!
Battle for the Bay Family Fun
Bio Diversity Village
Demonstrations on the beach
Kite introductions for the newcomers
Gibbons Slacklining World Challenge:
Mega Funfair
Crazy Kid Rides
Kids Zone
Beach Volley
LandYachting
Battle for the Bay Sport Fun
KBC Kite Boarder Cross Racing
Standup Paddle Boarding Competition
Landyacht & Kite Buggy Demo
Beach Volleyball
FlyeFit Fitness Village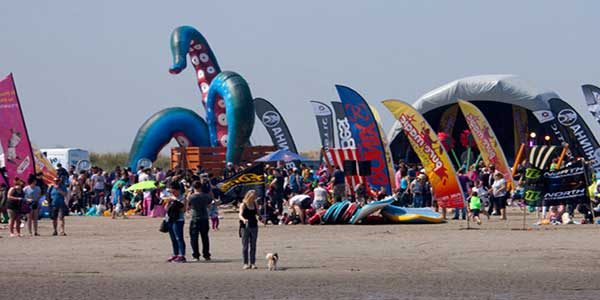 Battle for the Bay Event Information
Venue:- Dollymount Strand, Bill Island, Dublin
Classification:- Family Festival
Date:- Saturday, May 20 and Sunday, May 21
Time:- 10am to 6pm
Admission:- Free