Name:
Blackwater Open Farm, Restaurant & Fun Zones
Address:
Ballinaclash, Blackwater, Enniscorthy, Co. Wexford
Tel.:
085 1227901


Please mention Family Fun when booking!
Blackwater Open Farm
Blackwater Open Farm and Fun Zone in Wexford is a day for the whole family to enjoy. Meet the animals, enjoy a picnic or have a bite to eat in the cafe, ride the tractors and play in the playground. There are plenty of animals to meet and learn about including donkeys, llamas, rabbits, horses, rare breeds of pigs, various birds, sheep, cows, goats and more.
After strolling around the farm and the kids enjoying all the fun zones you and your family can then enjoy some lunch in the Garden Cafe.
Keep an eye out for special events that Blackwater Farm hold around Easter and Halloween.
Blackwater Open Farm And Fun Zones is ideal as a party venue for birthday or for school tours.
Facilities Include
Fully wheelchair accessible
Ample coach & car parking
Toilets & baby changing facilities
Indoor & outdoor play areas
Indoor & outdoor picnic areas
Pedal Go-Kart track
In-door soft play area (permanent bouncing castle)
and much more
The Garden Cafe At Blackwater Farm
All dietary requirements are catered for and whenever possible the Farm's home grown produce is used. There is a children's menu and you can also buy take out from the Garden Cafe.
Events Down on the Farm
Easter:- 
Join them for the Easter Eggstravaganza
Teddy Bear's Picnic:-
In July is the time for the annual Teddy Bear's picnic, an afternoon full of great family fun.  Bring your Teddy Bear along, dressed up in his finery and enjoy a picnic out on the farm, prizes for the best dressed Teddy
Halloween:-
Halloween Disco and Party Time! Enjoy some Balloon modelling, party games and disco fun by mrs. oddsocks and her spooky crew this halloween… but not only that, if you join them in the fancy dress you can have your face painted to match, wouldnt thast be great!
Event will take place October 31st from 2pm – 5pm
For face painting, traditional Halloween party games & a themed spooky Halloween menu in the cafe.  Come in your fancy dress and have your face painted to complete the look.
Before you set out, call Niamh for details on times and prices 087 1303057
Please mention Familyfun.ie when Booking
Birthday Parties On The Farm
Party venues can rarely be as helpful as Blackwater Farm. Not only will you enjoy a great day out for your birthday party but they can provide all the catering including the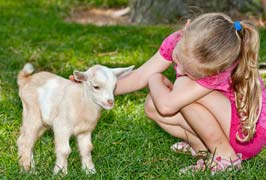 birthday cake and decorations. If you would prefer to do the catering yourself or even just bring your own birthday cake that is of course catered for as there are a number of party options for you to choose from.
They also cater for Christening, Communion, Confirmation Parties, or any other event you wish to celebrate, and have endless experience catering for such events, amazing value, good food and nice menu choices available
Call Niamh for details 087 1303057
The Farm School Tours
Blackwater Open Farm And Fun Zones is an ideal choice for your school tour. The tour is suitable for children of all ages especially as the farm is located minutes away from the local beach which could be incorporated into your day out.
The day at the Farm includes a tour and lunch or you can choose to just have a tour.
Contact Niamh in Blackwater Open Farm  for more details and special group rates on 087 1303057 .
Website:- Blackwater Open Farm
Blackwater Open Farm Opening Times:
February & March, Saturday & Sunday 12-5pm
April – May – June, Wednesday-Sunday 10am-5pm
July – August 7 Days a week 10am-6pm
September – October-November,  Saturday &Sunday 12noon-5pm
OPEN EACH DAY OF THE HALLOWEEN MID-TERM BREAK FROM 12PM – 5PM
OPEN ALL BANK HOLIDAY MONDAYS
Directions To Blackwater Open Farm And Fun Zone
Travelling From Wexford Town
Cross Wexford Bridge – Drive 3km and turn right for Curracloe – Drive straight
towards Blackwater for 5km – Sign to the right for Blackwater
Travelling From Enniscorthy
Cross the old Bridge and turn left for Blackwater – Drive approx 12 miles – At
Blackwater turn right for Curracloe – Drive 2km – Sign to the left for Blackwater
Take the coast road through Kilmuckridge to Blackwater – Drive Straight through
Blackwater towards Curracloe – Drive 2km – Sign to the left for the Pet Farm
Travelling From Gorey/Dublin
Take 'Exit 23' from motorway for Ballycanew – Keep on road for Wexford – Drive
approx 30km and take a left at sign for Blackwater – Once in Blackwater turn right
for Curracloe – Drive 2km – Sign to the left for the Pet Farm.