Name:
Birds Of Prey Centre
Address:
Aillwee Cave, Ballyvaughan, Co Clare.
Tel.:
+353 65 7077036


Please mention Family Fun when booking!
Birds Of Prey Centre
For a family day out with a difference, a visit to the Birds of Prey Centre at Aillwee Cave, will be a day to remember. For both adults and kids alike the Birds of Prey Centre offers a rare insight into the world of magnificent birds of prey.
In addition some of the birds on site are part of the World Wide Breeding Programme of rare and endangered species, allowing a rare glimpse of these animals.
The Bird of Prey Centre is home to birds from all around the globe including falcons, hawks, owls, eagles and vultures. Each enclosure offers an opportunity to see, hear, and interact with these majestic creatures and learn about the ancient sport of falconry.
Located in the Aillwee Cave complex, you can either purchase tickets for both attractions or just individual ticket for either of the attractions.  Opened in March 2008, the Burren Bird of Prey centre is the largest such centre in Ireland.
Bird Of Prey Flying Displays
A highlight of any family visit to the Birds of Prey Centre is to attend one of the flying displays that take place daily,see www.aillweecave.ie for times.  In a specially designed arena you and your kids can view these stunning birds in free flight as they soar and wheel in the area at the foot of Aillwee Mountain against the stunning backdrop of The Burren.
 Hawk Walk
A once in a life time opportunity to interact with one of nature's top predators awaits you, all in the unique setting of Aillwee Mountain, Co Clare. On arrival, you will be greeted by your instructor and given a brief but informative introduction to falconry and the Harris Hawks that you will be handling. These are the world's only social raptor and are perfectly suited to working with the public. Once comfortable with your hawk, you will set off to the Hazel Woods and into the depths of the spectacular Burren region. Your instructor will coach you on how to release and call your hawk back.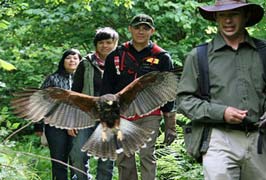 You will then walk through the woodland paths for an unforgettable 45 minutes of wonder and exhilaration as the hawk flies to and from you, demonstrating its mastery of the air, it's thrilling manoeuvrability and its dashing speed. No previous experience is necessary and we cater for all ages. Our aim is to share with you the pleasure and excitement of falconry, a fascination that has enthralled people for over 4,000 years. Be sure to bring your camera, flying a Hawk is an experience of a lifetime.
Hawk Walks cost €70 per person – This also includes a guided tour of Aillwee Cave and visit to the Burren Bird of Prey Centre for a Flying Display.
For more information please contact 065-7077036 or email [email protected]
Bird Of Prey Opening Times And Admission Charges
The Burren Bird of Prey Centre is open all year around from 10am till 5.00pm (6.00pm in July and August).
Adults                         €10.00 –  online €8.00
Children                      €8.00 –  online €6.00
Children under 4      Free
Family                         €25.00 –  online €20.00( 2Adults & up to 4 Children)
Admission for Aillwee Cave & Birds of Prey Centre
Adults €18.00 – online €16.00
Children €10.00 – online €9.00
Children under 4 Free
Family- €44.00 – online €40.00 (2 adults + 1 – 2 children)
Family – €50.00 – online €45.00 (2 adults + up to 4 children)
You can book on line here through our booking link directly to the Aillwee Caves online ticket sales
Please Note
No dogs are permitted except Guide Dogs.
Children must be accompanied by an adult.
There is ample car parking.
Conservation And Education At The Burren Birds Of Prey Centre
The Birds of Prey centre is committed to both the conservation of indigenous birds of prey and to the education of the general public in relation to these unique birds.
The centre has an active breeding programme and during the breeding season, the public can view the baby birds in the nursery. Kids will be fascinated to gain such an insight into the care of these youngsters.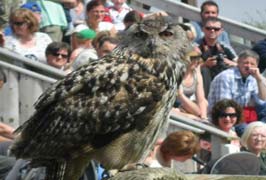 The purpose built centre contains various enclosures, each tailored specifically to the needs of the species it houses. Currently there are buzzards, eagles, falcons, owls and hawks on display.
The Birds of Prey centre is also affiliated to various programmes to re-introduce certain species of birds back to Ireland, birds that have become extinct in this country. These programmes include a programme to bring back the Red Kite and the White Tailed Sea Eagle – birds that were once common in Ireland.
Directions To The Birds Of Prey Centre
The Bird of Prey Centre is located beside the Aillwee Caves, on the edge of the Burren National Park approximately 3km south of the village of Ballyvaughan on the R480.   This is approximately 60km from the cities of Galway or Limerick.