Name:
Magical Christmas Experience
Address:
Kia Ora Mini Farm, Courteencurragh, Gorey, Co. Wexford
Tel.:
053 942 1166 or 086-0836715


Please mention Family Fun when booking!
Magical Christmas Experience at Kia Ora Mini Farm 2018
Voted Best Santa to Visit in Wexford – Daily Mirror – 2016
Santa's  delighted to announce his return to Kia Ora Mini Farm. Come visit the animals, see Santa's cosy home and view in amazement at the  enchanting musical light show.
Each good child will receive an "I'm on the Good List" Key from Santa, which will give them access to the fantastic new present room where they can pick their own unwrapped present from the large range of special gifts, with the help of the elves
From start to finish a festive Christmas visit to Santa at Kia Ora Farm in Wexford is full of sparkle and will include:-
-Thousands of Twinkling Lights
-Live Stable of Bethlehem
-Illuminated Light Show
-Feed the Reindeer and other animals
-Ride the Fire Engine and sing Fun Christmas Songs
-Visit Santa's Bedroom Kitchen, Workshop and Post Office
-Post your Letter in Santa's Post Box
-Visit Santa & Mrs. Claus who will present each child with an "I'm on the Good List" Key to access the Giant Present Room and pick your own toy with the elves
-Hot chocolate for each child
Form more information visit Kia Ora Mini Farm
Christmas is a time of peace and joy and best spent with loved ones, it's best to get back to nature and enjoy the simple pleasures in life at Kia Ora Mini farm!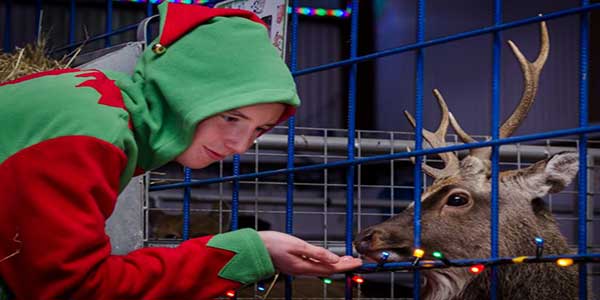 Magical Christmas Experience Event Information:
Venue:-  Kia Ora Mini Farm, Gorey, Co. Wexford
Classification :-  Family Christmas Event  /  All Ages
Dates / Times:-
November
Saturday, 24th & Sunday 25th:  1pm – 6pm
December
Saturday, 1st & Sunday, 2nd:  1pm – 6pm
Saturday, 8th & Sunday 9th: 1pm – 6pm
Monday, 10th: 4pm – 7pm
Tuesday, 11th: 4pm – 7pm
Wednesday, 12th: 4pm – 7pm
Thursday, 13th: 4pm – 7pm
Friday, 14th: 4pm – 7pm
Saturday, 15th & Sunday, 16th: 1pm – 6pm
Monday, 17th: 4pm – 7pm
Tuesday, 18th: 4pm – 7pm
Wednesday, 19th: 4pm – 7pm
Thursday, 20th: 4pm – 7pm
Friday, 21st: 4pm – 7pm
Saturday 22nd & Sunday 23rd: 1pm – 6pm
*Closed On Christmas Eve
Admission: –
Adult €8
Child €18
Infant €10 *present included*
Infant FREE *no present included*
Booking:- No Booking Required
*Booking Only Required for schools/creches/playgroups/large groups/birthday parties/corporate groups
For more information call 053 942 1166 or (086) 083 6715