Dates:
From Saturday, 15th of July 2017 to Sunday, 16th of July 2017
Venue:
City Spectacular Festival
Address:
Fitzgerald Park in Cork
Laya Healthcare's City Spectacular Festival in Cork
The Laya Healthcare City Spectacular Festival is back on the streets of Cork and it is agreed that it is one of the best Free Family Fun Event around with lots fun for everyone.
Ireland's biggest free summer festival that brought you 14,000 people breaking the Where's Wally World Record, 1,500 people bouncing on space hoppers, a custard pie throwing championship, rainbow disco and hundreds of jaw-dropping street performers from all over the world; is back again this July 15th and 17th in Fitzgerald park in Cork with spectacular shows, workshops and activities for all ages!!
A 12 time Guinness world record holding sword swallower, weight-lifting strong woman, disco ball-tastic 'silent disco tour' and slapstick, rapping and science workshops for the little ones are among the programme highlights at this year's festival.
Laya Healthcare's City Spectacular in Cork has grown from a festival of 26,000 to 240,000 and has quickly become Ireland's highest attended annual festival after St. Patrick's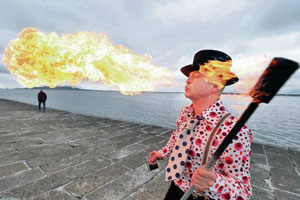 Day. The festival remains the key date in the international street performance calendar with this July's event headlining the very best entertainers and the return of some fan favourites –
Monsters of Schlock
Nino Costrini
The Mighty Gareth
Paul Morocco and Olé!
Kobbler Jay
Jack Wise
Secret Circus
WOODY WOODman
Laya Healthcare's City Spectacular Festival has also expanded its programming to include FREE children's free arts & crafts workshops from ArtZone in 'Make N'Do Mountain' and kids aerobics, happy yoga, dance and drama classes in the 'Super Dee Duper Trooper Tent'
Laya Healthcare's Greatest Place on Earth
Families will discover and delight in the spectacular as they explore Laya Healthcare's Greatest Place on Earth. Children and their grown ups will play, dance and create together in circus tents filled with free performances and workshops with lots of laughs & family fun throughout the weekend!!.
There will also be face painting, balloon modelling, juggling workshops, and every year they scour the globe to bring the best international street performers to Ireland to compete for the world champion title.
Hold onto your socks and get ready for an action packed festival full to the brim with jaw-dropping jugglers, awe-inspiring acrobats and spine-tingling sword swallowers!
'​Just Eat Street' Festival
A big focus at the festival is good food and they have created an dedicated food festival within the festival this year called '​Just Eat Street' which will see demonstrations, fun live performances and of course a wide variety of yummy ​cuisine from around the world.
Just Eat Street is a feast of food, fun & entertainment in Fitzgerald Park's Rose Garden where you can enjoy over 15 cuisines from around the world. Chill in the sunshine with friends & family while the Just Eat Waiter Service takes and delivers your food orders, bringing the best of Just Eat's online ordering service to life at Laya Healthcare's City Spectacular.
O'Eggs Fun On The Farm
O'Egg Fun on the Farm is a family fun event aimed at entertaining, exciting and educating kids and parents. What can you expect? You can whizz around on the children's tractors and jump so high on our large inflatable tractor, to racing in our O'Egg & spoon races and fun O'Egg games. There is lots to do for children all ages, you will have an EGGcellent time, we promise!
City Spectacular Festival Imaginosity's Ready Steady Grow
Join crazy Dr.Osity from Imaginosity in their body Science show…Ready Steady, Grow! A fully interactive show focusing on the magic of the body and how it works…from top, to toe! From the brain and the skeletal system to your muscles and skin, Dr. Osity will work with the audience in a fun, unique way to help children learn all about their bodies through the mediums of song, movement and science!
Corks Red FM
RedFM are delighted to be Media Partner with Laya Spectacular for the 5th year in a row. The Red Patrollers will be at the RedFM Tent and will be on hand with lots of games including Giant Jenga & Connect 4 to keep the little kids (and big ones!) amused. Plus look out for the RedFM Presenters who will be live from the Big Red Bus playing the best music to keep you entertained all day!
City Spectacular Festival in Cork Information
Venue:- Fitzgerald Park in Cork
Classification :- Family Event / All Ages
Dates:- July 15th and 16th, 2017
Time:- 12 – 8 daily
Admission: Free Event
Family Fun Tip:- All entertainment at the festival is entirely free of charge, with the performers, who have dedicated their lives to this amazing art form, asking for a contribution from their audience at the end of each show.