Name:
Clayton Hotel Liffey Valley
Address:
Fonthill Road Liffey Valley Dublin 22 D22 X4W6
Tel.:
35316258000


Please mention Family Fun when booking!
Clayton Hotel Liffey Valley
If you are looking for that Family Fun Getaway look no further than The Clayton Hotel Liffey Valley. With packages to suit all needs. At Clayton Liffey Valley they strive to ensure that the hotel creates the perfect atmosphere for that relaxing family fun break.
The 4 Star family friendly Clayton Hotel Liffey Valley is located at the M50/N4 intersection at Liffey Valley and only 7km from the N7 which makes it easily accessible to all major routes (Cork, Galway, Limerick, Belfast.)
The hotel has an abundance of family-friendly facilities such as a,  Kids Corner, 20m indoor swimming pool along with a kiddie's pool and a movie room. Clayton Liffey Valley also has plenty of local attractions to visit for kids of all ages on the hotels doorstep; Tayto Park (30km), Jump Zone (1km), Base (12km), Dublin Zoo (9km) and the Phoenix Park (9km) which is close to Dublin City Centre to name but a few. Within walking distance of the hotel, enjoy Liffey Valley Shopping Centre, with over 80 stores, 20 restaurants, and state of the art cinema.
Family Friendly Deals
Find out all about the Clayton Hotel Liffey Valley Family Packages and Special Offers
Activity Breaks for Families
For a fun-filled family break, the Clayton Hotel Liffey Valley is the place to be. The hotel is only a short drive to Dublin Zoo and Tayto Park which are sure to keep the kids entertained! They have hotel packages available that include entrance tickets to these attractions also. Packages include dining options too in the delicious restaurant or bar.
Book Your Family Break in the Clayton Hotel Liffey Valley
Family Friendly Accommodation
Clayton Hotel Liffey Valley family rooms include a double bed and two single beds which comfortably accommodates families up to four plus a travel cot if needed.
Interconnecting family rooms are available and can then hold up to 8 people and 2 travel cots, ideal for families with older children, offering extra peace and privacy but still with mum and dad next door
For added luxury during your stay, there are also executive rooms available that have a king bed as well as a sofa bed in the living room and a kitchenette area, these rooms can hold 2 adults and 3 children.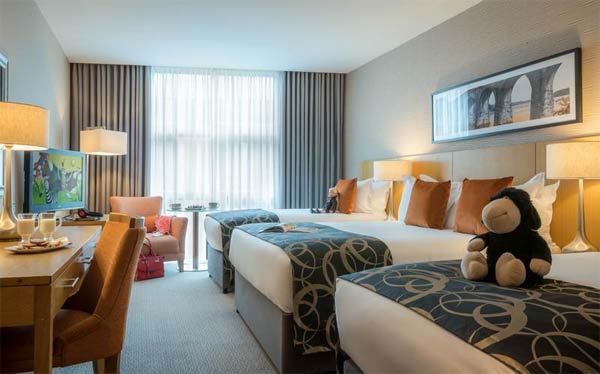 Dining at Clayton Hotel Liffey Valley
Guests staying at The Clayton Hotel Liffey Valley have a variety of dining options to choose from during their stay at the luxurious 4 Star Hotel.
Although our trademark buffet has had to be replaced by full table service for now, we have designed a breakfast menu to suit all tastes and preferences. When you arrive for breakfast you will be greeted by your server and shown to your table who will explain our new breakfast service along the way.
Our menu is displayed on your placemat which offers a wide choice of our Clayton Vitality Breakfast Options or Clayton Hot Breakfast Options as well as a choice of juices, tea & coffee. We also have a special breakfast menu for kids. Once you have made your selection your server will take your order and when ready this will be delivered to your table. Our Vitality Breakfast will be delivered in a special basket or stand. Our hot breakfast will be plated and delivered to your table covered by a cloche.
We are delighted that our hotel restaurants are now open offering breakfast, lunch & dinner and lighter dining & snacks are available throughout the day from our Red Bean Roastery.
Restaurants and lounges are setup to reflect physical distancing with suitable spacing between tables. All food and drink orders will be taken at your table and although your server may look a little different you can be sure they offer the same warm welcome and excellent service with a smile. Food will generally arrive to your table covered. During peak dining periods you may be advised to reserve a table through our Guest Services Platform, accessed when you connect to the hotels WiFi.
The Moment Your Mouth Starts Watering
At Clayton Hotels you can count on enjoying a relaxing meal in a friendly, stylish setting, with menus to suit all tastes and budgets. Suppliers are carefully chosen to ensure the freshest produce and, where possible, local suppliers are preferred.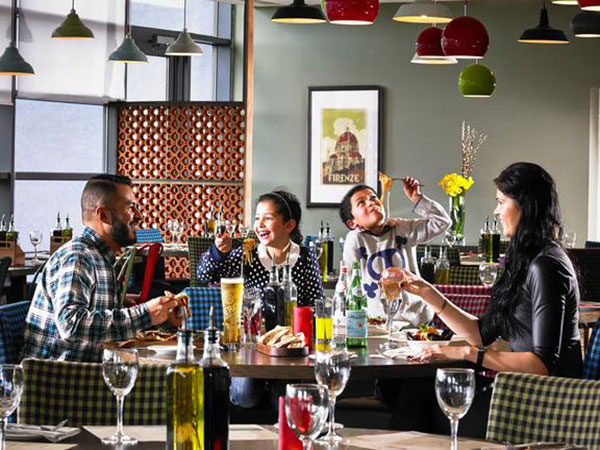 Clayton Hotel Liffey Valley Leisure Centre
Enjoy access to their Club Vitae Leisure Centre facilities which including 20m heated indoor swimming pool and children's play pool, and a fully equipped gymnasium. The leisure centre and Gym in Liffey Valley is perfect and caters for the whole family. Club Vitae Gym Liffey Valley provides the most up to date facilities complemented by the most knowledgeable and qualified fitness team to advise, motivate and drive you past your goals. Please note that timings for pool and gym to be booked on check in.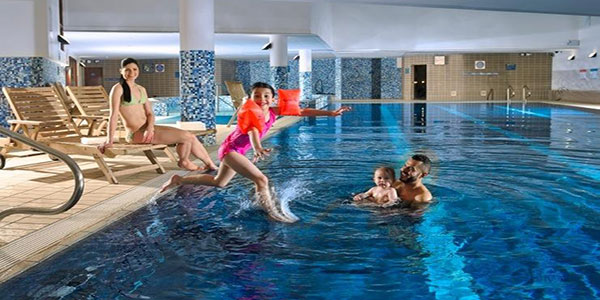 Nearby Family Attractions
Tayto Park (30km)
Base Entertainment Centre (12km)
Dublin Zoo (9km)
Fort Lucan (6km)
Jump Zone (1km)
National Aquatics Centre (8km)
National Botanic Gardens (13km)
Guinness Storehouse (10km)
Irish Museum of Modern Art (8km)
Croke Park (13km)
Kilmainham Jail (8km)
Directions To Clayton Hotel Liffey Valley
Clayton Hotel Liffey Valley is easily accessible by road, rail and Dublin Airport, with ample secure car parking for all guests.
Ideally situated on the M50/N4 intersection at Liffey Valley, the gateway to the West of Ireland, makes the hotel a perfect location for exploring Dublin.
Located just at the M50/N4 intersection, you can access the hotel from Dublin City Centre in 20 minutes.
● Exit the N4 at junction 2.
● Take the R113 exit to Fonthill/Liffey Valley.
● Follow the road left and the hotel will be located to your left.