Address:
Clonfert, Maynooth, Co. Kildare, Ireland
Tel.:
+353 1 6285422 / 0879005131


Please mention Family Fun when booking!
Clonfert Pet Farm
Please note the farm is closed Monday to Friday until further notice due to building works being carried out.
We will remain open Sat & Sun 10.30am to 5.30pm
At Clonfert Pet Farm in Kildare they strive to ensure a fantastic fun filled day out for you and your family that is great value for money. As well as all the animals they also have 2 outdoor playground areas both with bouncy castles, an indoor play area, go karts, a football pitch, plenty of picnic areas and lots more to keep your family entertained.
Clonfert Pet Farm has a huge variety of everyones farmyard favourites; cows, ponies, donkey, pigs, goats, sheep, ferret, peacock, puppies, ducks, turkeys, Geese, hens, bird avery.
During lambing season the children can get up close and can bottle feed the baby lambs.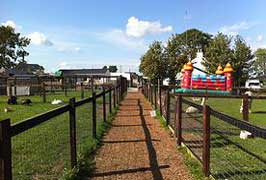 For those of you that favour the more exotic animal we have Llamas, Rhea, alpacas and wallabies
Sometimes on the farm there are animals that the children can interact with like feeding the lambs or holding the rabbits
Activities on The Pet Farm
Outdoor facilities:
Lovely walkways around the farm and plenty of picnic and seating areas if the weather permits, it is always enjoyable to be out in the fresh country air. There are two outdoor children's play areas with swings and slides and always a favourite with the children is the permanent bouncy castle. They also have outdoor Go Karts the children will enjoy and a new 9 hole crazy golf course
Indoor Soft play area:
Whatever the weather they have you covered at Clonfert Pet Farm. Don't let a few drops spoil your plans. Your family can always enjoy there great new 1000 sq ft indoor soft play area. Your children will love this. Its a great way to spend the time waiting for the rain to pass.​
Picnic Areas​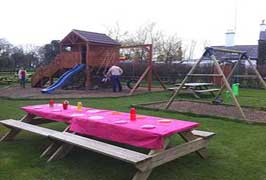 After all food always taste better in the fresh air! At Clonfert Pet Farm there is no shortage of perfect picnic spots to spread a rug for an al fresco feast. Bring your picnic or alternatively they also have a coffee shop serving hot food, drinks, snacks & ice creams. All you need to do is sit back & relax.
Kids Parties
At Clonfert Pet Farm kids parties are great fun with so much to do
They cater for all size parties and you get to enjoy it too, it's the perfect stress free solution
Children's birthday parties are €10 per child including meal and unlimited time on the farm.
Find out more inforamtion at Clonfert Birthday Parties
School Tours
Clonfert Pet Farm cater for school tours: pre-school, primary and special needs. They provide a safe and educational environment for the children to experience and learn about all the different animals
During lambing season children can feed and pets the new baby lambs. There are two picnic areas for the children to sit with friends and refuel before they set off again for more fun on the farm
Also they cater for all guides and scouting group trips
If you wish to make an enquiry phone Sinead on 0879005131
Events on at Clonfert Pet Farm
Down on the pet farm they like to make every occasion extra special and they strive to make your Christmas, Halloween & Easter families days out one that your children will always remember.
They also like giving back to people in need and have hosted two successful family fun days both for charity, raising money for the Laura Lynn Foundation and other local charities
Event details coming soon…
Celebrate Halloween at Clonfert Pet Farm if you dare
Visit the haunted house and spooky walkways to the reptile rooms and witches storytelling
There will be many extra activites on top of their usual Haunted Stables and Spooky Walkways
Dates: October 27th – October 29th 2018
*No booking required
Want to give the kids an extra special Christmas this year? Then look no further than Clonfert Pet Farm!
For more information visit Clonfert Pet Farm Events
Opening Times At Clonfert Pet Farm
The pet farm is open 7 days a week
11am – 4.00pm (winter hours)
10.30 – 6.00pm (summer hours)
Clonfert Pet Farm Admission
All Year Round
Adults – €5.00
Children  – €5.00
Children 2 years and under go free
Family Rates – 2 Adults & 2 Children – €15.00
Admission fee includes access to all areas entry to the farm and animals, use of all outdoor play activities including Bouncy Castle and go-karts and entry into the indoor soft play area.
Directions to Clonfert Pet Farm in Kildare
Clonfert Pet farm is located in the North Kildare country side only 25km from Dublin and 8.3km from Junction 7 (Maynooth Exit).
Directions: From the M4 Maynooth Junction 7, at the roundabout take 2nd exit heading Southwest on Straffan Road/R406.Take the first turn right off this road at Taghadoe cross (Electricity Station)
Continue straight until you come to a church on your right, go straight through this cross.
Again continue straight until you come to a crossroads take a right at this crossroads. Take the first turn left off this road continue 1km and you will find the pet farm located on your left hand side. It is signposted all the way
See Google map top of this page