The Connacht A Family Friendly Hotel in Galway
The Connacht Hotel Galway is a vibrant and popular family hotel, located on the main access route to Galway City Centre. The hotel has fantastic facilities to ensure the perfect stay in Galway for every family, large and small. With a wide range of family accommodation there is the perfect option for you and your family.
From the moment you arrive, you'll discover that as well as being a child friendly hotel, they are parent friendly too. At The Connacht Hotel Galway they know the time you spend with your family is precious, so they make it their mission to ensure that your stay with them is fun for all. Whether you are travelling with small children, teenagers or grandparents, they can customize an experience that the whole family will enjoy.
The hotel boasts one of the longest running kids clubs in Ireland, 'Friendly Fellows', with a packed schedule of events, this will ensure children leave with fond memories of their time spent at the hotel.
Family Guest Can Enjoy The Following: 
Complimentary use of cots and/or rollaway bed(s), subject to maximum occupancy.
Complimentary use of baby bathtub, blankets and high chairs.
Complimentary use of the leisure centre featuring a special Kids Pool.
Family Friendly Dining.
Option to attend the 'Friendly Fellows' Kids Club
The Connacht Hotel Family Friendly Deals
Find out all about The Connacht Hotel Family Packages and Special Offers.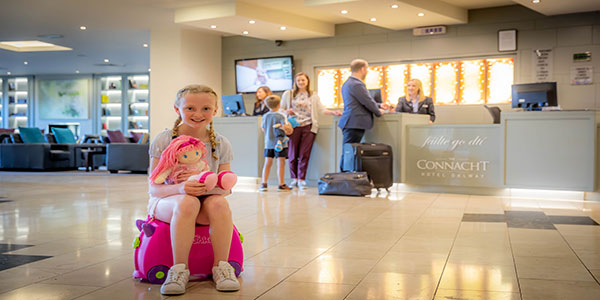 The Connacht Hotel Facilities
Whatever the weather, there is always plenty to entertain young an old. Their 'Friendly Fellows Kids Club' offer a range of activities and a fun-filled program for weekends, mid-term breaks and through-out the summer holidays.
Enjoy sports, obstacles courses, parachute games, table tennis, a range of art and crafts, face painting and colouring competitions along with family activities, hip hop and line dancing.
Guests can enjoy unlimited access to the 24 hour gym, Active 24 Fitness with an impressive 20m indoor swimming pool, kids pool, sauna, steam room and Jacuzzi.
The hotel offers you extensive free parking, free WiFi and a regular bus route close by the hotel and taxi rank at the entrance with direct access to the city centre or alternatively Eyre Square is a 20 minute walk.
Dining and Enterainment
Breakfast at the Connacht Hotel is not to be missed. Start the day with a large selection of fresh fruit, juices, freshly baked breads and pastries along with your Full Irish Breakfast Selection served each morning.
Family friendly dining is available in Rueben's Restaurant. They now offer a selection of Authentic Italian Pizzas whish can be enjoyed in the restaurant or as part of the in-room dining options.
They have a large modern bar and cocktail lounge area Bar Solo, where there is regular live entertainment for the parents and food is served throughout the day.
The Connacht Hotel Accommodation
The Connacht Hotel is the perfect option for families who require that little extra space and comfort.
Classic Family Rooms (Double & Single Bed with room for a Rollaway or Cot)
Family Room with a 3 Sleeper Bunk Bed
Family Suites with 2 Bedrooms & Kitchenette
Inter-Connecting Bedrooms
Self-Catering Apartments.
Bunk Bed Family Rooms
The Connacht Hotel is one of the most family friendly hotels around, and it just got even better. If there's one thing that kids love more than a trip away it's bunk beds.
The Bunk Bed Family Rooms have a double bed and a three sleeper bunk bed. The bunk bed consists of a lower double bed and an upper single bed. The upper single bed can only be used by children over the age of 6. This is an ideal room for 2 adults and 3 children.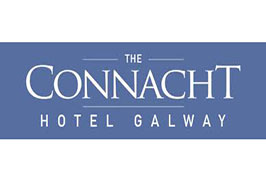 Family Suites
The Family Suites are ideal for family breaks or guests who require longer term accommodation or self-catering while visiting Galway.
Consists of an en-suite bedroom with 1 King Size Bed and an adjoining Bedroom with a Double and Single Bed and Kitchenette with a microwave, toaster, fridge and kettle.
They can also provide cots, free of charge if required. Perfect for a family of  2 adults, 3 children and 1 infant or up to a maximum of 5 adults.
Two Bedroom Apartment
This consists of two bedrooms; one with a king size bed and the other with a double and a single bed. Each bedroom has an en-suite bathroom with power shower and bath, and a separate spacious living area and fully equipped kitchen. This option is suitable for a maximum of 5 adults or 2 adults and 4 children.
Complimentary use of Active 24 Fitness is included for guests of the hotel. The 20m heated indoor Swimming Pool, Sauna, Steam Room and Jacuzzi and extensive fully equipped gym are of great benefit to long term guests.
Sofa beds and cots are available on request.
Friendly Fellows Kids Club
The Connacht Hotel prides itself on its dedication to appreciating how important the younger guests and their families. They understand that when children are happy, it will make a family break so much more memorable.
For the younger guest's enjoyment, The Friendly Fellows Team have thoughtfully created activity programmes to ensure a fun-filled Family Fun holiday at the Connacht Hotel.
Enjoy sports, obstacles courses, parachute games, table tennis, a range of art and crafts, face painting and colouring competitions along with family activities, hip hop and line dancing.
Running during the school holidays and weekends, for children 3-5 years and 6-13 years, this kid's club has age specific activities, including some family activities. They have not forgotten all the "Tiny Tots", so parents with children under the age of 3 years are more than welcome to come and visit the playroom with their small children.
With two sessions every day, the cost per session is €6 for a single child and €4 for each additional child.
Directions to The Connacht Hotel in Galway
The Connacht Hotel is located on the Dublin Road in Renmore (R388) as you enter Galway City and is just over 2 km from Galway city centre. The hotel is within walking distance of the Eye cinema, G hotel, Bon Secours Hospital, Galway Hospice and GMIT College.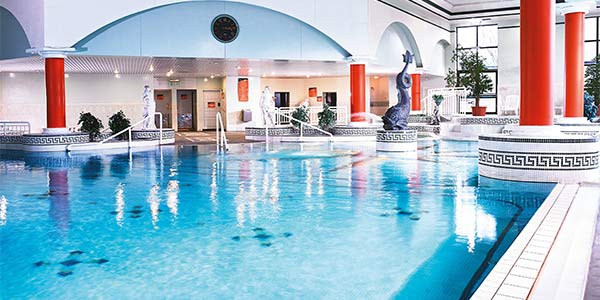 What The Family Guests Say About The Connacht Hotel
" A huge thank you to the kids club staff our kids loved it so much they were crying leaving they kept talking about Regina and Ciaran how friendly and kind ye all were".
"The facilities for kids are brilliant. Great pool, and a wonderful kids club with excellent, friendly staff. Our boys loved it there."
"We stayed for 6 nights for a family celebration and the experience was excellent. It's a 3 star hotel with 5 star service. We have three children (8, 9 and 11 years old) and all loved the pool – which they visited most days. In addition, the younger two enjoyed visits to the Kids Club several evenings and one morning. Special shout out to the young men and women who worked in the kids club – it seemed like it was their mission for our children to have a good time and they succeeded without exception."
"The kids club we would highly recommend they do so much with the kids. A big thanks to regina and Kieran and all the kids club staff ye were brillant. Our kids were crying leaving ye and ye were so thoughtful giving them an easter egg going home. We will definetly be back. Thanks again"
"The kids club which involves arts and crafts games and movie time with treats, the staff were so helpful and great to deal with"
"They also have a kids club which was excellent. The kids could do in the morning and the evening for 2.5 hrs at a time. The kids loved it. We had 5 kids with us ranging from 6-12 and they all thought it was brilliant." .
"Both our boys loved the kids club, with lots of activities to keep them entertained, they never wanted to leave and always asked when they could go back!"