Carraroe Bouncy Castles Connemara and Galway
Carraroe Bouncy Castles supply bouncy castles all around Connemara, West Galway  and Galway City for kids parties and other family celebrations.  As well as bouncy castles they have a range of other party favourites such as slides, combi units, crocodile obstacle courses, rock climbing obstacle courses, superslides, gladiator duel, mascots & marquees.
Family Fun Tip :- No Deposit
They cover all of the Connemara area and Galway City 365 days a year and no need to worry about a deposit and there is no canceallation fee. Call us now to Book Tel. 087 9314139
Organising The Hire
You can hire bouncy castles from Carraroe Bouncy Castles for birthday parties, communions, confirmations, christenings and lots of other special occasions during the year.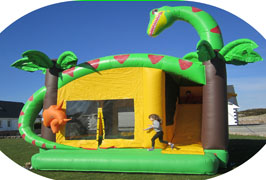 To hire a bouncy castle from Carraroe Bouncy Castles simply give them a call Tel.087 9314139 . Then you can choose which type of bouncy castle or other inflatable that you would like at your party venue and they will help you do the rest.
Carraroe Bouncy Castles will deliver the bouncy castle to your garden in any part of Connemara or Galway. The bouncy castle will be anchored safely and left in a clean condition for your child party or family get together.
Types Of Castles And Inflatables
Apart from the standard bouncy castles you can hire (which generally measure 16ft x 15ft at Carraroe Bouncy Castle there are bouncy castles with bouncy slides attached, activity units, combi units, 50ft purple Lizard obstacle course, 47ft Rock Climbing Obstacle Courses, superslides, gladiator duel, sumo suits and Mickey and Minnie Mouse Mascots for hire for your added enjoyment.
Gladiator Duel Game
The Gladiator size 19ft x 19ft is where two players play at any one time, this is a fun balancing challenge as two competitors try to knock each other off their Gladiator podium with the last one standing is the winner. This game is suitable for older children.
Free 10 party bags, why not hire any other inflatable with this game and get a great discount.
Children's Sumo Suits
These Adult and Children's Sumo Suits come with the safety mats size 12ft x 12ft and  will give you hours and hours of fun.  Try to knock each other over and let the laughs begin as you try to get back up again.
Free 10 party bags, why not hire any other inflatable with this game and get a great discount.
Mascots Hire
Mascots can be hired for €40 each per day and a refundable deposit or if hired with any bouncy castle, obstacle course of your choice and you will get a €10 discount. Mascots come in one size to fit all. make your child's dream come true  with Carraroe Bouncing Castles amazing Characters Mascots
Requirements For Hiring Inflatables
Apart from living within the catchment area for Carraroe Connemara Bouncy Castles in Galway you will of course need adequate space in your garden for the bouncy castle. Apart from the obvious size of the bouncy castle you will need an additional 2 ft of space around the sides of the castles in order to anchor it down securely. You will need 3 ft of space at the back of the castle and 3 ft at the front of the castle for the safety mats. These are general space requirements; you will need to ask Carraroe Connemara Bouncy Castles for the specific requirements for the castle you have chosen.
Bouncy Castles should not be used in high winds or heavy rain for safety reasons.
The catchment area for Carraroe Bouncy Castles includes the following areas:
Carna
An Cheathru Rua
Clifden
Corr na Mona
An Fhairche
Headford
Indreabhan
Leitir Moir
Letterfrack
Maigh Cuilinn
Oranmore
Oughterard
Ros Muc
Hire Cost
The prices for hiring a bouncy castle or other inflatable can vary with the time of year and whether it is weekend hire or midweek. The price also greatly depends on the type of inflatable you choose and its size. Prices start from about €100 with Carraroe Bouncy Castles.
Carraroe Bouncy Castles in Galway do offer great multi day rental deals so call them to find out more and to book a great day for that special party. You can call them on 087 9314139
Marquees For Hire
Do you have a party or occasion coming up and if so why not have that special occasion at home.
Carraroe Marquee is ideal for any event, party, family celebration, wedding or anniversaries, christening, Holy communion, confirmation, 18th, 21st, 30th 40th, 50th ect servicing all over the Connemara area and county and city of Galway.
Carraroe deliver and erect and collect the Marquee for you and provide black plastic non slip tile flooring, lighting, heater, tables and chairs at a reasonable price.
Their range of Marquees come in a 4m X 8m ( 13ft X 26ft ) and a 4m X 10m ( 13ft x 33ft ) Marquee for hire
They also hire Bouncy Castles, Obstacle Courses, Super Slide, Mascots & Games to add fun to your party.
To book early call 087 9314139 so do not be disappointed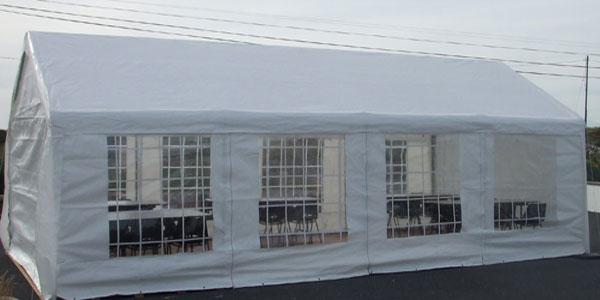 Ba mhaith leis an gcomhlact Caisléain Spraoi an Cheathru rua a chuir ín iúl go bhfuil seirbhis ollphuball nó marquees a chuir ar fáil againn anois agus leis seo tá rogha agat an Marquee a fhailt le urlár, solas, teas agus troscán.  cuirfidh muid fhéin suas agus sios chomh maith é ín áit ar bith ar fud cheantar chonamara agus cathair na Gaillimhe agus tá sé seo feilúnach leí cóisir an chead chomaoineach, comhneartú, baisteadh nó ócáid ar bith.
Chomh maith leis seo tá réimise leathan dé caisleáin spraoi, bac chúrsa obstacle course, sleamhnáin super slides agus cultracha mascots doc mcstuffins, jake the priate, mickey & minnie mouse ar fáil acu.
Ma tá ceann ar bith de na seirbhisí seo uait í gcóir an chead chomaoineach, comhneartú an bhlian seo chuigeann déan teagmháil le Kevin ar 087 9314139