Cork Harbour Boat Hire
Cork Harbour Boat Hire is a fantastic boating adventure experience and is an ideal day out in Cork for all the family and groups of all ages and sizes, with the easy to drive boats making it very easy to navigate the waters in Cork Harbour.
There is so much to explore in the waters of Cork Harbour and with these self drive boats it is an ideal way to take in the fresh sea air and see another side of Cork.
Cork Harbour Boat Hire specialize in hiring out self drive boats to tourists, families, schools, large and small groups and the general public all in the safety of Cork Harbour.
Located in Cobh, Cork Harbour Boat Hire offers a range of boat touring options seven days a week. Tours are led by a fully-qualified safety boat guide, with the area forming part of one of the largest natural harbours in the world, and featuring Ireland's only dedicated cruiser port.
Cork Harbour Boat Hire offers a fun, safe exciting experience to be enjoyed on the water this summer.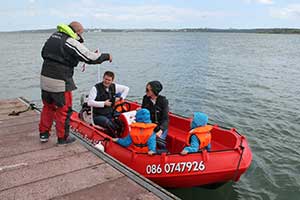 No experience needed
Easy to drive
Lifjackets & fuel included
Fully Insured
Free training
To book a tour, for more information or to enquire about group rates, please contact us on 086 0747926 or [email protected]
Cork Harbour Boat Hire Tours
Cork Harbour Boat Hire offers you the chance to become the skipper, feel the wind in your hair and experience what is like to drive your very own boat!
The easy to drive boats make it possible for anyone (no previous experience required) to enjoy a brisk sail around Cork Harbour. With tours ranging from one hour to three and four hour adventure tours, there is something to suit groups of all ages.
Their Safety Boat Guide will lead you around the harbour pointing out the many eye-catching sights that the harbour has to offer.
You will receive full training before setting out on the water, ensuring everyone can enjoy their trip around Cork Harbour safely. Safety equipment is included with each boat offering space for a maximum of four adults and one child.
1 Hour Tour
See the Beautiful town of Cobh from a whole new vantage point, Go around Spike Island and under the bridges at hawlbowline, Get up close to the many Liners that dock in Cobh and see St Coleman's Cathedral in all its glory,
Cork Harbour Boat Hire are open 7 days a week with their first tour starting at 9.30am and the last tour runs at 6.30pm. Please allow plenty of time for parking and they do ask that you arrive 15 minutes prior to your tour time.
The cost is €65:00 per boat with up to 5 people on-board (a Max of 4 adults, at least one person must be 18 or over, ID required) This includes life jackets and fuel.
All tours are safety boat guided and no experience is needed as they are very simple to use!
Tours are fun and suitable for all the family
Family Fun Tip:- Please remember to arrive 15 minutes early to get your life jackets on etc.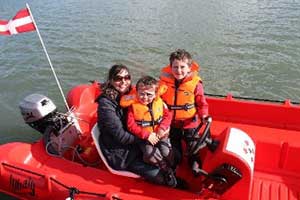 Cork Harbour Boat Hire Rib Tours
Enjoy being chauffeur driven with a difference around the harbour by one of their fully qualified skippers who will take you on an unforgettable trip around the second largest natural harbour in the world, learn all about Cork Harbours rich history, take in the sights, check out the local wildlife, stop off for some food and drink at one of the many bars and restaurants along the way.
They cater for groups as small as 2 or up to larger groups of 70. Available for 1, 2 and 3 hour bookings .
Collection points all over the harbour.
For individual bookings call the booking number 086 0747926 or for group bookings please call Deborah on 086 8933724 or sa[email protected]  for further information and prices.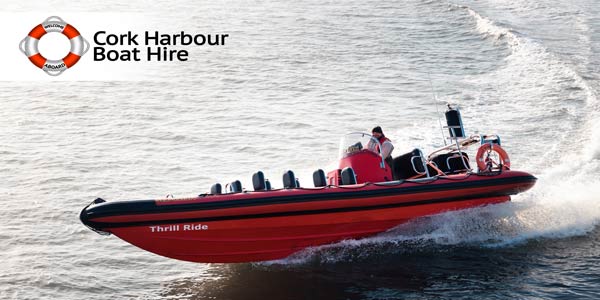 Sailing Tour of the Harbour
Take a 2-hour exclusive historic sailing tour on the classic yacht Kernow! Delve into the history of Cobh, Spike Island and the harbour. Sail passed the iconic St Colemans Cathedral and Sirus Arts Centre, one of the original homes of Royal Cork Yacht Club. Then out towards the Atlantic Ocean and the Titanic's last anchorages, past the Spit Bank lighthouse, the oldest screw piled lighthouse in the world.                            From €280.00
Harbour Fishing Trip
Enjoy a 4 hour fishing trip around Cork Harbour with your
very own skipper and experienced fisherman. Departure Points are Hugh Coveney
Pier in Crosshaven or The Quays Bar & Restaurant Pontoon in Cobh. Tea, Coffee
and a light lunch is included with this trip. All equipment is provided. From€300.00
Evening Rib Tour
Enjoy an exciting 2 hour Evening Rib Tour of Cork Harbour!
Delve into the fascinating history of our colourful harbour and view one of the most dramatic coastlines in Ireland. Pass by Spike Island, The Irish Naval Base and much more! You might even get to see some Sea Life !Top this off with a stop in one of our coastal villages to enjoy a beverage before heading back to see more captivating sights of Cork Harbour. Perfect for an after work treat, a catch up with family & friends or if you`re a visitor to Cork this is the ideal way to discover the beauty of our harbour and its treasures.
From €45 p.p
Cork Harbour Boat Hire School Tours
Cork Harbour Boat Hire are delighted to welcome aboard school tours!
With tours lasting up to an hour this is a unique way for students to see all that Cork Harbour has to offer. Tours are led by a fully qualified safety boat guide ensuring a safe and enjoyable tour!
Students will also have a chance to "drive" the boat and even the teachers can get in on the fun too.
As they work closely with other Activity Companies in Cobh they can come up with a tailor made package to suit your school`s needs to provide a perfect school tour day!
Call Deborah O'Niell the marketing manager on 086 8933724 or [email protected] for further information and prices.
Cork Harbour Boat Hire Group Day Out in Cork
Options are available for groups and families, as well as birthday party packages and corporate days.