Name:
Derg Isle Adventure Centre
Address:
Carrowmore Scariff Co Clare
Tel.:
087 1254365


Please mention Family Fun when booking!
Derg Isle
Derg Isle is an Irish owned and family run business which began as an agricultural site with lakeside access in Scarriff, Co. Clare. It is nestled along the leafy western shores of Lough Derg and within Ireland's Hidden Heartlands. It was purchased in 1988 and over the years was developed into a little valley of oasis with peaceful surrounds. Derg Isle was launched in 2015 offering land and water based activities with direct access to the lake through a series of calm and winding channels which lead onto the mighty expanse of Lough Derg.
Derg Isle offers an exceptional outdoor experience with huge variety.
Have fun, excitement and adventure on Lough Derg with access to the magnificent natural amenity of the River Shannon. The Derg Isle Adventure Centre has both a river and an island on site. Derg Isle's outdoor activities cater for all ages and abilities! Derg Isle is the perfect outdoor escape to enjoy with family and friends.
Ditch the phone and enjoy the exciting amenities at Derg Isle!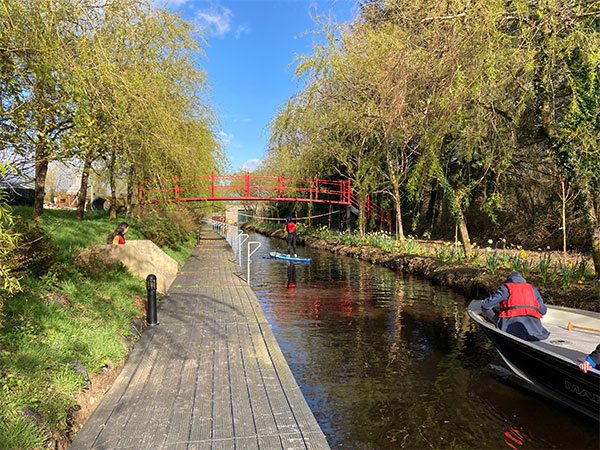 Adventure Centre Activities
Why not enjoy a range of paddle and water sports including kayaking, canoeing, stand-up paddle boarding, boat rental, water zorbing and fishing! Explore many land based activities along the obstacle course, climbing wall, archery or zip lines.
The Derg Isle Adventure Centre also has survival training and team building activities. Visitors will be provided with full water safety equipment including helmets, buoyancy aids and harnesses where needed. A full safety demonstration is undertaken prior to the commencement of each activity.
Kayaking – provides sit on top kayaks. Groups get to explore the waterways and may get to discover the famous White Tailed Eagles. There is an option to go pier jumping at Reddan's Quay if you wish to brave the water temperatures!
Canadian Canoeing – provides spacious canoes with plenty of room for baggage and extra passengers. Experience beautiful lakeside landscapes and discover secret woodland area where you can glide through the still water, who wouldn't want to give it a try!
Paddle Boarding – provides stand up paddle boarding through tranquil waters of Lough Derg, enjoying the scenery and company. The duration is 1.5hrs and a great outdoor activity in all weather conditions.
Water Zorbing – provides the chance to walk on water! It is the recreation of rolling inside a transparent plastic orb. Why not bump inside the bubble through the channels of Lough Derg!
Lake Boats for Hire – provides 19ft lake boats with a 6hp outboard engine, map, lifejackets and one tank of fuel. Fishing equipment is available for hire or a guided fishing tour on request. Why not float serenely along Lough Derg and have a picnic in Holy Island or a day of fishing for pike or trout?
Obstacle Course – provides monkey bars, balance beams, climbing towers and a ropes course surrounded by a running track. A fun experience for family and friends or even if you're the competitive type!
Climbing Wall – provides a three sided climbing wall with different levels of ability. The first to the top gets to ring the bell, on your marks, get set, GO!
All Weather Pitch – provides a newly developed 40 metre x 40 metre pitch with a 20 metre ball wall. Perfect for sports teams and participants of the adventure centre to complete a training camp.
Archery – provides different selection of strengths and bows, an activity that all ages can enjoy. As you increase your skills you can also progress to throwing knives and hatchets!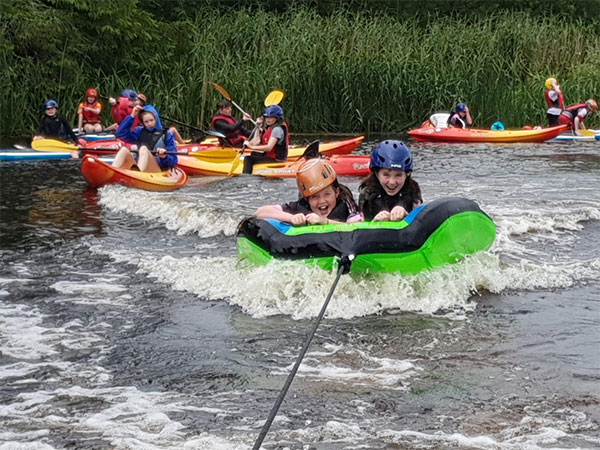 Packages
Family and Friend Packages
Are you looking for an action packed activity to exhaust the kids or something to do with some friends for a day? Have some fun at Derg Isle!
Why not kick start it with the Canadian canoes and head down through the calm water of Lough Derg. A tasty lunch is also provided in the afternoon. Return to dry land and try your hand at archery, climbing or challenge the whole family to the obstacle course! If you want to extend the trip why not make it an overnight stay at the Bunk House.
Survival Island
The ultimate survival test! An excellent way to get teens away from their screens and out exploring in nature. Featured on the Ryan Tubridy show, this camp is aimed at young adults to digitally detox from their phones. The phones are locked away before beginning the adventure.
Spending time in nature is critical to relax the mind while spending quality time with their peers. It helps to build trust and confidence. Who knows, the participants could find a new love for the outdoors and ditch the screens!
Group Education for Primary Secondary and Youth
Primary Level Tours – 3rd to 6th class students. The SES curriculum has four strands that are investigated during the activities at Derg Isle (Living Things, Energy and Forces, Materials and Environmental Awareness and Care).
Secondary Level Tours – can experience obvious benefits from being outdoors while connecting class room learning with field based activities. Derg Isle adapts its education model to align closely with the Junior Certificate Geography and Science syllabus and thereby reinforce the student learning experience.
TY and Youth Groups – fun days out while being challenged in areas of teamwork, communication, leadership, self-confidence, accountability, responsibility and assertiveness.
Scouts Groups and Outings – the perfect location for a camp out! Derg Isle is secure and set off the road to ensure privacy. Among all the activities Derg Isle has to offer the scouts will be busy!
All Abilities Group Experience
The obstacles are built to be overcome at Derg Isle Adventure Centre!
Derg Isle's core value is to facilitate universal access to Lough Derg and they have the capability of getting everyone that wants to, onto the water.
At Derg Isle, the team have installed a purpose built hoist which allows wheelchair users to be lowered safely into a kayak or Canadian canoe and enjoy the waters of Lough Derg. The specially trained team can accommodate you or your group.
Every participant at Derg Isle can experience the tranquillity of the River Shannon inland waterways, regardless of their physical or mental ability and feel the benefits.
Accommodation
If you fancy an overnight stay, wrap up and enjoy some relaxing time around the fire pit with a barbeque and sleep under the stars in our Hammock Hut or our onsite accommodation.
The Hammock Hut accommodates up to 6 people. The Bunk House accommodates up to 24 in two dorms, this hostel style accommodation is clean, dry and comfortable. Great for teams on an overnight or scouting groups not wanting to bring any tents!