Dizzys Den Play Centre
Dizzys Den provides a safe and secure indoor play centre for children in Bundoran Co. Donegal. The team at Dizzy's pride themselves in providing a clean, safe and fun place for kids to play. Dizzy's Den has a large climbing frame where children can let their imagination take hold from being a pirate finding buried treasure to being the monkey in a jungle. They will bring the area to life with their interactive sounds, you can rock on a giant orande oe box with wobbling dinosaurs.
They have an Under 4's area  with a ball pool and padded slides which has plenty to capture the imagination of the most inquisitive little mind.
Dizzy Dens also provide a comfortable area for the adults to relax and enjoy a cuppa or some hot food. Dizzy's Den caters for children up to 12 years and specialising in Birthday Parties.
All play areas are equipped to the highest standards of safety and have been approved by ROSPA (The Royal Society for the Prevention of Accidents).
Dizzys Den Attractions
Toddler Play Frame
3 Lane Astro Slide
Rope bridges
Basketball play area
Football play area
Soft play Area for under 4's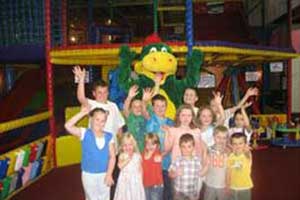 Kids Birthday Parties At Dizzys Den
Let Dizzys Den take the stress out of organising your child's party. The Den's host will look after the kids for their 1.5 hour of play and half hour in the private party room. Every child will  receives a goody and the party child will receive a Free return visit. Free party invitations, Great choice of children's menu, Soft drink with free refills, ice cream and Tea/coffee for mum and dad.
Directions To Dizzys Den In Bundoran Co Donegal
Dizzy's Den is located in the Bundoran Retail Park, Station Road, Bundoran, Co Donegal