Dates and Times:
Friday, 28th of December 2018,
From
Saturday, 29th of December 2018,
From
Sunday, 30th of December 2018,
From
Saturday, 5th of January 2019,
From
Sunday, 6th of January 2019,
From
Venue:
Dublin Panto - Beauty and the Beast
Address:
Hilton Dublin Airport Hotel Malahide Rd, Northern Cross, Dublin 17
Tel.:
0834261515


Please mention Family Fun when booking!
Beauty and the Beast Christmas Panto
The most inclusive Christmas Panto in Ireland
DUBLIN PANTO and Sean Gilligan Productions bring you a pantomime extravaganza with singing, dancing, and a laugh-out-loud panto tale.
Hailed as Dublin's most inclusive panto, Beauty and the Beast takes place at the Hilton Dublin Airport Hotel
The production promises to be an exhilarating show, with performances from some of Ireland's top entertainers, including Niamh Kavanagh (iconic Eurovision Song Contest Winner), Shay Byrne (RTE Radio One DJ and voice of the Snowman, Bord Gais Theatre), Conor Clear (TV3), as well as a bright newcomer Katie Weir (Peace Proms and Cross-Border Youth Orchestra).
The script is by Sean Keany, who has a very strong pedigree in the industry is once again writing this year's panto.
Producer Sean Gilligan has been a key player in the Irish entertainment industry for over 20 years, running one of the most active production companies around today. The focal point of this year's pantomime will be inclusivity. With a vision to bring people together through music, dancing and creativity.   The production is available with sign language at matinees, and is accessible for wheelchairs in a fabulous setting at the Hilton Hotel Dublin Airport venue converted into a magical setting for the Christmas Panto.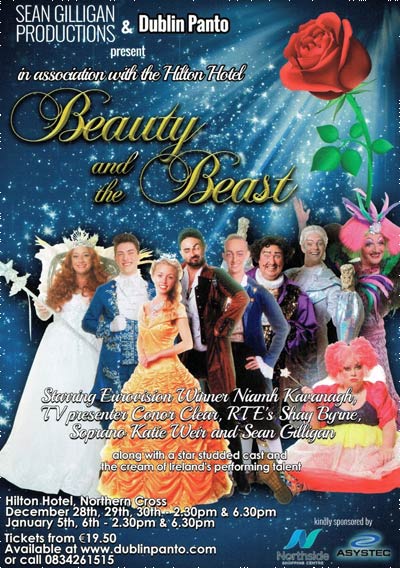 ENCHANTRESS: Niamh Kavanagh
GASTON: Sean Gilligan LIT:
Conor Clear TICK: Shay Byrne
DAME BRIDIE MCGEE: Andrew Reddy
 BEAST: Callum Martin
BELLE: Katie Wier
LEPOOO: John Fagan
TWEET: Corinna O'Brien
Beauty and the Beast Information
Venue:- Hilton Dublin Airport Hotel, Walls Suite
Classification:-   Christmas Panto / All Ages
Date:- 28th, 29th, 30th December & 5th, 6th January
Time:- 2.30 pm and 6.30 pm each day
Tickets:   €19.50 | Family Tickets of (2 adults and 2 children) €75.00
Booking Online:– You can book on line here through our booking link directly to the Dublin Panto – Beauty and the Beast
Hilton Dublin Airport Hotel
The Hilton Dublin Airport Hotel is a four-star Hotel conveniently located in Northern Cross, on the Malahide Road, North Dublin. It is easily accessible by car as well as public transport and offers free secure underground parking for panto audiences. The recently refurbished Burnell Bar & Grill is an ideal spot for pre-show meals and drinks with a wide-ranging menu that caters for young and old. The show takes place in the sumptuous Walls suite in a comfortable and spacious cabaret style layout. There is a sweet shop on site for younger audience members