Easter  Experience at Butlers Chocolate
Meet the Easter Bunny and join in the fun with an Easter egg hunt after your tour.
Butlers Ultimate Chocolate Experience
Make a Easter Bunny
Embark on a fun Easter egg hunt as part of the tour.
Watch the chocolate movie.
Wander around the chocolate museum.
Savour the aroma from the chocolate gallery.
Decorate your own chocolate novelty to bring home
Easter Event Information
Venue:- Butlers Chocolate, Dublin
Classification:- Family Easter Tour / All Ages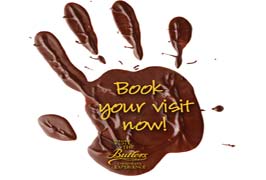 Date:-
April 1st & 2nd
April 8th to 15th (inclusive)
April 17th
Admission :- Must be pre-booked
Adult – €12.85
Child – €12.85
infant under 3 – Free
Family – €47.50
Booking Information – Booking essential
Book Online and Save
When you book online at The Butlers Chocolate Experience  you will receive a 5% discount.
Booking Online:- You can book on line here through our booking link directly to The Butlers Chocolate Experience ticket sales
Familyfun Tip :- Due to the huge popularity of this event, we recommend booking early