Dates:
From Sunday, 25th of November 2018 to Sunday, 23rd of December 2018
Venue:
The Chocolate Garden of Ireland
Address:
Rath, Tullow, Co. Carlow, Ireland
Tel.:
+353 (0)59 648 1999


Please mention Family Fun when booking!
Christmas Elf Chocolate Workshop 2018
Get hands-on working with the Chocolate Elves to get ready for Christmas!
This Christmas, you can join in with the elves in a magical, fun-filled chocolate-making workshop at The Chocolate Garden of Ireland. It is an interactive workshop with a live link with the North Pole, in contact with both the Elf Workshop there and a live link with Santa himself who will address the boys and girls personally – but only if they are on the good list!
Roll up your sleeves and make and decorate a chocolate molded Christmas figure to take home; decorate a large chocolate bar, maybe for Santa… And there'll be lots of tastings and chocolate fun in between.
To finish off, enjoy a warm drink of spiced apple
All Trainee Elves will receive a Certificate
Find Out More About  The Chocolate Garden of Ireland
Christmas Elf Chocolate Workshop Information:
Venue:- The Chocolate Garden of Ireland, Co. Carlow
Classification :-  Kids Christmas Workshop  / All Ages
Dates:- Saturday and Sundays from 25th November until 23rd December
Times:-
Saturdays: 1.45pm – 2.30pm
Sundays: 3pm – 3.45pm
Running Time:- Workshops last around 50 mins
Admission:
"Trainee Elves" – Adult or Child Mould-Makers €13.50
"Assistant Elves" – Adult/Non-Mould-Makers €8
Booking Online:- You can book online here through our booking link directly to the The Chocolate Garden ticket sale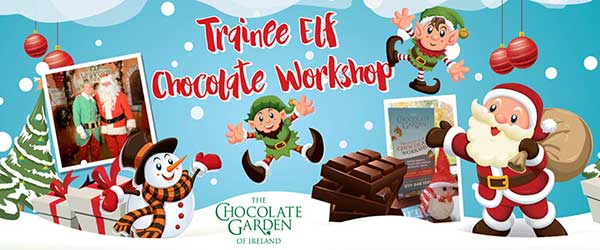 Chocolate Workshop Available Daily Without Booking
Chocolate Mould making available daily (not Elf Workshop) without booking
Includes an ice cream while you wait for your mould to set
The Chocolate Garden Visitor Experience
Visitors can enjoy an award winning coffee or some of their fabulous tasting ice cream at their leisure while kids of all ages can enjoy the trim trail, slides, sandpit and Wendy house in their play area
The Chocolate Garden Workshops
Single Golden Ticket to Participate in a Chocolate Workshop – Duration 1 hour 40 mins
A Taste of Chocolate Making Golden Ticket voucher –  3 hours duration
Introduction to Chocolate Making –  (3½ Hours hands-on work and training)
Family Golden Ticket to Participate in a Chocolate Workshop, 2 Adults & 2 Children – Duration 1 hour 40 mins
Other than workshops, mould making sessions are available daily on a walk-in basis up to 4.30pm start
The Chocolate Garden Opening Hours
Monday – Saturday 10.00 am – 5.30pm
Sudayn 1.00 pm – 6.00pm