Dates and Times:
Saturday, 14th of December 2019,
From 10:00 am to 5:00 pm
Sunday, 15th of December 2019,
From 10:00 am to 5:00 pm
Saturday, 21st of December 2019,
From 10:00 am to 5:00 pm
Sunday, 22nd of December 2019,
From 10:00 am to 5:00 pm
Venue:
Santa's Grotto at EPIC
Address:
EPIC The Irish Emigration Museum, Custom House Quay, North Dock, Dublin,
Tel.:
+353 (0)1 906 0861


Please mention Family Fun when booking!
Santa's Grotto at EPIC 2019
Visit Santa's Grotto at EPIC in Dublin for an unforgettable family Christmas experience!
Begin your magical journey in the atmospheric vaults of The CHQ Building in Dublin's City Centre
Your family will be welcomed by Mrs. Claus and Santa's elves. Sing your favourite Christmas songs and share stories with Mrs Claus
Go post your letter to Santa and then meet Santa in his cosy grotto to tell him all your Christmas wishes and if you've been good, you will receive a special gift from the man himself !
Help Mrs. Claus create her world famous 'Reindeer Recipe' which you can take home feed the reindeer on Christmas Eve!
You can go visit the award winning interactive museum and take part in the Discovery Trail map to find out intriguing Christmas facts from all around the globe!
Visit Bakehouse for Hot Chocolate and a Christmas treat
Santa's Grotto Event Information
Venue:-  EPIC – The Irish Emigration Museum, Custom House Quay, Co. Dublin
Classification :-  Family Event  /  All Ages
Dates:-
Saturday 14th December
Sunday 15th December
Saturday 21st December
Sunday 22nd December
Admission: –
Child under 12 months: FREE
Child Age 1-3: €16.00
Child Age 4-12: €22.00
Adult (18+): €12
Teenager (13 -17): €8.50
Booking Online :– You can book on line here through our booking link directly to the Santa Grotto Ticket Sales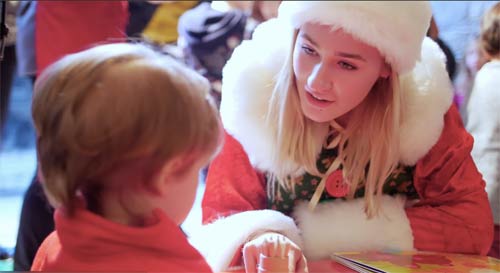 Hire EPIC exclusively for your Festive Party
Santa's Grotto is also available for private hire – perfect for those client family days!
To find out more about EPIC's private and corporate, you can contact them directly at [email protected] or call 01 906 0861
Don't forget to visit our magical Snow Hut!
Take time to visit the snow hut  and get the picture-perfect family photo this Christmas! Located in the centre of the mall in CHQ.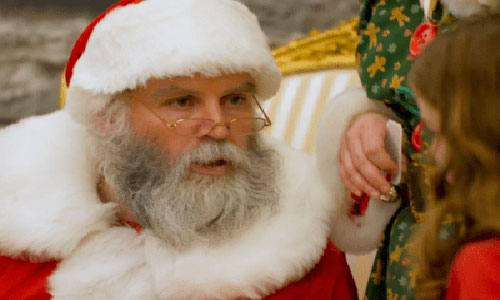 EPIC The Irish Emigration Museum
Winner Europe's leading Tourist Attraction 2019
"EPIC has been voted Europe's Leading Tourist Attraction at the prestigious World Travel Awards, beating Buckingham Palace, the Roman Colosseum and the Eiffel Tower."
You won't find leprechauns or pots of gold at EPIC, but you'll discover that what it means to be Irish expands far beyond the borders of Ireland through the stories of Irish emigrants who became scientists, politicians, poets, artists and even outlaws all over the world. Discover Ireland from the outside in and find out why saying "I'm Irish" is one of the biggest conversation starters, no matter where you are.  
Did You Know? 
Rihanna has Irish ancestors! Her Irish surname, Fenty, inspired the name for her makeup line.
Three members of the Beatles – John Lennon, Paul McCartney, and George Harrison – all come from families of Irish descent.
Irish physicist John Tyndall was the first to explain why the sky is blue.
Shortlisted for the Children in Museums Award 2017, EPIC is a modern museum situated in Dublin's Docklands; it tells the moving and unforgettable story of the 10 million Irish people who left their homeland – and how they influenced and shaped the world.
Experience this story in 20 breath-taking interactive galleries, complete with touchscreens, motion-sensor games, and audio and video to bring these one-of-a-kind tales to life.
Find Out More About EPIC The Irish Emigration Museum
Directions To EPIC The Irish Emigration Museum in Dublin
EPIC The Irish Emigration Museum is located at the heart of Dublin, at Custom House Quay on the River Liffey, the original departure point for so many of Ireland's emigrants, it is a short walk from O'Connell Street or Trinity College, so can be easily accessed as part of your visit to the beautiful city of Dublin.
By Foot
EPIC The Irish Emigration Museum is just 8 minutes from O'Connell Bridge. Walk east from the Bridge along Eden Quay with the River Liffey on your right. Continue along Custom House Quay straight past the historic Custom House until you see an arch on the left, beside The CHQ. The entrance is beside this arch.
By LUAS
Luas Red Line stop at Georges Dock which is right outside EPIC.
By Bus
Get the 14, 15, 27 bus to Amiens Street/Connolly Station and walk 3 minutes to The chq Building. Buses 15a, 15b & 151 arrive at Custom House Quay/Jurys Hotel and walk 1 minute. Also stop 4 on the Dublin Sightseeing Tour's Dockland route.
By Car
The CHQ is easily located in most Sat Navs (coordinates – 53.348031,-6.247889) and parking is available nearby to the rear of Jurys Inn Hotel, Custom House Quay, Dublin 1. Parking enquiries should be made directly to Park Rite
Map
See Google Map Top of Pag