Dates:
From Monday, 12th of July 2021 to Friday, 16th of July 2021
Times:
10:30 am to 11:45 am
This session will be delivered remotely via Zoom. Please do not journey to EPIC The Irish Emigration Museum for this workshop.
Venue:
EPIC The Irish Emigration Museum
Address:
The "CHQ", Custom House Quay, Dublin 1
Tel.:
+353 1 906 0861


Please mention Family Fun when booking!
EPIC The Irish Emigration Museum Events
"EPIC has been voted Europe's Leading Tourist Attraction at the prestigious World Travel Awards, beating Buckingham Palace, the Roman Colosseum and the Eiffel Tower for the 2nd year in a row."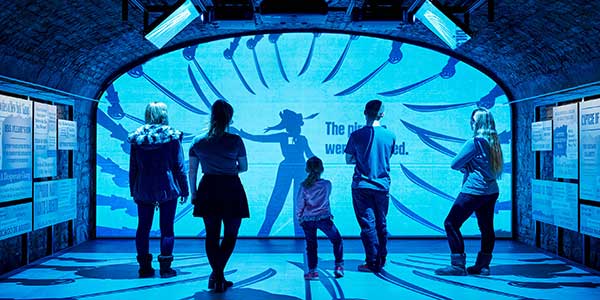 EPIC  EXPLORERS: Make an Exhibition Summer Camp
Do you have what it takes to be next big (or little) curator? Escape the house and discover the amazing history of how the Irish have travelled the world in our EPIC Explorers Imagination Camp: 'Make an Exhibition' edition!
Like our usual Imagination camps, your day will begin with a one hour interactive workshop, where you'll learn fun facts about how the Irish have explored sea, land, air and space, and meet a whole host of famous figures. Then, comes the difference – inspired by what we've discovered, we'll use our ingenuity and creativity to create our own 'at-home' exhibitions! Using your imagination alongside our how-to guide, you'll put your creative prowess to the test to design a mini-exhibition at home, featuring all your favourite parts from the workshops, such as hot air balloons, space shuttles and more. On the final day, you'll document your creations, sending us pictures so that we can have a mini-tour of everyone's exhibitions before putting them live on EPIC's website and social channels for the world to see!
Designed to get kids engaging with their environment afresh, we'll craft planes alongside aviator Lady Mary Heath, make camp with jungle explorer Cynthia Longfield, dive into the ocean with John Phillip Holland, create cars with Henry Ford, set sail with William Lamport, among much more!
Day 1: Land
Day 2: Sea
Day 3: Sky
Day 4: Space
Day 5: Exhibitions
Important: This camp will be delivered remotely via Zoom. Please do not journey to EPIC The Irish Emigration Museum for this camp. As this camp is delivered remotely, EPIC The Irish Emigration Museum is not responsible for supervising children during the course of this camp. Parents and guardians are advised that children will be asked to complete a number of tasks using their imagination, home environment and materials available to them, so require adult supervision at all times, and should wear old clothes and be prepared to get messy!
Event Information
Classification :-  One-off virtual workshop
Dates:- 12th July 2021 to 16th July 2021
Time: 10.00am – 11.45am
1 hour 45 minutes Zoom session from your own home.
Price :  € 9.00 Single Ticket
€30.00 5 Day Ticket
€40.00 Family (ticket includes access to EPIC)
Booking Online:-You can book online here through our booking link directly to the EPIC ticket sales