Dates:
From Friday, 17th of March 2023 to Sunday, 19th of March 2023
Venue:
Fota House And Gardens Family Events
Address:
Fota Island, Carrigtwohill, Co. Cork
Tel.:
353 (0) 21 481 5543


Please mention Family Fun when booking!
St. Patrick's Trail At Fota House 2023
Come and explore the legend of St. Patrick at Fota House and Gardens. Follow in his footsteps through the Gardens of Fota and learn the stories and legends of old, from the Vikings to the Hill of Tara.
Visit Fota House, Arboretum & Gardens throughout the year to enjoy a host of absorbing events, talks, and exhibitions held within our elegant rooms and gorgeous gardens. Learning, fun, and a sense of history are combined in a packed programme that includes everything from family-friendly festivals and cultural events to 'behind the scenes' peeks into our vital conservation work and special exhibitions.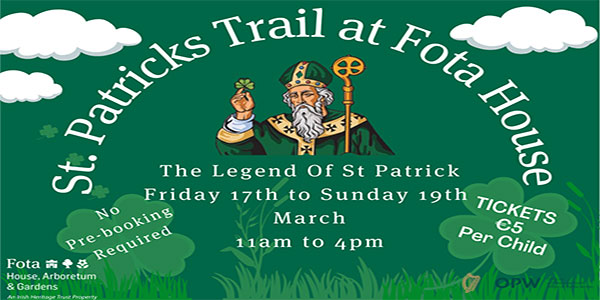 St Patrick's Trail at Fota House
Dates and Times –
March 17th to 19th
11am to 4pm
Tickets –
€5 per child
Maps – €5
Face Painting – €5
Look here for more information about Fota House and Gardens