Dates:
From Saturday, 24th of November 2018 to Sunday, 23rd of December 2018
Address:
Cusack Stand, Croke Park, St. Joseph's Avenue, (off Clonliffe Road), Dublin 3.
Tel.:
01 8192323


Please mention Family Fun when booking!
Elves in Training at Croke Park!
New 'Elves in Training' Santa Experience at the GAA Museum this Christmas
Have you ever wondered what it takes to become one of Santa's trusty elves?  If so, you can't miss the magical new 'Elves in Training' Santa Experience at the GAA Museum in Croke Park this Christmas from 24th November!
Santa has transformed GAA HQ into his secret elf camp, where only the fittest, strongest and healthiest of all elves are trained!  In fact, every pointy-eared helper that is chosen for the GAA Museum training programme is a member of the North Pole Hurling, Football and Camogie Club, which is the most Northerly and charmed GAA club in the world and managed by Santa himself!
In exciting news, Santa is opening the doors of his training facility to a select number of children, and anyone lucky enough to get a ticket and make it on his 'list' will learn the secrets of becoming an elite Elf.
At the Santa Experience at Croke Park, your family will wander through a behind-the-scenes candy cane trail, catching glimpses along the way of how the Elves get fit and ready for the season ahead and their big day, which isn't the All-Ireland for once!
You'll wander in awe through the mesmerising snow tunnel and the North Pole team's changing room. While you're there make sure you listen for banter in the shower room to see who's made it the naughty or nice list!  You might also need to hold your nose as you leave the dressing room, as the trainee Elves' don't usually listen to Mrs Claus when she tells them to pick up their dirty gear!
One of the highlights of the magical trail is a visit to Santa's Bainisteoir's office, the heart of all the action, where Santa reviews tactics and selects his dream team for the big journey on Christmas Eve.
After this meet and greet with Santa, where every child will receive a gift and get their professional photo taken, your family can run out pitch-side, like their GAA heroes, and take their own Croke Park 'Elfies', making even more magical memories.
You will then get complimentary admission to the GAA Museum, where you can discover two floors of interactive exhibits which chart the journey of Gaelic games from ancient times to the present day.  Marvel at the original Sam Maguire and Liam MacCarthy cups and test your hurling and football skills in the museum's Interactive Games Zone!  After working up a hunger, finish off the perfect day with light refreshments and a festive snack in the museum's Blackthorn Café.  And before you leave, you can even pick up a stocking filler reminder of your big day in the GAA Museum Gift Shop!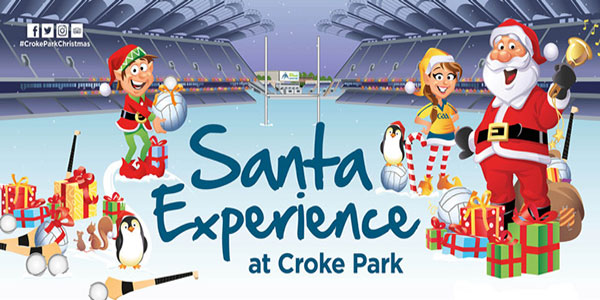 Santa Experience Croke Park Event Information
Venue:- Croke Park, Dublin
Classification :- Family Christmas Event / All Ages
Dates:- Christmas at Croke Park – Santa Experience Tour – 24th November 2018
Times
Saturday 24th November, 12.00 – 19.00
Sunday 25th November, 10.00 – 19.00
Friday 30th November, 15.30 – 19.00
Saturday 1st December, 10.00 – 19.00
Sunday 2nd December, 10.00 – 19.00
Friday 7th December, 15.30 – 19.00
Saturday 8th December, 10.00 – 19.00
Sunday 9th December, 10.00 – 19.00
Friday 14th December, 15.30 – 19.00
Saturday 15th December, 10.00 – 19.00
Sunday 16th December, 10.00 – 19.00
Thursday 20th December, 14.00 – 19.00
Friday 21st December, 14.00 – 19.00
Saturday 22nd December, 10.00 – 19.00
Sunday 23rd December, 10.00 – 15.30
Admission: –
Adults: €10
Children (2 years and over): €16
Children (1 – 2 years): €8
Children (under 1 year): FREE
Booking – Pre-booking is essential
Group Booking:- If you wish to make a group booking, please get in touch with them directly – [email protected] or telephone 01 8192374
Booking Online :- You can book on line here through our booking link directly to the Santa Experience in Croke Park ticket sales.    Note that all tickets are subject to booking fee charged at 5% per ticket.
Croke Park Stadium Tour
The Tour
Walk in the footsteps of legends as you experience the magic of a match day…
The guided Stadium Tour offers an access-all-areas trip through the home of Ireland's national games. Walk in the footsteps of legends as you visit the team dressing rooms before going pitch-side via the players' tunnel and taking a seat in the VIP area.  Enjoy panoramic views from the top tier of the stand – 30 meters above the famous pitch.
Includes admission to the GAA Museum which celebrates Ireland's unique national games of hurling and Gaelic football. The museum's collections and exhibits illustrate the rich history of these national games, highlighting the significant contribution the GAA has made – and continues to make – to Ireland's cultural, social and sporting heritage. Test your Gaelic football and hurling skills in the interactive games zone – see how fast you can react, check out your passing skills, practice a fingertip save or discover the art of the high catch!
To Find Out More About The GAA And Croke Park Stadium Tour
Online Booking –You can book on line here through our booking link directly to the GAA Museum ticket sales