Address:
Cusack Stand, Croke Park, St. Joseph's Avenue, (off Clonliffe Road), Dublin 3.
Tel.:
01 8192323


Please mention Family Fun when booking!
GAA Museum Brings Back
Junior Explorer Tour for Families
Attention weekend early risers! Are you looking for a Saturday morning activity that's a bit more exciting than a trip to the playground?
The GAA Museum at Croke Park has announced it will be bringing back it's wildly popular Junior Explorer Tour for young families on Saturday mornings from 17th February to 26th May and Cluasóg the hare can't wait to meet a whole new batch of friends! Additional tours have also been added on Thursday 15th and Friday 16th February to keep the kiddies entertained during their mid-term break.
The family-friendly tour, created to bring to life the magic of the home of Gaelic games for younger visitors, was a sell-out success last year with the countries littlest GAA fans taking over the iconic stadium.
On arrival, your family will be greeted by the Museum's mascot, Cluasóg the Irish hare, who will pose for photos and get everyone excited about the adventure ahead.
Next you go behind-the-scenes and learn fun facts about the GAA and Croke Park. During the Stadium Tour, your intrepid little explorers will get to visit the team dressing rooms and warm-up area and run out pitchside through the players' tunnel.
Back at the GAA Museum, children will then receive a Junior Explorer Passport so they can follow clues throughout the Museum with their tour guide. They'll discover some of the museum's most famous exhibits including the original Sam Maguire and Liam MacCarthy cups along the way. If the group find all the clues… all younger visitors will receive a special Junior Explorer badge and sticker pack!
Another highlight for many boys and girls (and mums and dads!) is the museum's Interactive Games Zone, where the future All-Stars can test their own hurling and football skills. Who's the fastest in the family? Find out by checking your passing skills and practice a fingertip save or the art of the high catch!
Junior Explorer Tours are recommended for all family members but will be of particular interest for children of 8 years of age and under. Children must be accompanied by an adult.
Tours will depart from the GAA Museum at 10.30am and will continue on Saturday mornings (subject to GAA fixtures) until 26th May. Junior Explorer Tours lasts approx. 1.5 hours (including time in the museum and a meet and greet with Cluasóg) and the route is fully accessible for buggies. Advance online booking is recommended. Free parking is available, as well as the museum's Blackthorn Café for a snack afterwards.
The GAA Museum and Croke Park Stadium Tour are listed as two of the top 10 things to do in Dublin on Trip Advisor. Croke Park has been at the heart of Irish sporting and cultural life for over 100 years, so it really is a must for every Irish family.
Online Booking – You can book on line here through our booking link directly to the Junior Explorer Tour ticket sales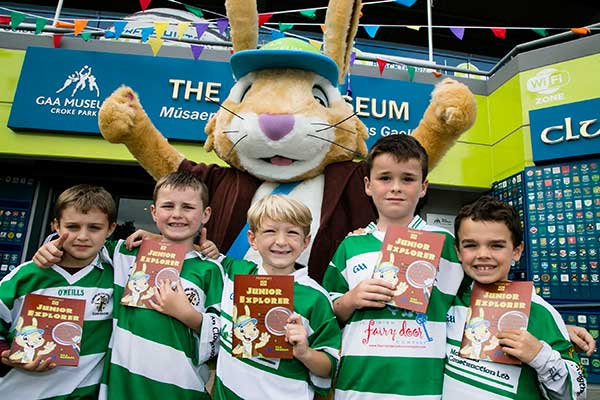 Junior Explorer Tour full list of tour dates:
(All tours start at 10.30am)
Thursday 15th February
Friday 16th February
Saturday 17th February
Saturday 24th February
Saturday 3rd March
Saturday 10th March
Saturday 24th March
Saturday 14th April
Saturday 21st April
Saturday 28th April
Saturday 5th May
Saturday 12th May
Saturday 19th May
Saturday 26th May
Junior Explorer Tour Prices
Adult: €14
Children (ages 3 – 12): €9
Under 3 years: Free of charge
Students / seniors: €11
Family (2 adults & 2 children): €38
Family (2 adults & 3 children): €40
Croke Park Stadium Tour
The Tour
Walk in the footsteps of legends as you experience the magic of a match day…
The guided Stadium Tour offers an access-all-areas trip through the home of Ireland's national games. Walk in the footsteps of legends as you visit the team dressing rooms before going pitch-side via the players' tunnel and taking a seat in the VIP area.  Enjoy panoramic views from the top tier of the stand – 30 meters above the famous pitch.
Includes admission to the GAA Museum which celebrates Ireland's unique national games of hurling and Gaelic football. The museum's collections and exhibits illustrate the rich history of these national games, highlighting the significant contribution the GAA has made – and continues to make – to Ireland's cultural, social and sporting heritage. Test your Gaelic football and hurling skills in the interactive games zone – see how fast you can react, check out your passing skills, practice a fingertip save or discover the art of the high catch!
To Find Out More About The GAA And Croke Park Stadium Tour
Online Booking –You can book on line here through our booking link directly to the GAA Museum ticket sales