Address:
Pembroke District Unit 13 Dundrum Town Centre Dundrum Dublin 16
Tel.:
+353 (0) 12924900


Please mention Family Fun when booking!
Hamleys Toy Store Dublin
The Finest Toy Shop in the World!
Hamleys a total play experience, has been delighting adults and children for years from their famous Dundrum store. This store has floors brimming with the latest crazes, computer games, traditional teddies and specialist collector areas.
And with entertainment and activities in abundance, every visit to Hamleys is a unique treat
Hamleys has an amazing tradition and there are loads of staff that give this place it's a magical atmosphere.
Through its wonderful history and magical shopping experience, Hamleys makes children feel like it's Christmas every day.
The world-famous toy shop is known for selling 'the finest toys in the world' and it's unique range of toys, combined with fun and entertainment, can be enjoyed all the family.
Experience the magic of Dublin famous toy shop Hamleys.
Have your Dream Birthday Party!
Have your exclusive birthday party at Hamleys. From the moment you book your birthday party at Hamleys the fun, magic and theatre begins!
Hosted by the Hamleys Entertainers, your special guests will enjoy an action packed time including activities, games and lots of fun. From treasure hunts and arts and crafts to dancing and party games, the birthday child and their friends will get to enjoy a truly magical experience. Each child will even get to take away a gift bag exclusive to Hamleys!
Hamleys Themed Party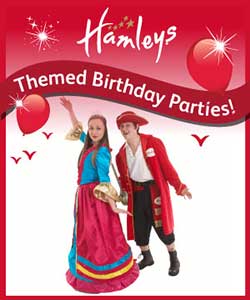 Pirate & Princess
Luvley!
Superhero!
Safari!
Tea Party!
Dream Sleepover!
School Tour at Hamleys!
Bring your class on a school tour like no other in the Finest Toy Shop in the World!
Available: Monday-Sunday (January – November)
Duration: 2 hours
Guests: Up to 30 children (Minimum booking of 10 children).
Suitable for: 5 – 7 years
Location: Hamleys Toy Shop
Cost: €13 per child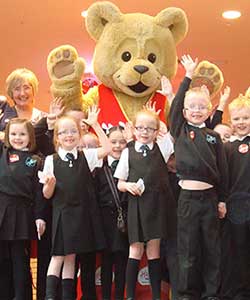 Includes
Hamleys Experience team
A tour of the finest toy shop in the world
Learn about our amazing toys and how they have changed over the past 255 years
Story time with Rosie Ragdoll or Toy Soldier
Play with toys and games as we explore the shop
Have your packed lunch in the party room with a movie
Meet Hamley or Hattie Bear
Every child will receive an exclusive Hamleys balloon and small gift before they leave
Christmas in Hamleys Toy Store
Meet Father Christmas at Hamleys!
Join Father Christmas and his loveable elves at the finest toy shop in the world for fun, magic and theatre at this very special time of year. Meet Father Christmas at Hamleys is an extra special experience where children will take part in seasonal games and activities, enjoy delicious snacks, spend time with Father Christmas and receive an extra special gift bag to take home.
Find out more information about "Meet Father Christmas at Hamleys"
Hamleys Toy Store Opening Times
Monday : 09:00 – 21:00
Tuesday:  09:00 – 21:00
Wednesday:  09:00 –       21:00
Thursday:  09:00 – 21:00
Friday: 09:00 – 21:00
Saturday:  09:00 – 19:00
Sunday:  10:00 – 19:00