Irish Fairy Trails
Irish Fairy Trails are a great day out with your young family – this is some of the best fun you can have and it is Free!
Searching for the fairy homes on the Irish Fairy Trails is a great family fun adventure. On a rainy day and in the shelter of the woods makes this a memorable day out for all.
Irish Fairy Trails in Kerry
There are two magical fairy trails to be found in the south west of Ireland in County Kerry.  These family fun activities can be found in the woodlands of both Derrynane House and also in Darryquin, part of the demesne of Parknasilla near Sneem on the Ring of Kerry.
The fairy trails in Kerry are open day and night 350 days of the year.
The fairy trails at Derrynane House and Parknasilla  are located in areas of great history and beautiful scenery. Derrynane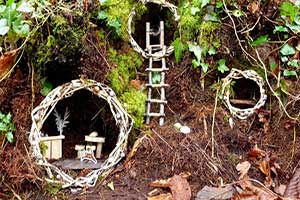 House is renowned for being the home of Daniel O'Connell, the Liberator. Many visitors to this historic landmark are not yet aware of another secret treasure within this very popular visitor attraction – a fairy trail!
The little fairy houses in Derrynane were only discovered in 2010. However, research has identified that this woodland site has been inhabited by mystical creatures for thousands of years.
Many children are amazed that they had never actually seen these houses on previous visits to the gardens and woodlands. This is really just because they never opened their eyes to this magical kingdom before.
Direction To The Derrynane Faerie Trail
The Derrynane Fairy Trail is located adjacent to the Ring of Kerry, near Caherdaniel in County Kerry in the South West of Ireland
The Parknasilla Fairy Trail is located at Derryquin, near Sneem on County Kerry