Kippure Outdoor Activity and Adventure Centre
Experience fun and adrenaline outdoor activities at Kippure Estate Adventure Centre, set in 240 acres of mature woodland and wilderness separated from the Wicklow Mountains National Park by the unravelling river Liffey, close to Dublin.
Whether you are looking for adventure and fun, for an educational school trip experience, or if you just want to relax and tune into nature, the Kippure Outdoor Activity and Adventure Centre at Kippure Estate offers you a wide range of fantastic activities from high and low ropes, sky trek and zip wire, climbing and abseiling, archery, orienteering, team building, paintball, clay shooting, wilderness survival skills, environmental field study, school tours and guided mountain walks.
Kippure Activities
Kippure  offers a wide range of fantastic activities:
High & Low Ropes Challenge Course
Play Tarzan on the Sky Trek suspended from trees, 10 metres above the woodland floor. The low level course tests your team skills, while the high level ropes course and the exhilarating 'Vertical Challenge' offer pure adrenaline. For the ultimate thrill take a ride on our 100 metres long Zip Wire!
Climbing & Abseiling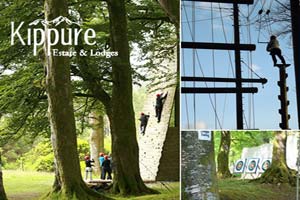 Triumph over your natural fears by scaling a wooden climbing tower in beautiful setting. Feel an enormous buzz on successfully reaching the top!
Environmental Field Study & Outdoor Education
Kippure is one of Ireland's foremost providers of environmental, outdoor education and eco-adventure days for schools.
Team Building & Corporate Incentives
Improve your team working and problem solving ability by tackling a range of challenges and activities. Courses can be tailored to suit Family groups, business teams, youth groups or sports clubs who want to develop their full potential.
Orienteering
Have fun and quickly develop map reading skills while navigating as fast as possible round our attractive woodland orienteering course.
Archery
Fulfil your dream of being Robin Hood as you learn how to hit the target on our outdoor range
Kippure Outdoor Education & School Tours
Kippure Estate Environmental Education… for an excellent Field Trip, Field Study or School Field Trip
Kippure friendly and professional team of instructors carries out field studies in keeping with the Irish Department of Education and Skills syllabus. In particular they run the river study for Leaving Certificate Geography students. Kippure also carry out an Ecology study in the Oak woodland in keeping with the syllabus for the Leaving Certificate examination.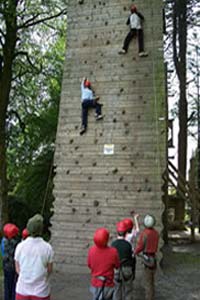 School tours to Kippure Estate are very popular as they have a wide variety of outdoor activities where children can learn team building and communication skills or just have some fun and adventure. Orienteering, archery and treasure hunts are also good ways to test their skills and exercise the body and mind.
As part of your school tours they offer the opportunity to combine the adventure activities with ecology nature walks so the children can learn about the ecology of the area they are visiting in a fun way – before getting into other activities include outdoor adventure experiences Climbing and Abseiling Tower for even more fun and excitement.
For more information Tel. 01 4582889 and talk to Clíona or email [email protected].
Children's Birthday Parties at Kippure Estate
Celebrate your kid's birthday big time! If you're looking for a party venue with spectacular surroundings, then nowhere comes close to Kippure Estate Adventure Centre.
Kippure big value birthday package is specifically designed for 6-12 year olds and includes the following:
Climbing & abseiling adventure
Nature scavenger hunt
Classic kids party games (e.g. sack race, pass the parcel)
Novelty prizes for the scavenger hunt
A special kid's party buffet *
A goody bag for each child **
Duration: 3 – 3.5 hours (including the party buffet)
All outdoor activities and games are fully supervised by qualified and experienced instructors.
Accommodation at Kippure Estate
After a day filled with adrenaline and adventure at Kippure Estate Adventure Centre, you'll be glad of a comfortable night's sleep and where better to stay than right in the heart of the Kippure Estate, in the tranquil surroundings of the Wicklow Mountains National Park?
Accommodating up to 120 people, they have both comfortable guesthouse rooms and well-appointed self-catering houses, complemented by some excellent private dining facilities and a cosy residents' bar, so you can relax and swap stories late into the evening before wandering but a few yards away to take your well-earned slumber.
The self-catering houses are ideal for families and groups. Most of them sleep either 7 or 8 guests each in comfort.