Carlingford Adventure Centre
Carlingford Adventure Centre is set  against the natural beauty of a true medieval Irish coastal town Carlingford in Co. Louth. Carlingford Adventure Centre's facilities, providing visitors with the perfect mix of character and modern comforts. With over 20 fun filled water and land based outdoor activities designed to challenge and reward all ages and abilities. The ideal location of the Carlingford Adventure Centre situated almost exactly half way between Belfast and Dublin, the temperate climate and the safety of the Harbour within which to run the Water sports facility, coupled with the recent acquisition of the old quarry along with almost 10 acres of forest, make the Centre ideally placed to cater for all manor of groups and individuals alike. Carlingford Adventure Centre lets you experience action packed adventure holidays in Ireland that you'll talk about for a lifetime.
Family Adventure
Carlingford Adventure Centre offer an extensive range of exciting outdoor adventure activities ideal for tiring the kids out for a Day or Week, a Family Adventure Holiday in Ireland or just to try something New!
Carlingford Adventure Centre Activities
Carlingford Adventure Centre offer a range of challenging activities, designed to build trust, communicate with each other and evolve to overcome obstacles and set tasks. They  utilise the outdoors to deliver a learning experience that focuses on developing skills essential to success, all whilst having great fun!
Sky Park:- The Biggest High ropes adventure park in Ireland.
Archery Combat.  Its like archery on adrenaline, a bit like dodgeball but with bows and arrows.  Great energetic fun for groups, arrows are rubber tipped so if perfectly safe and not sore. Can be booked alongside Footgolf for a fun half day activity combo.
Laser Combat:-Kick some butt Military Style in Ireland's Largest privately owned Laser Combat Arena
High Ropes Course:- provides a range of activities designed to encourage both individuals and teams to step outside of their normal comfort zones.
Rock Climbing:- At Carlingford Adventure Centre rock climbing is an activity in which participants climb up, down or across natural rock formations or artificial rock walls.
Archery:- The Cuchulainn Archery Challenge, who will be the best archer in the land! Take up your bow and arrow, steady your aim and release.
Crystal Maze:- One of the most popular activities…Like the famous Crystal Maze only OUTDOORS! Also known as the Challenge Island.
Kayaking:- Take the paddling into your own hands and explore Carlingford Lough in our fun and easy to use open top kayaks.
Ziptopia:- Zip Line through the forest on over 1km of Zip lines and 18 Suspended Challenges while enjoy breath taking views of Carlingford and the Mourne Mountains
Water Trampoline:-You can bounce on it, flip on it or even jump off it into the water…however you decide to use it, it's the ultimate water activity for all ages and is a great laugh!
Skypark Junior:- Carlingford's best attraction for under 10's! Younger visitors can try out SKYPARK Junior, a brilliant safe low level version of SKYPARK for 5+ yr olds only 1 meter above the ground.
Canoeing:- Master the basic paddle stroke that will enable you to get out and discover Carlingford Loughs beautiful harbour and coastline.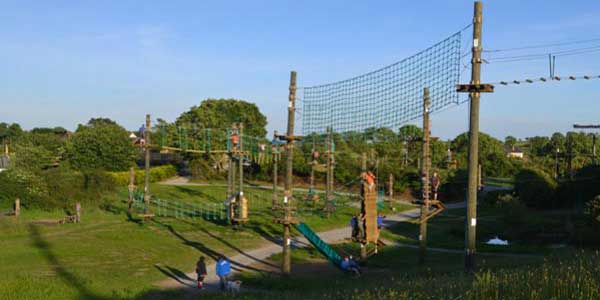 Adventure Summer Camps
Adventure Summer Camps run during July and August allowing kids (6 – 17 year olds) to stay in residence in the centre for up to a week or along with their families in Carlingford Holiday Homes. Adventures are based around land, sea and sky and range from High ropes, ziplines, rock climbing and lazer quest to watersports (kayaking, trampoline, pier jumping, SUP) and land activities (crystal maze, archery, aeroball, footgolf).
To find out more about other options contact then at [email protected] or phone (042)9373100
Family Adventure Holidays
Come as a Family and create some memories canoeing on Carlingford Lough or Zip Line through the forest! A amazing range of outdoor activities are offered daily
Carlingford Adventure Centre offer fun adventure family holidays with children ages 5 and up!
Whether you want to take part as a family or leave the kids to it with the capable instructors. They have packages to suit all tastes and all ages.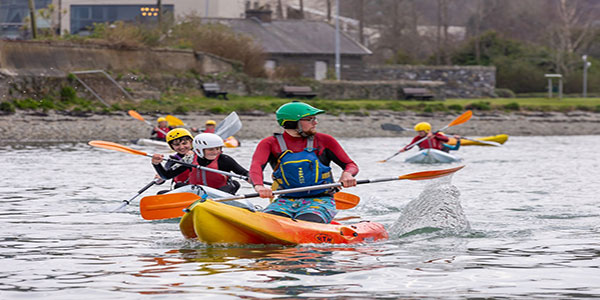 Family Accommodation...
Choose from 4* Holiday Homes & Apartments or Family Ensuite Rooms in the Centre
The 4* Holiday homes are recognised by Failte Ireland and are the perfect place to relax and enjoy your holiday. All 10 properties are tastefully decorated and are located within walking distance of the village shops, restaurants and Carlingford Adventure Centre.
Look here for more information about Carlingford Adventure Centre Accommodation
The family rooms are located in the Adventure Centre is equipped with modern facilities including an onsite kitchen with qualified caterers, dining hall, common rooms, games room with multimedia systems and comfortable en-suite dormitory style rooms of varied sizes.
Find a Family Package To Suit Your Family or contact Carlingford Adventure Centre for Family Offers Tel. 042 9373100.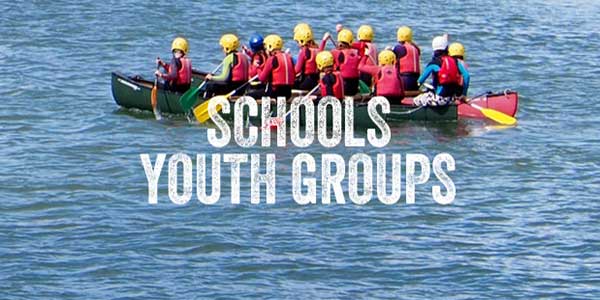 Carlingford Adventure For Schools
Carlingford Adventure have been running school tours since 1990 and they pride themselves on offering the largest choice of LAND, SEA and SKY activities in Ireland all delivered by their team of experienced, qualified & fun-loving instructors.
In-house chefs prepare homemade meals daily and can cater for any food allergies.
Their primary school programmes are tailored for the younger student with activities that suit their abilities and make them feel good about themselves.
In the secondary school programmes they use the outdoors as a medium for young adults to learn experientially, thereby getting them to experience the learning as opposed to being taught.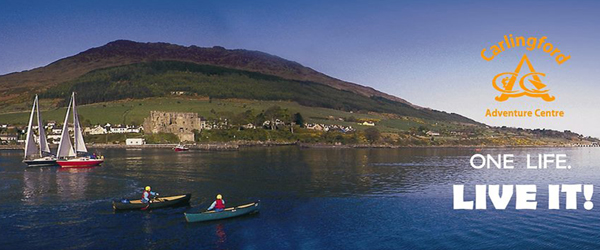 Direction To Carlingford Adventure Centre in Co. Louth
Travelling From The South
Follow for M1 Dublin to Belfast route; take Exit 18 (Dundalk North) signposted Carlingford. Follow signs for Carlingford and continue on this road (R173) for approximately 1o miles. Then take the sign posted left hand turn to Carlingford (R176) Cooley Inn Pub is on your right. On arrival at Carlingford sea-front, take the second turn on your left (between the Tourist Office and tennis courts). Then take next left (immediately past Darcy Magee Monument) – this will bring you to the Tholsel car-park. Walk through the Archway to Tholsel Street. Carlingford Adventure Centre is situated on Tholsel Street (pedestrianized) beside the Mint medieval Townhouse.
Travelling From The North 
When coming from Northern Ireland – follow the signs to Newry, travel along the front of the Quays Shopping Centre. Turn left to take the canal road south (B79) to Omeath and continue to Carlingford –Aprox.10 miles.On arrival at Carlingford sea-front, take the second turn on your right (just past the Tennis Courts). Then take next left (immediately past Darcy Magee Monument) – this will bring you to the Tholsel car-park. Walk through the Archway to Tholsel Street. Carlingford Adventure Centre is situated on Tholsel Street (pedestrianized) beside the Mint medieval Townhouse
Directions for buses:
It may be difficult to negotiate the Darcy Magee Monument left-hand turn. It is advisable, on arrival at Carlingford, to park on the main road opposite the sea-front -at the "Green".You can then walk to the Centre, travelling through the Sea-front car-park, Tholsel car-park and through the Tholsel Archway