Medieval Mile Museum For Kids
Museums are not usually the first thing that comes to mind when you're planning a day out with kids, in fact, the thought of bringing kids to museums might instil a feeling of fear for lots of parents, along with visions of their little darlings accidentally knocking over a 900 year old statue….. but fear not, the Medieval Mile Museum is fun for all the family.
Top 5 Things for Kids in Medieval Mile Museum!
Child-friendly Audio Guide – use an audio guide to explore the museum and test your knowledge of medieval Kilkenny with our audio  quiz!
2.      Interactive map- imagine yourself walking through Medieval Kilkenny with their interactive map. Do your kids love to use tablet devices to play games or watch YouTube videos? Then they will love the huge interactive digital map of Medieval Kilkenny!
3.     LEGO Hunt – See if you can find the 10 characters from Kilkenny's past hiding out in the museum in Lego Minifigure form!
4.      Tombs and Crypts-  take a selfie in the monk's stone coffin and discover the spooky graveyard, where there have been reports of ghostly activities and encounters underneath the Kilkenny room.
5.      See treasures uncovered by archaeologists up close – toy soldiers, roman coins and weapons!
Bonus feature:
6. Meet an ancient king who will talk to you through a magic wishing well
New exhibition – 3 Lives, 3 Deaths, One Life Unlived;
This new cutting-edge exhibition, 3 lives, 3 deaths, One life unlived, welcomes the return of three skeletons that were excavated at the main gate of the museum in 2016. We have learned a lot about these individuals' lives through scientific analysis and historical research.
A woman in her late forties, young to our standards but considered elderly by her peers. A young teenage girl, old before her time yet in the prime of her life. A small child, the victim of medieval society. An infant who never had a chance. Shrouded in mystery, these skeletons are time capsules that reveal a dark side to medieval life and death in Kilkenny.
Visitors will come face to face with the physical remains of people who walked the streets of Kilkenny centuries ago and will discover how forensic analysis has revealed many of their secrets.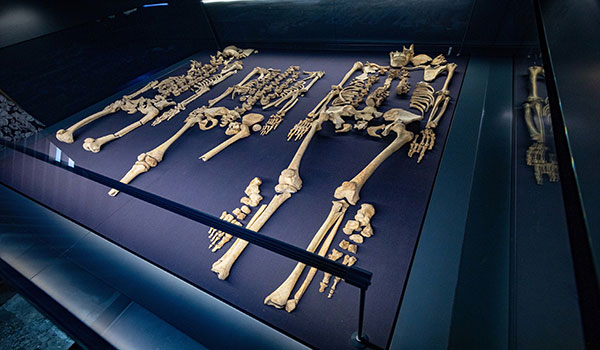 Discover The Medieval Mile Museum
Lost Relics
Discover the once-hidden history of this stunning building in the St Mary's room through our animated timeline. Through the glass floors, you can catch a glimpse of the foundations of a massive tower that loomed over the city. This room will soon be home once again to the amazing artefacts and human remains unearthed during the restoration of the building. Until then, you can learn of the important work being done behind the scenes.
Stories in Stone
Discover stories of power and wealth written and preserved in magnificent stone carvings. Our High Cross exhibition introduces the High Kings of Ossory and the foundation of the monastery of Kilkenny by St Canice. The displays describe how Kilkenny has the finest stone sculptural tradition in Ireland extending from the Neolithic period of 5,000 years ago to the modern era.
Medieval Treasures 
Discover the Kilkenny Room with its magnificent glass window overlooking the city. As you make your way, you will catch a glimpse of external tombs dedicated to other wealthy Kilkenny families. Books, Letters, Petitions, Leases… Kilkenny holds a unique set of civic records, tracing the city's history right back to the 1200s. The ancient papers and treasures tell fascinating stories about daily life in a medieval city governed by wealthy merchants.
Find the Liber Primus – Kilkenny's extraordinary medieval town book.
Wealthy Merchants 
Step into the Rothe Chapel and explore the best surviving example of a medieval chantry chapel in Ireland. Around 1560 the Rothes – who were wealthy Kilkenny merchants – built this private chapel. The carvings on the tombs here are unusually well-preserved and provide an insight into the lives of Kilkenny's most important families.
Buried Secrets 
Wander through the atmospheric medieval graveyard where buried secrets of powerful patrons lie, awaiting discovery. A place of rest for the great and good of Kilkenny for 800 years, the graveyard is now an oasis for wildlife in the centre of the city. Bats, butterflies and bees have made their homes here as well as a variety of plants.
Hidden Gems – Ireland's Medieval Mile.
From Castle to Cathedral and everything in between- explore Ireland's best-preserved medieval city.
Through the interactive map, you can unlock the hidden gems that Ireland's Medieval Mile has to offer and find out why St Mary's church
Kilkenny played such an important role in Medieval Ireland.
About Medieval Mile Museum
Unearth 800 years of history under one roof.
The Medieval Mile Museum is located in the centre of Irelands Medieval Mile Kilkenny, once the medieval capital of Ireland,
on the 13th century site of St Mary's cruciform church and graveyard (considered to be the finest example of a medieval church in Ireland). The Medieval Mile Museum represents an immense treasure trove of artefacts encompassing the work and lives of Ireland and its people across more than 800 years of history. Visitors to the museum will marvel not only at some of Ireland's finest examples of medieval sculpture, but also the country's largest collection of Renaissance tombs.
Following a five-year excavation and renovation, highlights of the visit include the incredibly ornate Rothe Chapel with exposed tombs belonging to the medieval merchant Rothe family; St Marys external graveyard (where only the wealthiest could be buried) and its abundance of medieval masterpieces; the stories of the multiple pauper graves discovered outside the church walls and the High Cross casts- reaching over 4 metres high that were originally commissioned by the High Kings of Ossory
The Medieval Mile Museum Opening Hours
Wednesday – Sunday
11am – 6.00pm
The Medieval Mile Museum Prices
Interactive Audio Tours
Adults €8.50
Students/OAPs €7.00
Children €3.50
Family €22.50
Audio Guides – English, German, French, Italian, Spanish and Mandarin
The Medieval Mile Museum School Tours
With a visit to the Medieval Mile Museum pupils will gain an insight into life and death in Medieval Kilkenny, centuries of craftsmanship and artistry and the detective work done by archaeologists and historians.
There is also the opportunity for students to learn about the work of archaeologists and historians, what it takes to curate a museum collection and develop a 21 st century visitor experience!
Students will be given fun worksheets, which they will be able to complete through exploration of the museum and graveyard.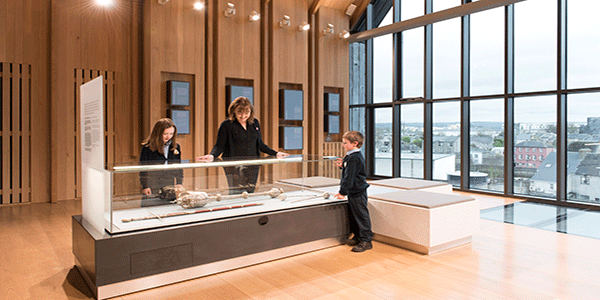 The Medieval Mile Museum History
The former St Mary's Church has been converted into a modern museum and will also be a venue for select events and exhibitions. Designed to enrich the cultural life of the city and provide a new international standard attraction for visitors the museum has several functions: as the starting point for understanding Kilkenny's medieval history, to display Kilkenny's Civic Treasures and replicas of some of Ossory High Crosses and to provide a space for temporary exhibitions and cultural events.
The 13th century St Mary's church and graveyard is the finest example of a medieval church in Ireland. As the starting point of the 'Medieval Mile' trail, it brings to life Kilkenny's history as Ireland's premier medieval city. Displays of Kilkenny's civic treasures and replicas of some of the High Crosses of Ossory illustrate the local Gaelic monastic heritage and the ancient city's historic role in Ireland.
Kilkenny's 800-year story is told with a contemporary twist within the new museum. The customer experience contains a long colourful interactive table similar to a giant iPad, an elongated plasma TV screen and projected imagery onto a giant wall allowing visitors to get immersed in the rich history with the aid of modern technology.