Name:
West Cork Model Railway Village
Address:
The Station, Inchydoney Raod, Clonakilty, Co Cork
Tel.:
(023) 8833224


Please mention Family Fun when booking!
West Cork Model Railway Village
West Cork Model Railway Village, a leading tourist attraction in the West Cork region, is tucked in along the Clonakilty stretch of the Wild Atlantic Way, over looking Clonakilty Bay.
The village is a fully scaled model of the West Cork towns that grew along the old railway line between 1930 and 1950 and so is a delightful way to whet the appetite for your visit to Clonakilty, Kinsale, Dunmanway and Bandon. Built on a miniature of the Railway line, you can enjoy a unique overview of the character and history of each heritage town that you will experience on your travels throughout West Cork.
Tour Clonakilty by Road Train
After you have marveled at the intricate and unbelievable care to detail of the models themselves and soaked up all the history and quirky facts of West Cork that the friendly tour guides offer you, it's time to take a spin on their beautiful road train.
The road train will take you through the history filled streets of Clonakilty where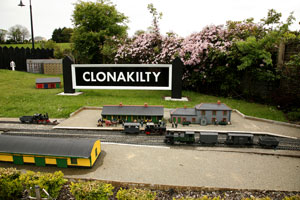 newcomers to the area will get a chance to see some of the buildings they saw in the model village in full scale.  The road train has now become an iconic figure in the seaside town and is a major fascination for all those who take a spin on it.
After you have become familiar with the town of Clonakilty, you return to the model village where you can relax and take in the picturesque view of Clonakilty Bay and enjoy a cup of tea and freshly prepared scones in the Tea Room, which is located inside an original rail carriage.
The last stop at the Model Village is the Gift Shop, where visitors can purchase a memento to remind them of their trip to the West Cork Model Railway Village.
If you are looking for an interesting, interactive and impressive activity to do along the Wild Atlantic Way then the West Cork Model Railway Village ticks all these boxes. With their amazing models, friendly and helpful staff, beautiful views and
Birthday Parties at Model Railway Village
Birthday parties at the Model Village are in great demand because they have the perfect balance between free play time and guided tour. You also get a ride on Choo Choo, the road train.
They also allow you to bring your own food and drinks which keeps the costs down.
There is also a playroom available for children's birthday parties.
Rates €9 per child no charge for adults
For more information on their party packages just call them Tel. (023) 883 3224 or email [email protected]
West Cork Model Railway Village School Tours
At the Model Village in Clonakilty they welcome tours of all ages, but their favourites by far are primary school tours. Nothing beats the wide eyed reaction they get on the child's first school trip to the village and the wonderful questions and feedback they receive. At West Cork Model Railway Village they pride themselves in providing a tour that is educational but fun and the number of children who return to them with their family is testament to that.
Model Railway Village Admission Rates
Entrance to the Model Village:
Adult: €8.50
Seniors: €6.00
Student: €6.00
Child (6 years +): €5.00
Infant (2 – 5 years):  €3.50
Under 2's: Free
Family (2 adults + 3 children) €27
Entrance to the Model Village and Road Train tour:
Adult: €12.00
Seniors: €9.00
Student: €9.00
Child (6 years +): €7.50
Infant (2 – 5 years) €5.50
Under 2's: Free
Family (2 adults + 3 children) €39
Group rates: 10%off for groups more than 12 persons
Playroom only: €4.00 per child (No charge for accompanying adult)
Family membership – 12 months €150, 6 months €80, 1 month €50
Model Railway Village Opening Hours
West Cork Model Railway Village is open 7 days per week from 11.00 a.m. to 5.00 p.m.
Extended opening times for July and August 10:00 a.m. – 6:00 p.m.
Last Admission is 45 minutes before closing.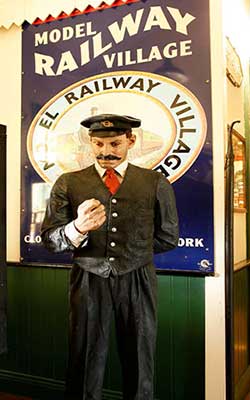 West Cork Model Railway Village Facilities
School tours welcome
Coach tours welcome
Sensory Gardens
Available for Birthday Parties
Annual tickets available (1month, 6 month, 12 month)
Wheelchair access throughout
Village Café and Gift Shop
Picnic tables
Toilets and baby changing facilities
Free parking
Free WIFI
Guide dogs permitted
West Cork Model Railway Village Directions
The Model Railway Village is on the Inchydoney Road on the outskirts of the picturesque town of Clonakilty on the shores of Clonakilty Bay. Our Eircode is P85 HR26.