West Cork Model Railway Village
West Cork Model Railway Village is a leading tourist attraction in the West Cork region and is tucked in along the Clonakilty stretch of the Wild Atlantic Way, over looking Clonakilty Bay. Perfect for a Fun Family Day Out.
The Model Railway Village is a fully scaled handmade model of the historic West Cork Railway Line with fully working miniature trains and the towns that the railway served during the 1940s. Handcrafted model buildings and figurines tell the story of how people lived and worked in days gone by. See open air market days, castles, couples getting married, school children playing in the school yard, all lovingly created in miniature by hand. It depicts the towns of Clonakilty, Kinsale, Bandon and Dunmanway in a scale of 1:24.
Follow the model trains through West Cork, steer the remote control boats, try the mini diggers and play in the colourful outdoor play area. The Village Cafe serves a selection of teas, coffee and snacks.
Tour Clonakilty by Road Train
After you have marveled at the intricate and unbelievable care to detail of the models themselves and soaked up all the history and quirky facts of West Cork that the friendly tour guides offer you, it's time to take a spin on their beautiful Road Train.
The Road Train will take you through the history filled streets of Clonakilty where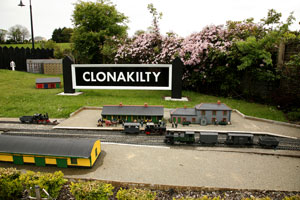 newcomers to the area will get a chance to see some of the buildings they saw in the model village in full scale.  The Road Train has now become an iconic figure in the seaside town and is a major fascination for all those who take a spin on it.
After you have become familiar with the town of Clonakilty, you return to the Model Village where you can relax and take in the picturesque view of Clonakilty Bay.
Road Train Tours
Road Train tours of Clonakilty run daily for June, July, August 2023
Cafe & Craft Shop
The last stop at the Model Village is the Cafe and Craft Shop, here you and relax and enjoy a cup of coffee or tea in the cafe and browse the wide range of souvenirs in the craft shop for a memento to remind you of your trip to the West Cork Model Railway Village.
If you are looking for an interesting, interactive and impressive activity to do along the Wild Atlantic Way then the West Cork Model Railway Village ticks all these boxes. With their amazing models, friendly and helpful staff and beautiful views.
Look here for more information and to book your visit to West Cork Model Railway Village
Birthday Parties at Model Railway Village
Birthday parties at the Model Village are in great demand because they have the perfect balance between the exciting tour and free play time.
Birthady Party includes:-
A visit to the Model Village
One hour exclusive use of the indoor playroom
A trip around Clonakilty on the Road Train (subject to availability)
Bring your own party food and enjoy it on a real train carriage!
Rates: €14.00 per child – no charge for adults (up to 4 adults).
Please note that a minimum number of 10 children is required per booking and a deposit is required to confirm the booking.
To book your party, simply telephone the office on 023 8833224 or email [email protected]
West Cork Model Railway Village School Tours
At the Model Village in Clonakilty, they welcome tours of all ages, but our favourites by far are primary school tours.
Nothing beats the wide-eyed reaction on the child's first school trip to the Model Village and the wonderful questions and feedback. They provide a tour that is educational but fun and the number of children who make return visits with their family is a testament to that.
The tour includes:
Welcome Fun
Time to get to know the children.
Discover 1940's West Cork
A light-hearted tour of the village with a brief history of each town on the railway line and little titbits to intrigue the children.
Lunch and Free Play
Time out to eat and let off steam in the indoor soft play area or outdoor playground.
Road Train Tour
Hop aboard the Choo Choo Road Train for a tour of Clonakilty to round off the day before heading home.
To book your school tour, simply call us on 023 8833224 or email: [email protected]
West Cork Model Railway Village – Active Retirement
Model Railway Village also offer excellent rates for Active Retirement Groups with guided tours and have ample parking for coaches. Please get in contact if you need further information or to book your tour group.
Model Railway Village Admission Rates
Adult: €11.00
Seniors: €8.50
Student: €8.50
Child (under 16) €7.50
Infant (under 3) Free
Family (2 adults + 2 children) €31.50
Family (2 Adults + 3 children) €38.00
Family (2Adults + 4 children) €44.50
Adult Carer Free  (with valid Carer Card)
Entrance to the Model Village and Road Train tour:
Adult: €16.00
Seniors: €13.00
Student: €13.00
Child (under16) €11.00
Infant (under 3) Free
Adult Carer Free (with valid Carer Card)
Family (2 adults +  2 children) €46.00
Family (2 adults + 3 children) €56.00
Family (2 adults + 4 children) €65.00
Family membership – 12 months €150,  6 months €99
Model Railway Village Opening Hours
West Cork Model Railway Village is open 7 days per week from 11.00 a.m. to 5.00 p.m.
Extended opening times for July and August 10:00 a.m. – 6:00 p.m.
Last Admission is 1 hour before closing.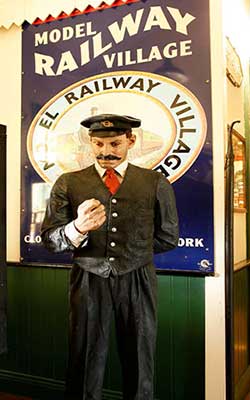 West Cork Model Railway Village Facilities
School tours welcome
Coach tours welcome
Active Retirement welcome
Sensory Gardens
Available for Birthday Parties
Annual tickets available (6 month, 12 month)
Wheelchair access throughout
Autism Friendly
Indoor and Outdoor Play Areas
Remote Control Boats
Mini Diggers
Village Café and Craft Shop
Picnic tables
Toilets and baby changing facilities
Free parking
Free WIFI
Guide dogs permitted
West Cork Model Railway Village Directions
The Model Railway Village is on the Inchydoney Road on the outskirts of the picturesque town of Clonakilty on the shores of Clonakilty Bay. Our Eircode is P85 HR26.