The Osprey Hotel in Naas Co. Kildare
Osprey Hotel a luxury four-star hotel situated in the heart of vibrant Naas town, only 35 minutes from Dublin – an idyllic location! Perfect for exploring the abundance of family activities around Kildare or wandering further into Irelands Ancient East.
They surprise and delight with expansive family guest rooms and friendly service. They have a number of rooms that can accommodate larger families and include novelty tepee tents and kids' goodies bags.
Osprey Hotel is a haven for family getaways, enjoy their 20m indoor swimming pool and dedicated kids pool, a delicious children's tea menu, and a whole array of nearby family attractions with great discounts such as:
10% Kildare Village discount card
20% off admission prices to Russborough House and Parklands
20% off admission to Japanese Gardens and National Stud
20% off full priced items at Newbridge Silverware
Treat yourself to some relaxation in their newly refurbished Osprey Spa, a perfect way to unwind!
For further information please contact the reservations team on 045-881111 or [email protected]
Christmas at The Osprey Hotel
Find out about their Festive Escapes 2023 at The Osprey Hotel
Family Breaks At The Osprey Hotel
Make the most of the school holidays with a family break at the Family Friendly Osprey Hotel.
During your stay you will be able to enjoy the use of the health and leisure facilities including a separate kiddie's pool their 20 metre deck level swimming pool is ideal for swimming laps, relaxing with the family, the newly opened osprey spa is the perfect place to relax.
Enjoy dinner with or without the Kiddies in our bar, restaurant or dine alfresco in our courtyard.
They look forward to welcoming you to the Osprey Hotel + Spa.
For further information please contact the reservations team on 045-881111 or [email protected]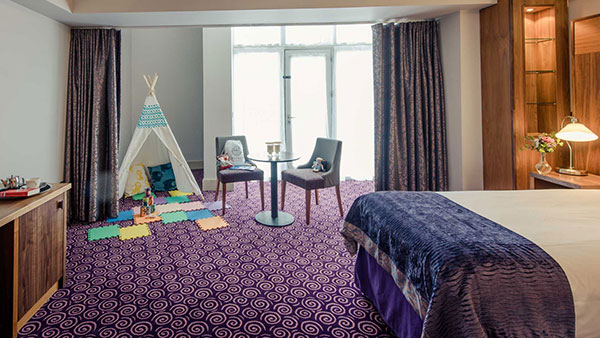 Osprey Hotel is a haven for families, with spacious rooms, an indoor swimming pool and dedicated kids pool, a delicious children's tea menu and a whole array of nearby family attractions.
Explore and Discover More
There are so many wonderful things to see and do when you base yourself at Osprey Hotel. They have put together some delightful itineraries to help you plan your perfect leisure break. Whether you enjoy a little me-time, or have a full crew, there is something for everyone to enjoy.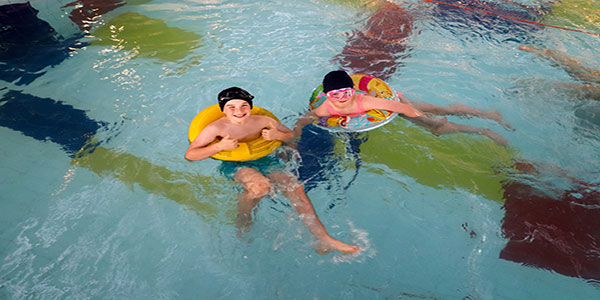 Included in the Itinerary Package you'll find –
Kids Pool – Enjoy the children showing off their swimming skills in the dedicated kids swimming pool. Open from 9.00 to 19:00 daily and 9:00 to 18:00 on Bank Holidays.
Children's Menus – For the children they have a delightful kids menu, including some of the healthier options. Children are welcome to dine in either the Osprey Bar or Herald & Devoy Restaurant.
Movie Nights – During the school holidays, enjoy family movie nights each evening at 7pm. (Weekends in June and every night in July)
Children's Goodie Bags – Osprey Hotel love to see little faces light up, so they have included a little Goodie bag for each child, in your room.
A whole array of nearby family attractions to choose from including the Japanese Gardens & The National Stud, Lullymore Heritage Park, Stoneybrook Pet farm, Wallaby Woods, Kildare Maze and much more.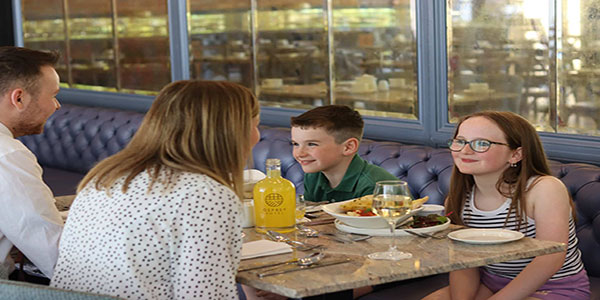 Osprey Hotel have created the perfect family itinerary for you to explore and enjoy.  Check out their 2 nights, 3 nights, 4 nights and more at Osprey Explorers
2 Night Stay
Start your first day in Kildare by checking into Osprey Hotel, into a luxurious and comfortable family room with plenty of space for you and your family. If you're too early for check-in, grab a bite to eat and a refreshing drink in The Barista Bar, located in the reception area, serving freshly brewed tea and coffee, scones and other sweet treats. If you'd like something a little more filling, choose a delicious dish from their all day dining menu in the bar, served from 3pm.
Once you've settled in, take yourselves out for a fun family day in Abbeyfield Farm & Equestrian Centre. Located just 15-minutes' drive from the hotel in the beautiful countryside of Clane, Abbeyfield Farm is a great location for an exciting, educational afternoon nestled in over 240 acres of picturesque Kildare countryside. They have a range of fun activities including Clay Pigeon Shooting, Horse Riding, Horse Livery, Archery and an Air Rifle Range, depending on the age of your children.
After the activity and excitement of the day, settle in to your spacious family room and order dinner and drinks from their room service menu. They have a dedicated children's menu with healthy and nutritious meals for children of all ages. Parents can also order a nightcap to truly relax and prepare for another busy day.
On your second day, after a hearty breakfast in Herald & Devoy, start your day early and squeeze in as much Kildare culture as you can.
First stop should be the Japanese Gardens & The National Stud, a real Kildare Gem and a must-do when visiting. The Irish National Stud is a horse breeding facility, producing some of the worlds finest thoroughbred horses. These beautiful animals are a real treat for both lovers of horses and equestrians or those curious about the sport. On the grounds of the National Stud is an oasis of calm, the Japanese Gardens. This magnificent and perfectly manicured garden is a perfect fusion of Eastern and Western culture and imagery and is a great spot for some unique family photos. Both locations are just 15-minutes from  Osprey hotel and guests can avail of a 20% discount on entry. Enquire at the reception desk.
After an afternoon of discovery, head back to Osprey Hotel, change and visit the state of the art leisure centre, free of charge to all guests. While the little ones tire themselves out in the pool, adults can book a treatment in our newly refurbished Osprey Spa and thermal suite. Watch your kids enjoying the water and practising their doggy paddle in the kid's pool, open from 9am-7pm daily.
At the end of a busy day, and once everyone is washed and ready to eat, head down to Herald & Devoy Restaurant for a delicious family dinner. They have a large selection of freshly prepared meals, with something to suit every palate. Adults can select from the extensive a la carte offering and children can choose from the kid's corner with a mixture of favourites and tasty desserts. You could also choose to share a large main meal like a bowl of nachos or a build-your-own pizza.
Start your final day with a healthy, hearty breakfast from the dining room. They offer a wide selection of breakfast foods from a full-Irish to a lighter continental option, all served with coffee or tea to wake you up happy. There are freshly prepared options to suit all age groups, from a simple bowl of cereal to a sumptuous stack of pancakes.
Before you head home, take a detour to Stoneybrook Pet Farm, a family-run farm in Coghlanstown West just 10-minutes by car from the Kildare Hotel. The farm is an ideal spot for a day of wholesome family fun, exploring the pastures of the River Liffey Valley and enjoying a picnic. You can meet and pet some gorgeous farm animals and if the time is right, you can help the farmer to feed their adorable babies.
Rainy Day Activity
Even the best laid plans often go awry and the weather is often the cause of a lot of heartache on family holidays. If you find yourself stuck indoors on a rainy day, that doesn't mean you have to be bored. They have plenty nearby to entertain your family – like a day spent in the Osprey Leisure Club and an evening in the nearby Cinema in Naas watching the latest blockbuster.
Find out more about their 2 nights, 3 nights, 4 nights and more packages at  Osprey Explorers
Family Break Packages
The Osprey Hotel run special family break packages throughout the year. Fun, excitement, and adventures are all part of a family break at the Osprey.
The Osprey Hotel Family Accommodation
Baby Room
If you need a quiet room to feed or change your baby during the night, visit the baby room on the ground floor. Here you can heat your baby's food, change their nappy or sing them a lullaby without waking the rest of the family up! Sink back into a cosy armchair and tend to your baby in your own time, in a quiet and relaxing environment.
Family Attractions
Just on their doorstep they have great family attractions such as Mondello Park, Caragh Pet Farm, Kildare Maze, Kildare Village, Lullymore, Japanese Gardens & National Stud, within 45 minutes you can be at Dublin Zoo, the National Aquatic Centre or Emerald Park.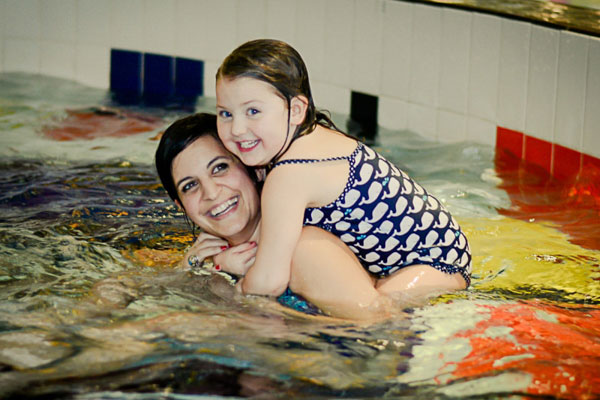 Directions To The Osprey Hotel & Spa
Directions from Dublin (Newlands Cross)
Take 2nd exit off N7 for Newbridge/Naas (Junction 10). At the top of the slip road turn left where you will reach a roundabout, take the first turn left for Naas. Continue straight until you reach the Naas Town House Hotel (on your left). At these traffic lights here, take an immediate right turn just after these and the Osprey Hotel is directly in front of you..