Phoenix Park Bikes -School Tours
Phoenix Park Bikes is now the largest bike rental company in the Capital City. Located at the main entrance to the Phoenix Park in Dublin. With over 300 bikes, Phoenix Park Bikes can offer you a bike rental service and more.
A wide variety of bike options are available for schools or large group excursions.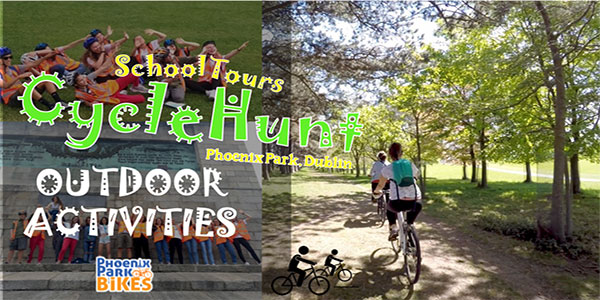 School Tours Cycle Hunt
Phoenix Park Bikes is perfect for your group's Outdoor Summer School Tour
The School Tours Cycle Hunt in Dublin's Phoenix Park is an ideal activity for large groups such as:
Students, TY, Language and Primary school groups with different levels all depending on the age group.
Phoenix Park is accessible via Train, Luas or Bus
Join the Phoenix Park Bikes School Tours Cycle Hunt with your group and
Learn about the Phoenix Park and it's history along the way
Navigate using map provided
Exploring by bike -Healthy exercise and fun
Laughter -having fun in the outdoors with class mates
In previous years all the kids have loved this particular tour. The freedom and the space to cycle the park, run up and roll down the Papal Cross hill has been described as the BEST TOUR EVER! They may even get to see some of the wild fallow deer that roam the park.
Please note – Kids must be able to cycle in order to take part in this summer tour activity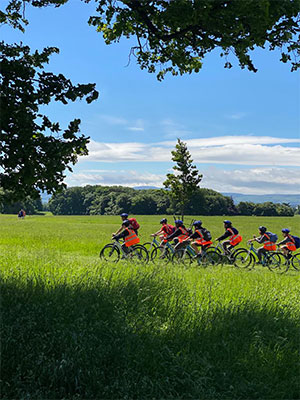 School Tours Cycle Hunt (3 hours) –
– On arrival students receive bikes, helmets, High Viz
– Instructions follow at the Wellington Monument
– Kids also can bring their lunch and enjoy at the picnic benches outdoors in the park.
– Group will be broken into teams and given questionnaires and instructions
– Students have three hours to navigate and follow the designated route
– Complete: Question's, Photo Challenge's, Trivia and Crack the Code.
– Build more points than your rival team
– Get out, get active and have FUN….!
– Cost: €25pp
This activity includes Instructors – Pre-book for any school group is essential –  1 teacher per 12 students is essential
For any further information or to book visit School Tours Cycle Hunt   P: 087 379 9946 / 01 679 8290
Phoenix Park Bikes have many bike rental and guided tour options, including for Birthday Parties.
Find out more about what Phoenix Park Bikes have to offer.
Where To Find Phoenix Park Bikes
The largest bike hire company in the Capital City.
Located at the main entrance to the Phoenix Park, Dublin., Park Gate Street Entrance.
A must see when visiting Dublin.