Name:
Pirates Cove Adventure Park
Address:
Courtown, Co Wexford
Tel.:
053 9425555


Please mention Family Fun when booking!
Pirates Cove Adventure Park
Pirates Cove is a family run attraction in Courtown Harbour. At Pirates Cove they work hard to make sure that you get the best family day out in the South East of Ireland. They are open 7 days a week all year round and cater for Kids Birthday Parties and they also welcome group bookings.
Pirates Cove Activities
Bowling
Six high speed lanes with computerised scoring, adds to the excitement of Ten Pin Bowling at Pirates Cove. Ideal for family, school, work, and group outings, their bowling facilities is state-of-the-art, and suitable for everyone from 3 years upwards, with children's bowling balls, ball rollers, and gutter bumpers available for the younger kids!
Lanes can be used by up to six players. It's a good idea to pre-book bowling at Pirates Cove, it's a treat you won't want to miss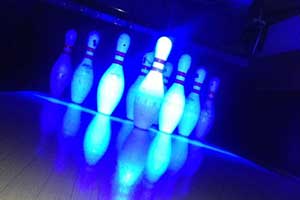 out on!
Opening Hours : 11:00 to 22:00 daily (last lane beginning at 21.00).
1 Hour €32 for up to 6 people
1/2 Hour €21 for up to 6 people
1 game €7.50 per person
Max 6 people per lane
Pre-booking Bowling is advised please ring 053-9425555
Red Beards – Adventure Golf
The Adventure Golf course at Pirates Cove takes players through sub-tropical gardens and right around the lake, with tricky and troublesome holes testing the golf skills of even the most experienced players! There are 18 challenging golf holes, some up to 40ft long, taking in giant caves, a cascading waterfall, and a full-sized shipwreck of a treasure-laden galleon.
You can play golf at night in Pirates Cove, with low level lighting, for a magical experience with a truly exotic feel. Adventure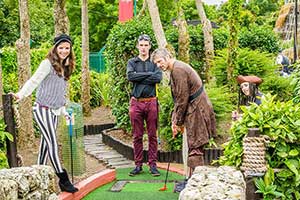 Golf is suitable for all ages, from 3 years upwards.
Opening Hours : 11:00 to 22.00 daily (last entry at 21.00).
Adult: €8.50 Child: €7.50
2 Adults and 1 Child: €23
2 Adults and 2 Children: €28
2 Adults and 3 Children: €33
Aye Aye Lzzy's Fun Caves At Pirates Cove Adventure Park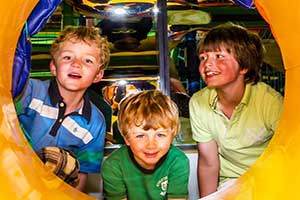 The Pirates Cove Fun Caves is a soft play area for 3 to 10 year old adventurers. A colourful bouncy castle, ball pools, slides, and spooky tunnels provide endless fun in a safe and stimulating environment, where the young ones can broaden their horizons, make new friends, and crawl, climb and bounce away the day.
Opening for the general public in July and August
Opened for parties and group bookings. To make a booking please ring 053-9425555
Aqua Zone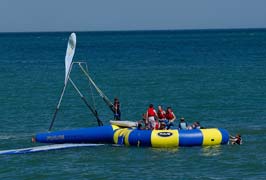 The aqua zone is a giant inflatable trampoline with rope swing and water whoosh slide off area. It is in the open water at Courtown seafront. Their safety boat drops and collects you at the aqua zone. Life guard are on duty, life jackets provided and must be worn. Bring your own swimming togs or wet suits.
Bubble Rollers
Imagine walking on water! With Bubble Rollers at Pirates Cove, you can run! Climb into one of the giant water-tight bubbles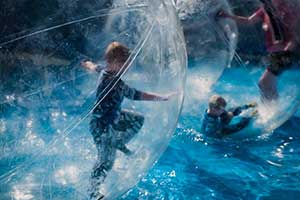 and walk, run, or tumble on water, in a crazy, laugh-a-minute wobbling water experience. Bubble Rollers are suitable for adults and children, from age 4 years and up.
Opening hours : 12.00 to 18.00
Kids Bumper Boats
Take to the lake for a splash-about in one of Pirates Cove Bumper Boats, where all novice pirates train before heading for the high seas. Navigate the waterfall and exotic island planting, and cheer on the golfers as they tackle the testing Adventure Golf course all around you.
Pirates Cove Bumper Boats are supervised and suitable for all ages, with life jackets provided, and worn at all times.
Opening hours : 12.00 to 18.00
Pirates Cove Park Junior Kids Karting
Younger children can choose from a selection of their favourite themed karts and mini quad bikes to take a spin around the safe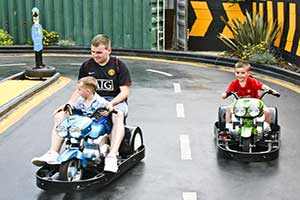 and supervised track. Karts travel at 9km/h max. Twin seaters means Mum or Dad can sit in on the fun too, enjoying the music and action on this lively track.
Opening hours : 12.00 to 18.00
Pirates Cove Train
The Pirates Cove miniature electric train, styled as a beautiful traditional steam engine pulling four colourful carriages. Catch the train as it meanders along Courtown seafront daily from 12 noon to 8 pm weather permitting. Children of all ages will enjoy a smooth and comfortable ride around Pirates Cove, with charming music and train sound effects all the way!
Pirates Cove Adventure Kids Birthday Parties
Ahoy me little shipmates!
Become a VIP (Very Important Pirate) when you celebrate your birthday at Pirates Cove Courtown. Enjoy a unique birthday party where you and your friends can join Captain Jack Cove's crew. There are 4 different types of parties suit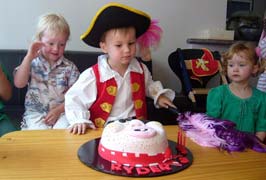 able for all age ranges:
Funcaves Exploration Party (recommended for ages 1 – 7)
Funcaves Treasure Trove Party (recommended for ages 1 – 7)
Cupcake Decorating Party(recommended for ages 6 – 12)
Pirate Plunder Party (recommended for ages 6 – 12)
Call Pirates Cove For More Information and To Book Your Child Birthday Party …..  Tel.  053 9425555
.