Name:
Pregnacare Hospital Bag Competition
Pregnacare
'Keeping Mum'
Now Closed – Celebrating their new 'Keeping Mum' campaign, Pregnacare have a fantastic 'Glamorous' Hospital Bag from Hospitalbag.ie to give away to one lucky reader! Unveiling their new campaign, Pregnacare aim to lift the lid on the early stages of pregnancy and help mum's-to-be look after themselves from diet, to rest, and everything in between!
For many mums, the first 12 weeks can be the toughest – feeling unwell and trying to hide their pregnancy news! Pregnacare, the number one pregnancy supplement range in Ireland provide all the supplements required for pre-pregnancy, pregnancy and post-pregnancy. Across the Pregnacare range, each supplement contains the exact levels of folic acid and Vitamin D as advised for pregnancy and breast-feeding moms, as well as a number of other vitamins to boost your nutritional requirements when diet may not be able to!
Pregnacare® is the No. 1 pregnancy supplement range in Ireland. The range includes products for every stage of the pregnancy journey.  Available from leading pharmacies, health food stores and supermarkets nationwide, the range includes Pregnacare® Conception, Pregnacare® His & Her Conception, Pregnacare® Original, Pregnacare® Liquid, Pregnacare® Plus, Pregnacare® Max, Pregnacare® Breast-feeding and Pregnacare® New Mum..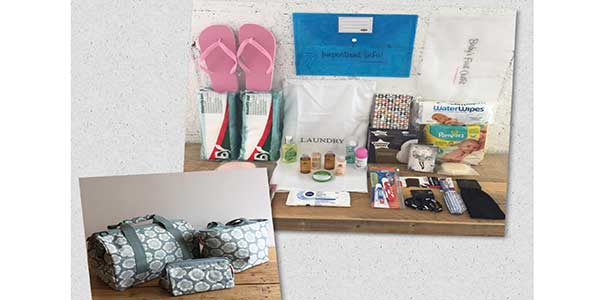 Pregnacare Hospital Bag Competition
To celebrate their 'Keeping Mum' campaign Pregnacare have teamed up with Familyfun.ie to offer one lucky reader  a pre-packed 'Glamorous' Hospital Bag from Hospitalbag.ie, so you or someone in your life will have everything they need when your little one is on the way! To top it all off, we will include a 3 month supply of Pregnacare to make sure you're feeling your best..
How To Enter The Competition
To be in with a chance to win, just answer the following questions below along with your details and all fields are required, then just click 'Send' : (telephone numbers and email addresses will not be disclosed to other parties)
Competition Question
Pregnacare's new campaign is called?
Pregnacare Hospital Bag Competition
The closing date is Wednesday 25th October at 11.00 pm the winner picked out on the Wednesday and any entry after that date will not be entered in the draw. The winners will be randomly selected and contacted by email and / or phone/ text. The winner names will also appear on the competition page of the Familyun.ie website and/or the Family Fun Facebook page.
The Competition Winner
Winner –
Terms And Conditions:-
All competitions are free to enter and everyone has an equal chance of winning. All entries to our competitions will be subscribed to the Familyfun.ie newsletter.
All Competitions are FREE to enter
Only one entry per e-mail address per competition.
Prizes are non transferable and non-refundable.
There is no cash alternative for any prizes
Prizes are subject to availability
This competition is open to residents in Ireland only.
The winner will be picked randomly from the list of entrants to the competition.
The winner(s) will be notified by phone/email after the competition expiry date.
Entrants to the competition is consent to the disclosure of their name as a winner.
Familyfun.ie reserves the right to amend, terminate or withdraw the competition or alter the prize of the competition without prior notice should that prize be unavailable for reasons beyond its control.
Entry into the competition will be deemed as acceptance of these terms and conditions.
Family Pass:- 2 adults and 2 children, aged under 12 (N/A)
All entries to Familyfun.ie competitions will also be subscribed to the familyfun.ie newsletter.
Information will NOT be passed on to third parties
By entering the prize draw each entrant agrees to be bound by these terms and condition.