Dates:
From Friday, 10th of August 2018 to Sunday, 12th of August 2018
Address:
Killorglin, Co. Kerry
Puck Fair Festival
Puck Fair Festival taking place in Killorglin, Co. Kerry from the 10th of August to the 12th of August where there will be three days of FREE family fun! This is Ireland's oldest and quirkiest event. Where else in Ireland would a wild mountain goat be crowned King and reign over a town for three days of the year.
Killorglin's Puck Fair, which runs annually in August is undeniably one of quirkiest festivals in the world, and it is Ireland's original and oldest 'Gathering Festival'.
The main celebration surrounds the crowning of a wild mountain goat as a King in honour of a tradition and heritage that is purported to be ancient, but can only officially be traced back as far back as 1613 when King James I issued a charter granting legal status to the existing fair in Killorglin.
The 3 days of festivities begin on what is known as 'Gathering Day', when the main coronation ceremony takes place. The "Queen of Puck", who is always a young school girl from one of the local primary schools, crowns the goat "King Puck".
Family Fun at Puck Fair
Puck Fair is a family-friendly Festival, offering much entertainment and activities for kids (of all ages!!). Daily activities include Face-Painting, Street Performers, Music, Puppet Shows in addition to a number of child-centred Workshops – all of which are free of charge. There are different Competitions on each day of the Fair, such as Bonny Baby, Fancy Dress and the Pet Show. There will also be an opportunity to have your photo taken with King Puck himself, on the afternoon of the second.
Puck Fair Festiva Parade
The parade is set to be the biggest and best yet with more floats and colourful participants guaranteed to entertain the thousands expected to line the streets on the day, and a new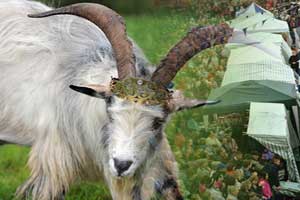 route will ensure spectators have a better viewing area. The parade will now begin at the Bridge, go through Lower Bridge Street, The Square, Upper Bridge Street and onto Iveragh Road.
Another highlight of 'Gathering Day' is the Horse Fair, which is the oldest and longest continually running horse fair in the country. Buying and selling horses, ponies, donkeys & equipment starts very early in the morning, and continues throughout the opening day of Puck Fair.
Puck Fair Festiva "Fair day"
The second day, 'Fair Day', sees the street markets and craft fairs go into full swing. You'll find everything you could possible hope for among the tented stands, from horse tack to fashion, local crafts and tasty produce. An independently run Cattle Fair, which is not organised by Puck Fair Organising Committee, also takes place on this day from early morning in Langford Street.
Puck Fair Closing Parade
The Closing Parade is the main highlight of final day, known as 'The Scattering', which leads the goat back to his mountain home. The parade will begin at Iveragh Road, and go through Upper Bridge Street, The Square, Lower Bridge Street, ending at The Bridge.
Puck Fair Fireworks Display
At Midnight on the last night of Puck, to experience an amazing Fireworks spectacular. No need to leave your spot as the fireworks light up the entire Killorglin sky and can be seen from almost everywhere around town!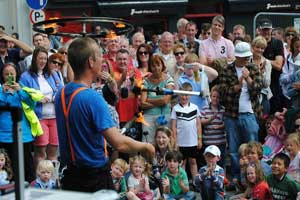 Puck Fair Family Fun
There's lots more to see and do over the few days with hours of free entertainment from traditional music and dance sessions, to live open air music, story-telling, workshops, street-theatre, busking, face painting, puppet theatre, a pet show, bonny baby contest, and lots more.
There are different Competitions on each day of the Fair, such as Bonny Baby, Fancy Dress and the Pet Show. There will also be an opportunity to have your photo taken with King Puck himself, on the afternoon of the second day.
Puck Fair Street Theatre and Storytelling
As well as honing your own talents, the chance to marvel at others is around every corner at Puck. Street theatre runs throughout each day of the fair and enraptures audiences each year with everything from specially written pieces to cutting edge and modern drama, with some traditional Irish myths and legends thrown in for good measure.
Story telling has always been an integral part of the culture of Ireland and is as prevalent at Puck as it was 400 years ago.
Amusement Fair
For the brave at heart, there is the chance to test your metal on some of the most daring carnival rides the country has to offer! Never fear though, if you are less of an adrenaline junkie there are also tamer attractions. The Euroshow is a must for families attending the fair, as young and old can get together and share in the fun.
Learn a new skill at a workshop
Instead of putting your skills on show, there is always the option to learn some new ones; fun and free workshops are in abundance at Puck Fair. From learning the difference between a jig and reel at the ever popular Irish dance workshop, to tying yourself up in knots with Circus skills – get involved or bring along the little ones for an unforgettable experience that's bound to raise a few laughs
Killorglin, Co. Kerry
Killorglin Town is located in the South-West of Ireland in County Kerry. Situated on the Iveragh Peninsula on the N70 Ring of Kerry road. Killorglin stands on a hill to the south of Castlemaine Harbour headwaters, on the famous salmon fishing River Laune.