The Rose of Innisfree Tour Boat
No visit to the north west is complete without a trip on the Rose of Innisfree tourboat. Sail around the Isle of Innisfree, situated on one of Ireland's most beautiful lakes, Lough Gill, on the Sligo Leitrim border.
The Isle of Innisfree inspired W.B. Yeats to write Irelands most popular poem. Depart from the 17th Century Parkes Castle and take a leisurely cruise across Lough Gill which is surrounded by outstanding natural beauty and steeped in myth and legend.
Tea, coffee, home baking, snacks and full bar service on board while the skipper, George McGoldrick, will recite tales of folklore, history and poetry associated with the area and Ireland's most famous son, W.B.Yeats.
Lough Gills environs are unrivaled in Ireland for its unspoiled beauty and interest to tourists and locals alike. Its great diversity of geology, archaeology, history and scenery leave a permanent impression on all visitors. Lough Gills association with major events dates back as far as any locality in Europe, e.g. Queen Maeve of Connaught, O'Rourke's of Breffni, Norman Invasion, Sligo Abbey, Plantation castle, 1916 Rising. The Cruise takes in numerous places of interest including Church island, Dooney rock, Slish wood and many many more.
If you are looking for something different for your family trip or social event why not call The Rose of Innisfree Tour Boat.  A great day out for people of all ages.
Family Fun Tip:- Be a captain for the day, young nautical enthusiasts get a chance to steer the boat themselves.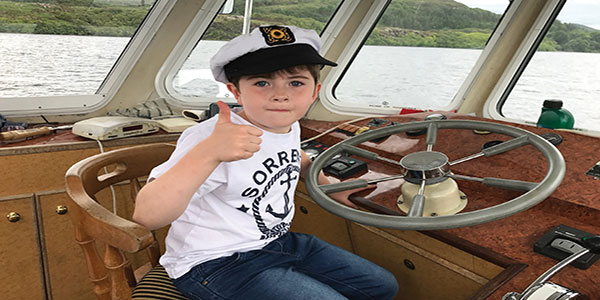 Rose of Innisfree Sailing Times
They offer daily cruises – Weather & numbers permitting.
Limited Services November to Easter
Phone to confirm Sligo Times and Off Season – 0 71 9164266
The Rose of Innisfree Tour Boat Fares
Adult – €20
Child under 16 – €10
Children up to 4 – Free
Family – €50
Student/OAP – €2 off
Group (20+) – Contact them for discounted rates.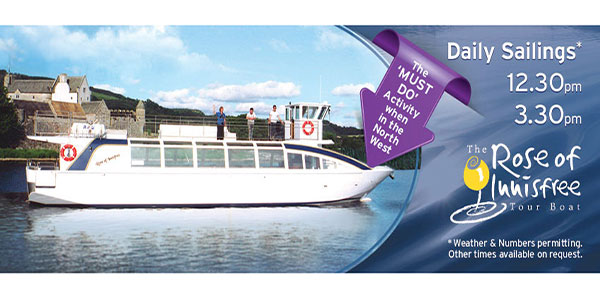 The Rose of Innisfree Yeats Spectacular Tour
Get the Best of Both worlds with the Yeats Spectacular Bus & Boat Tour.
Take in all the superb scenery this part of the country has to offer by road accompanied by a full guide.
Visit wonderful sites including
Glencar Waterfall
Drumcliffe Church & Yeats Grave
Parke's Castle
All this plus your trip on the Rose of Innisfree Tourboat
The Rose of Innisfree Tour Boat Embarkment Points
Leitrim Embarkment Point.
Parkes' Castle – 7 miles from Sligo, R286 Dromahaire Rd. Follow signs for Parkes Castle
Sligo Town Embarkment Point.
Doorly Park (High Season), 2.2km from Sligo town centre.Head over past the Riverside Hotel